Tile ideas are one of the most ubiquitous wall and floor coverings in the world. Loved for their durability, ease of maintenance, and aesthetic charm, they can be used in any room of the home to great effect. However, with so many choices, it can be hard to figure out the right color, size, and shape tile ideas for your room. 
Whether you're looking for flooring ideas, tiles for walls, or are in search of tile layout patterns, we've rounded up our favorite designs to help you on your way. 
'Tiles are beautiful pieces of art on their own and have the power to utterly transform a room,' says Diane Hyde at Craven Dunnill Jackfield (opens in new tab).
The best tile ideas
Whether you are considering ceramic, porcelain, glass, or natural stone tiles, there is a seemingly endless array of colors and shapes from which to choose. Each room will have its own specific requirements in terms of durability and aesthetics. The perfect tile for one room will be totally inappropriate for another. 
Once you've found your perfect design, it's important to know how to tile a floor or how to tile a wall. This is vital whether you are planning to undertake a DIY project or hire a professional, as it will ensure that you are informed on the topic.
1. Use tiles to create a statement backsplash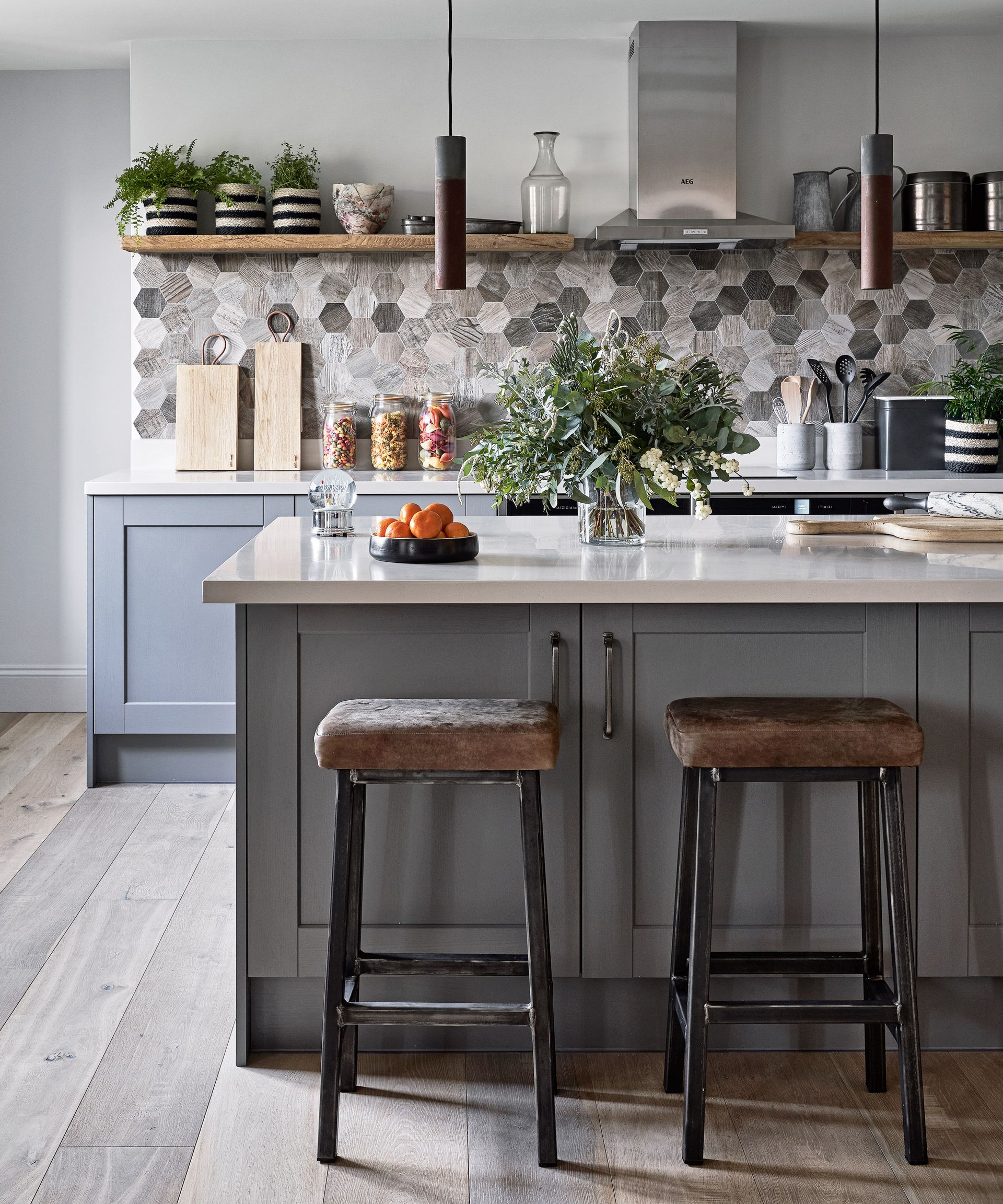 Tiles are one of our favorite kitchen backsplash ideas and we're not alone. 'Tiles are beautiful pieces of art on their own and have the power to utterly transform a room,' explains Diane Hyde from Craven Dunnill Jackfield (opens in new tab). 
'Using tiles as a kitchen splashback is an exquisite way of displaying and accentuating their pattern, texture, and glaze. A beautiful way to bring a burst of color into a room, highly reflective gloss tiles are also a great way to create a sense of space and openness. Whether you're looking to go bright and bold or simple and classic, our offering of tiles comes in a whole range of styles and designs to suit all types of homes.'
2. Add unique character with reclaimed tiles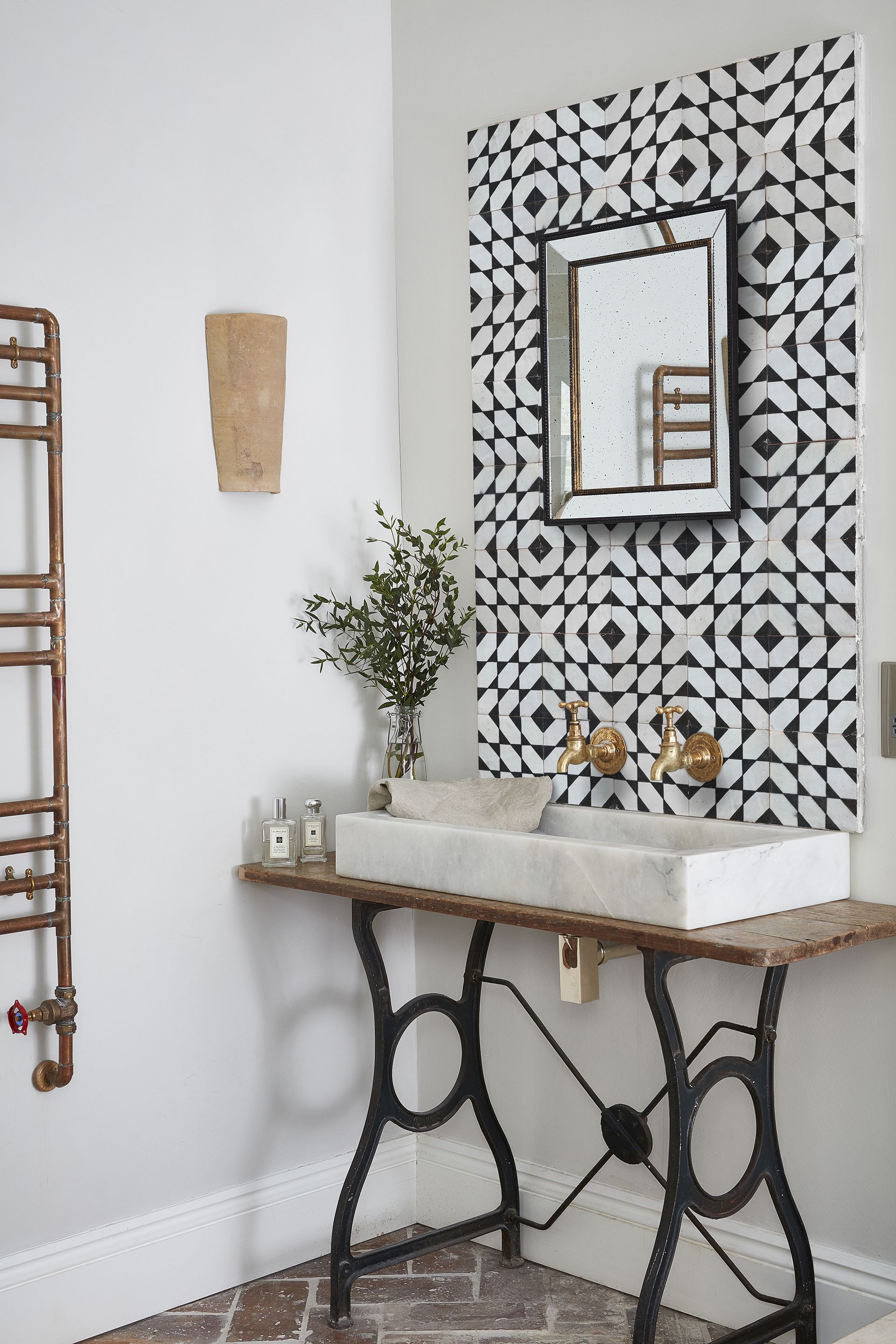 There are no downsides to going for reclaimed tiles. Firstly, they are great for the planet, since they have already been created, there are no new materials going into their construction, and since you are adopting them into your home, there is no waste.
They are also stunning – the majority of historic tiles were expertly handcrafted and as such feature stunning details and strong pigment combinations as well as a depth of pattern and texture that is impossible to mimic.
Having survived years underfoot, the tile's durability is proven as is its ability to withstand changes in temperate and weather.
3. Go for a wood-look porcelain tile for increased durability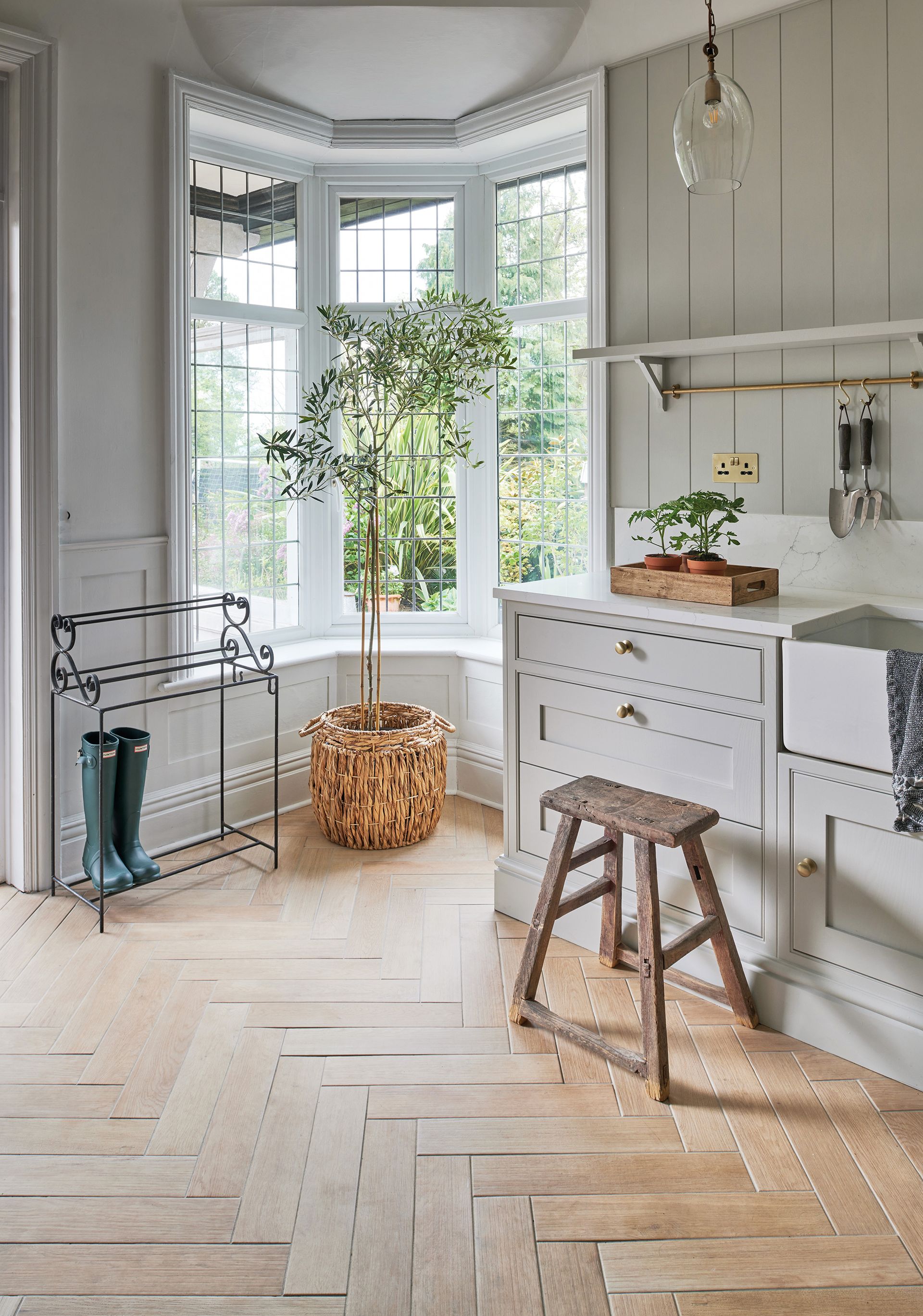 There is no denying that timber flooring adds an abundance of character to a home,
but as a natural product, it will show its wear in high-traffic areas and can warp in moist environments such as kitchens and bathrooms. 
Combining the delicate grain of real timber with the durability and strength
of ceramic, wood-effect porcelain tiles offer the ideal solution, and can also replicate intricate and more expensive laying patterns.
4. Opt for tiles that will add interest to a small bathroom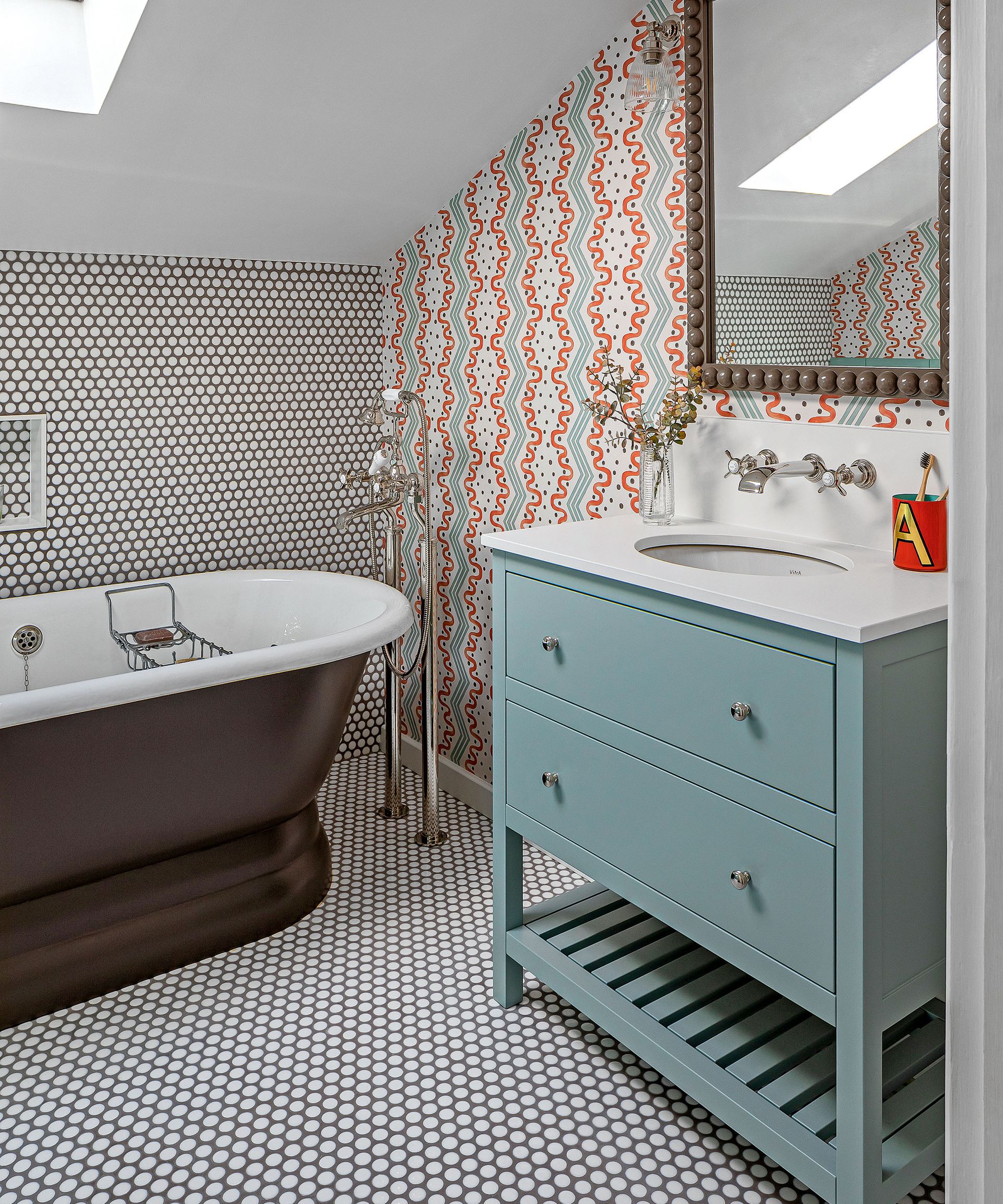 In a small bathroom, every decision will be orientated around making the space feel bigger. The traditional advice is to use large format tiles with minimal grouting to create the illusion of space. However, as this bathroom proves, the opposite can be as effective. 
'In this bathroom, we wanted to use a contrast-colored grout as part of the design scheme.  By using a small penny mosaic tile there is more colored grout on show, and the impact is greater,' explains says Alex Keit, interior designer and decorator at Otta Design.
In a bathroom, it is vital you know how to lay bathroom wall tiles to ensure they are water-tight.
5. Use tiles to add decorative flair to stair risers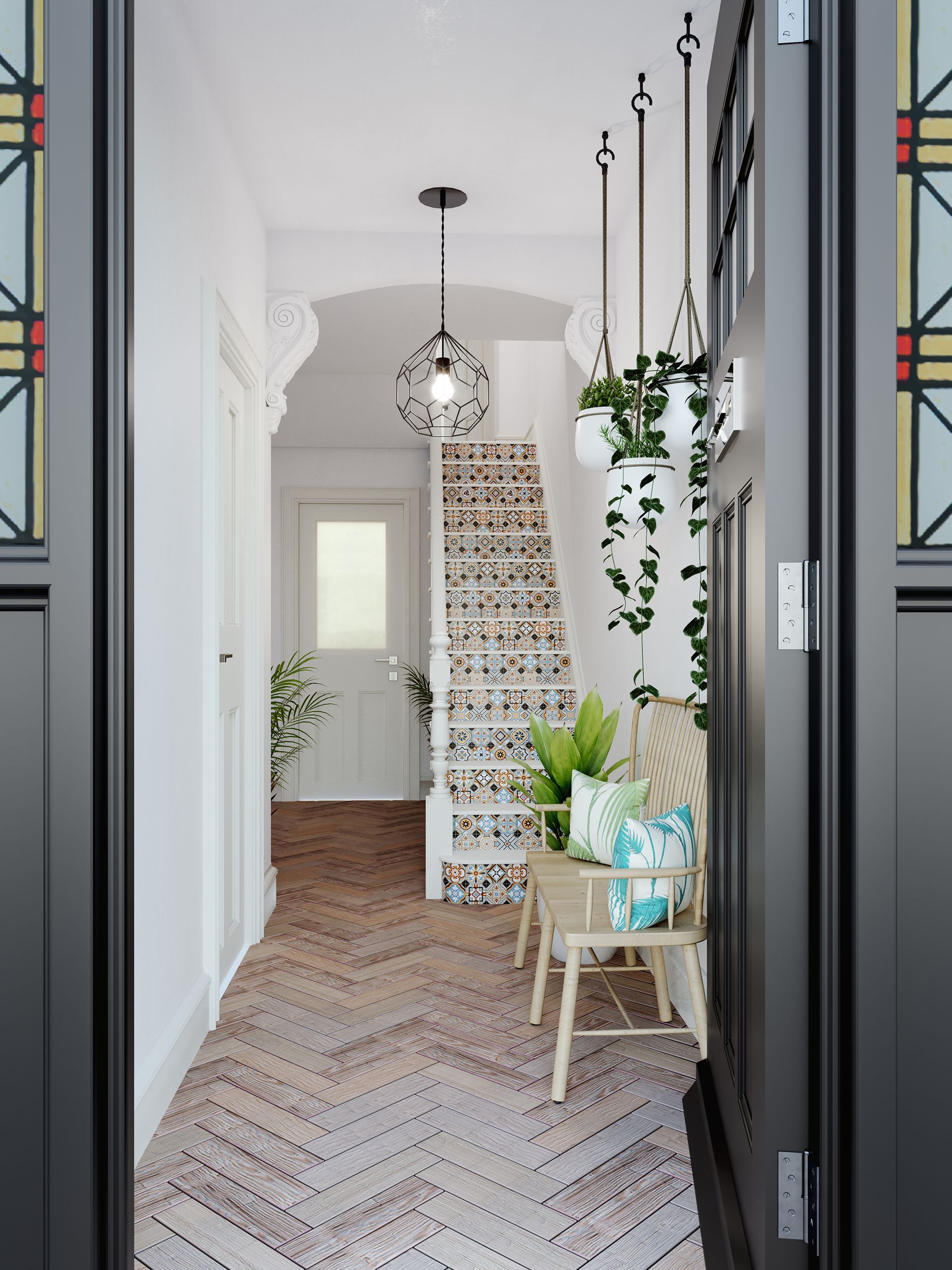 Tiles are a key part of traditional hallway ideas, however, they are less common on the stairs themselves. However, as seen in this home, tiles can make a beautiful feature of this area that is often overlooked. Plus, learning how to tile stairs is actually surprisingly easy.
Usually, only one or two tiles high, this small area gives you the opportunity to incorporate beautiful highly decorative tiles into your space. Since the space is only small, you can afford to use more expensive tiles without breaking the bank. You can also splurge in terms of pattern.
6. Prioritize elegance with Zellige tiles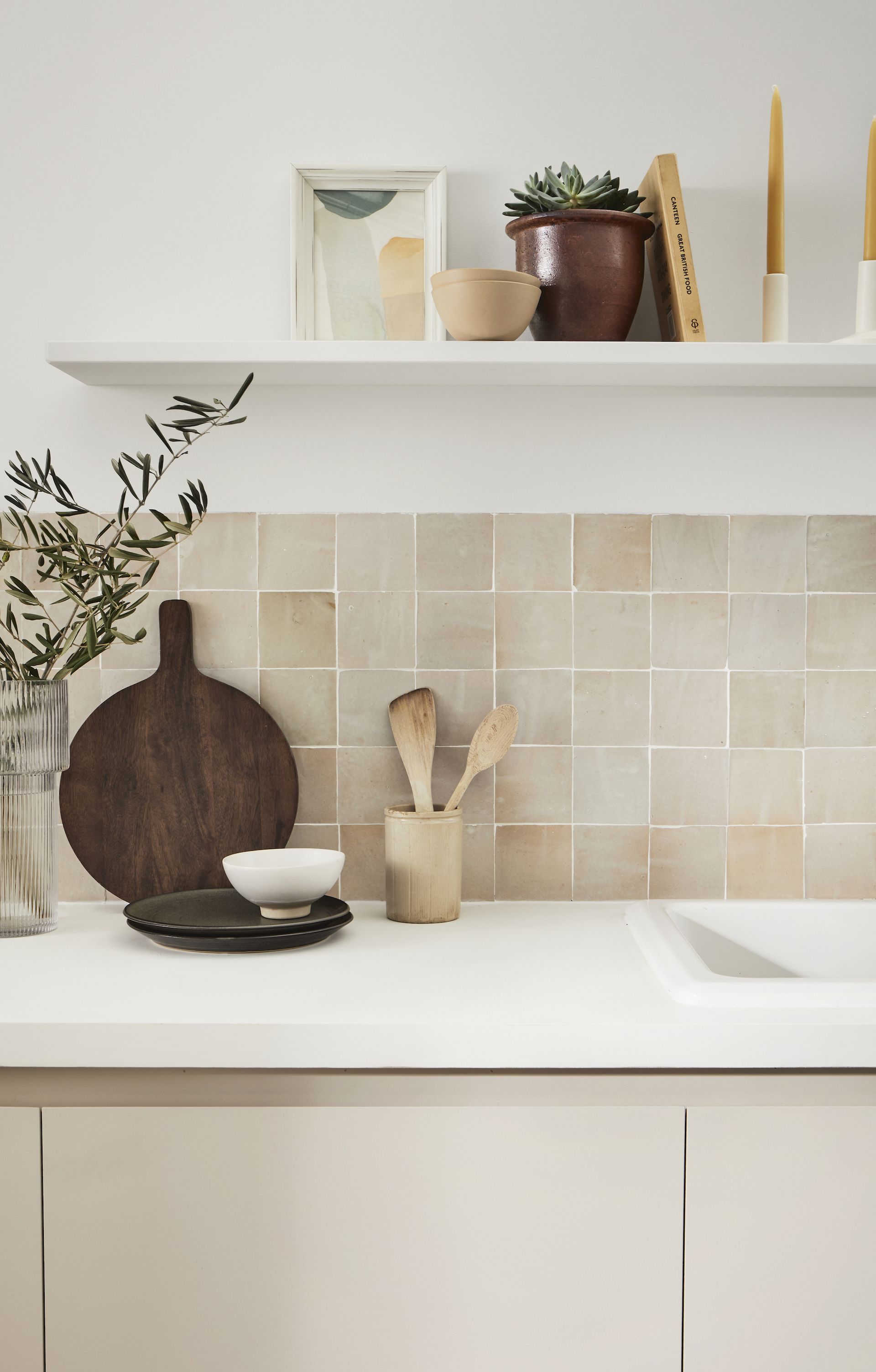 Handcrafted in Morocco from local clay, Zellige (pronounced zell-idge) brings depth and texture to space, reflecting different tones as the sun shifts throughout the day. 
Characterized by their beautiful rustic finish, these zellige tiles in Ercu, from Otto Tiles, are hand-chiseled, dried and kiln fired before an enamel glaze is applied by hand. When used as a tile backsplash ideas will bring a touch of the Mediterranean to your home.
7. Use tiles to create a stunning wet room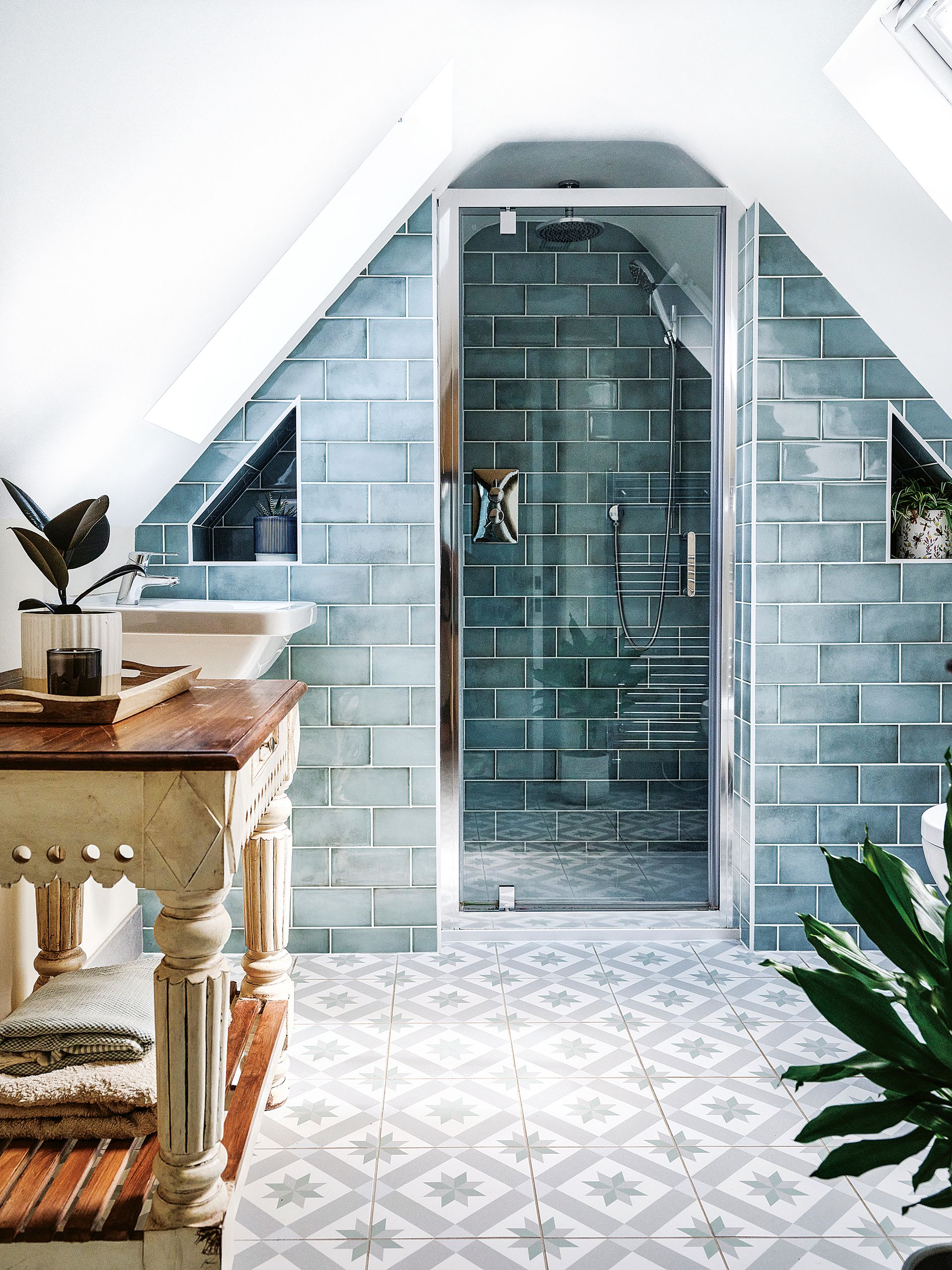 With a luxury feel, reminiscent of hotels, wet rooms have become increasingly popular, especially in older homes where the shape of the bathroom does not always lend itself to a distinct shower enclosure. However, the approach to tiling differs slightly from that of a traditional bathroom. 
'As your tiles are going to be walked on when wet, it is vital that you opt for a non-slip bathroom flooring idea. With this in mind, mosaic tiles are great as the more grout lines ensure there is more grip,' explains Grazzie Wilson, head of creative at Ca' Pietra (opens in new tab). Select tiles with at least an R11 slip rating. 'To prevent water damage tile the full height of walls and floors and ensure that you seek advice from tile suppliers about tanking in a wet room.'
'Underfloor heating is essential too, as it will aid the drying process, so be sure to check that the tiles you choose are compatible with underfloor heating.'
8. Invest in hardy terracotta kitchen tiles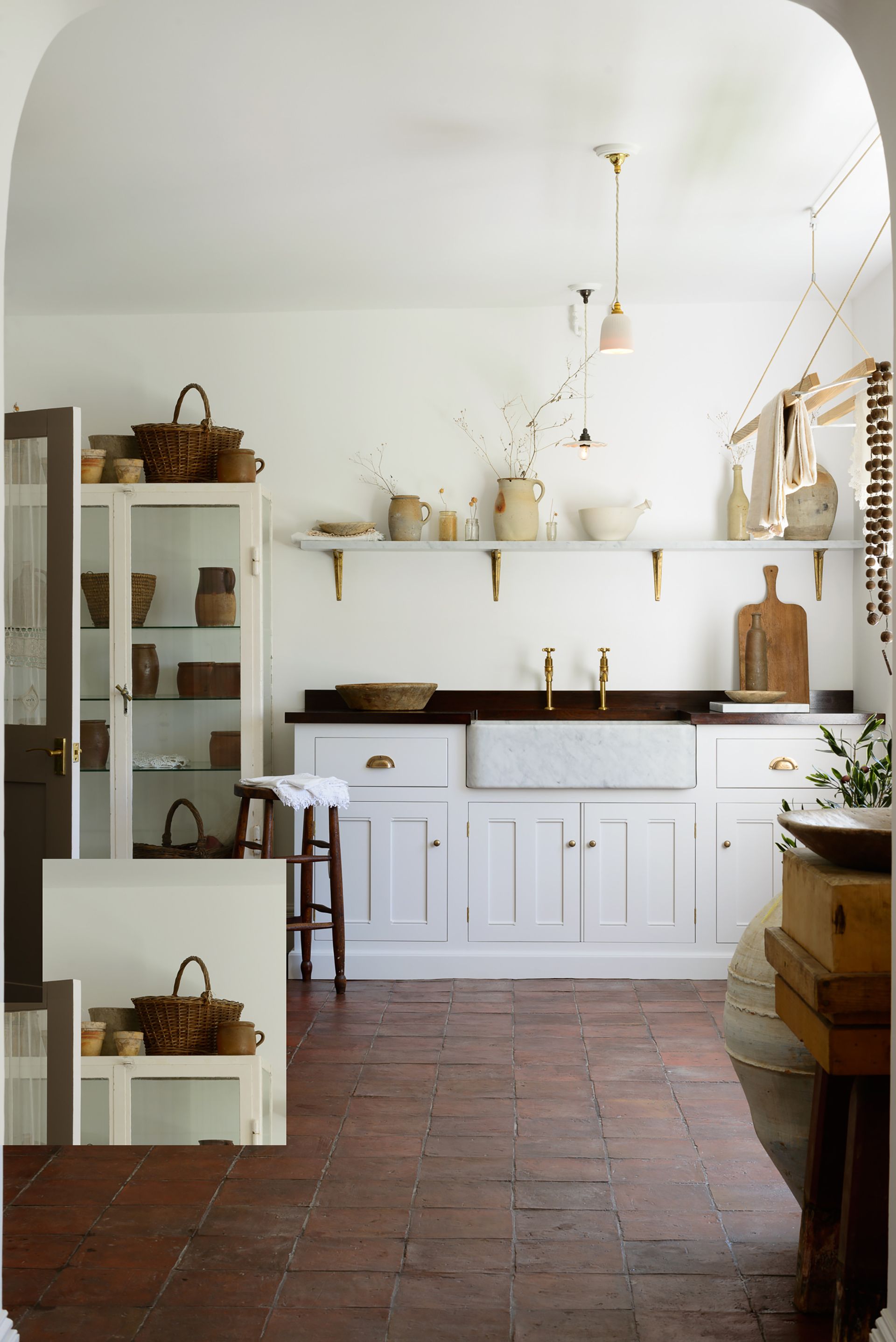 With a history dating back to 10,000 BC, terracotta tiles have more than proven the test of time and their enduring appeal is still celebrated today, especially in high-traffic rooms such as kitchens or hallways.
'Terracotta tiles are a wonderful choice of kitchen floor tiles. They add character and charm with their rustic appearance and complement many different interiors. The tiles should be treated with a beeswax and boiled linseed oil to ensure they can withstand a kitchen environment,' explains Molly Cherry from Floors of Stone (opens in new tab). For an authentic look, opt for handmade terracotta tiles and embrace the individuality of each piece and the natural colors, straight from the earth.
9. Use tiles for zoning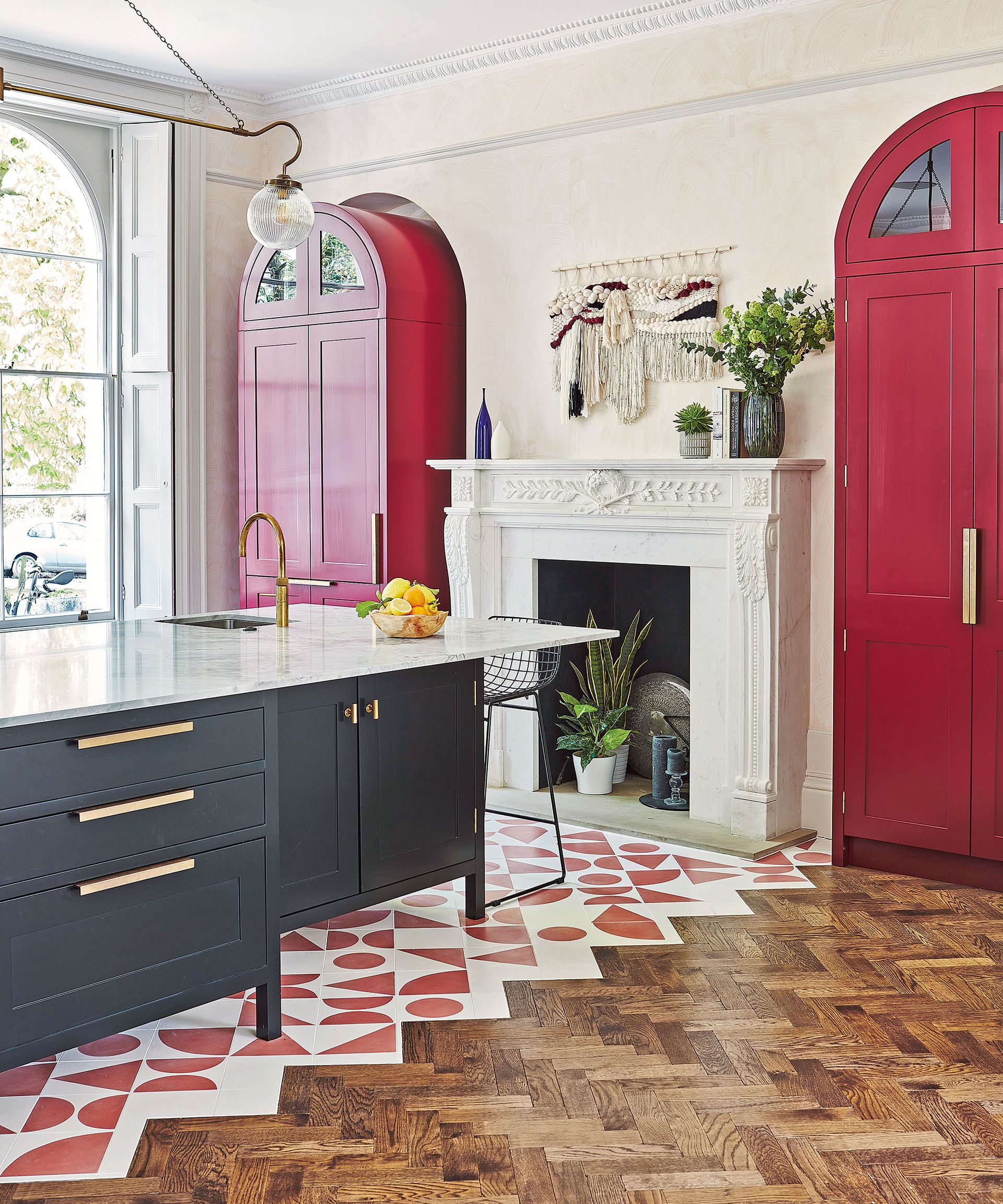 With the rise in open-plan living room ideas, zoning has never been so important. However, without physical barriers, it can be very difficult to demarcate specific areas. 
'Using mixed flooring materials can be a fantastic way to help zone an open-plan room. The tiled area clearly demarcates the functional area of the room from the living space and acts as a visual guide and point of interest. Counterintuitively, breaking up a floor in this way can also make a space seem larger, explains Reuben Ward, Lead Designer, Blakes London (opens in new tab). 
10. Give a living room a modern edge with tiles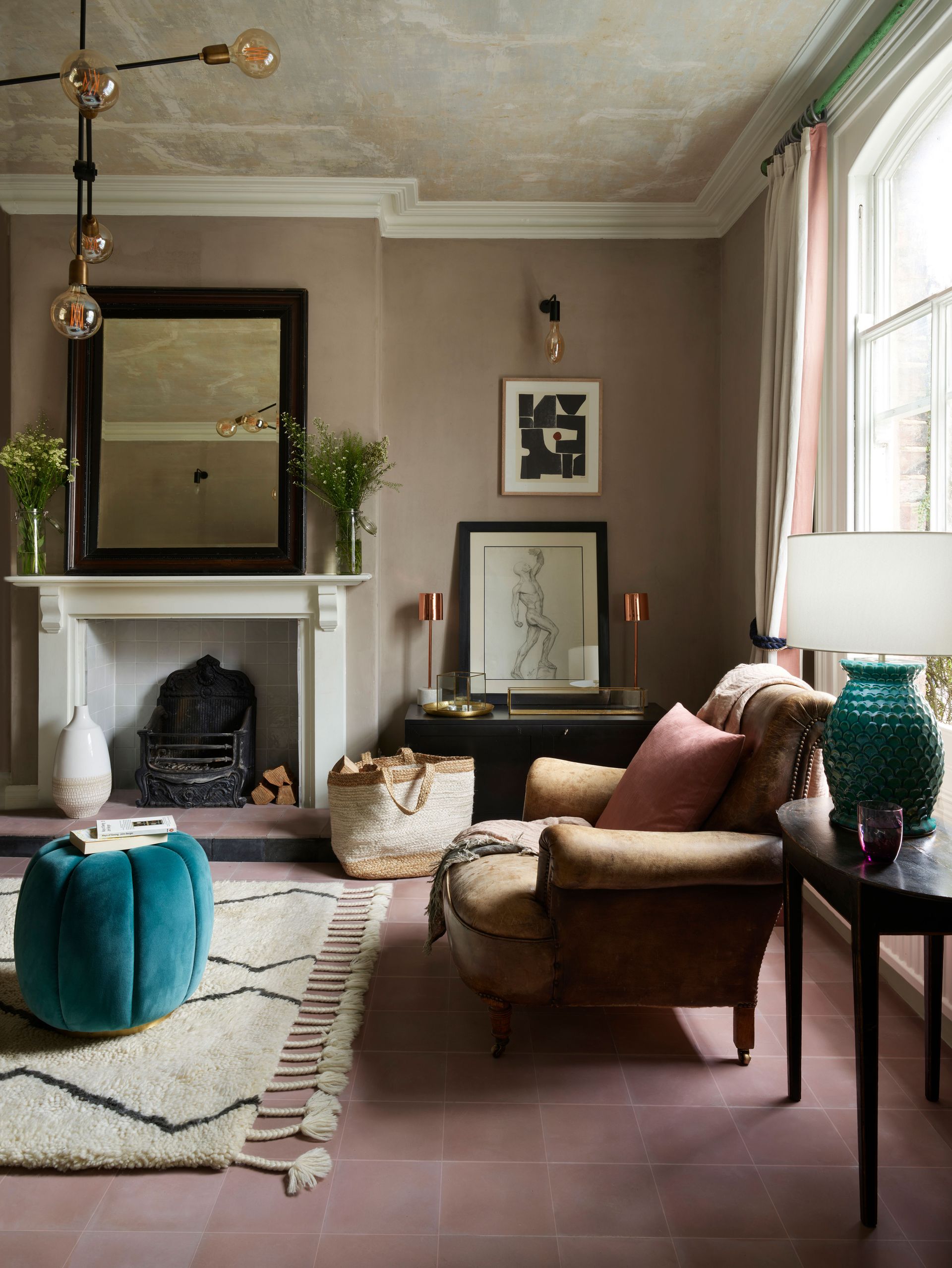 While typically reserved for the more functional rooms of the home, tiles also have a place in living room ideas. 
When choosing tiles for your living room flooring ideas, opt for tiles colored with natural pigments – such as these from Bert & May (opens in new tab) – as they will bring a sense of warmth and depth to the scheme. They will also provide a neutral backdrop that will suit a wide variety of interior styles. 
Cozy up the space by dressing with living room rug ideas – such as this Berber design – and pairing them with warming metallics and leather furnishings for an inviting, rustic ambiance.
11. Embrace history with encaustic hallway tiles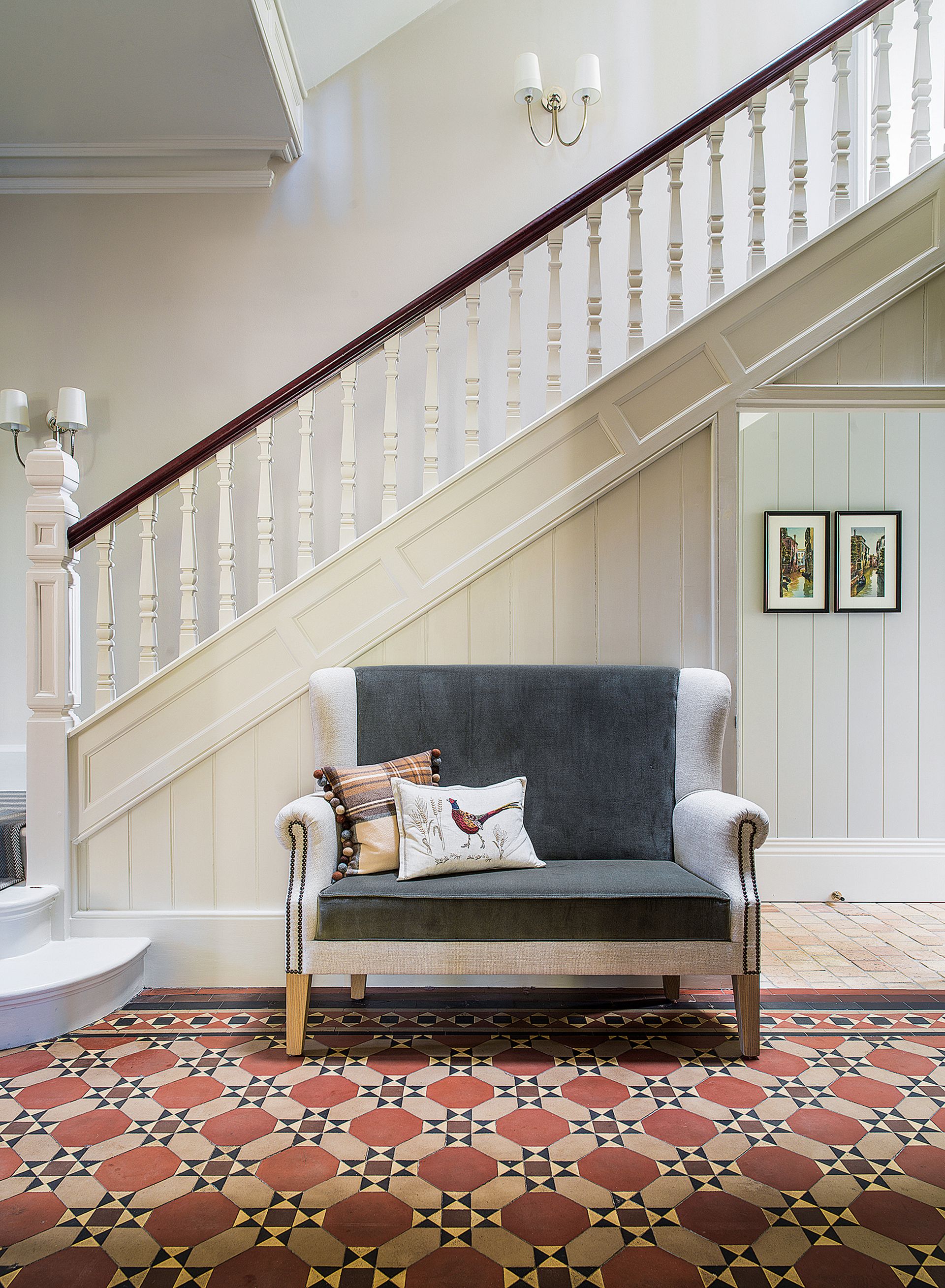 Instantly recognizable as Victorian hallway tiles, encaustic tiles have become a favorite way to tile hallways and porches in homes of all styles and ages. However, their success in the Victorian period is due to their popularity in the medieval era, and it was the Gothic revival that brought them back to the fore. 
Usually comprised of several small tiles in two or more colors laid in a geometric pattern, encaustic tiles allow you to create your own patterns or embrace historic laying patterns. 
Traditionally crafted from clay, cement is a popular alternative due to its affordability,  despite being slightly more porous. In both cases, the designs are inlaid into the clay or cement base to form part of the actual tile, meaning it won't wear off over time.
If opting for encaustic tiles, research how to clean encaustic tiles as it is slightly different from cleaning traditional porcelain tiles.
12. Go for colored grout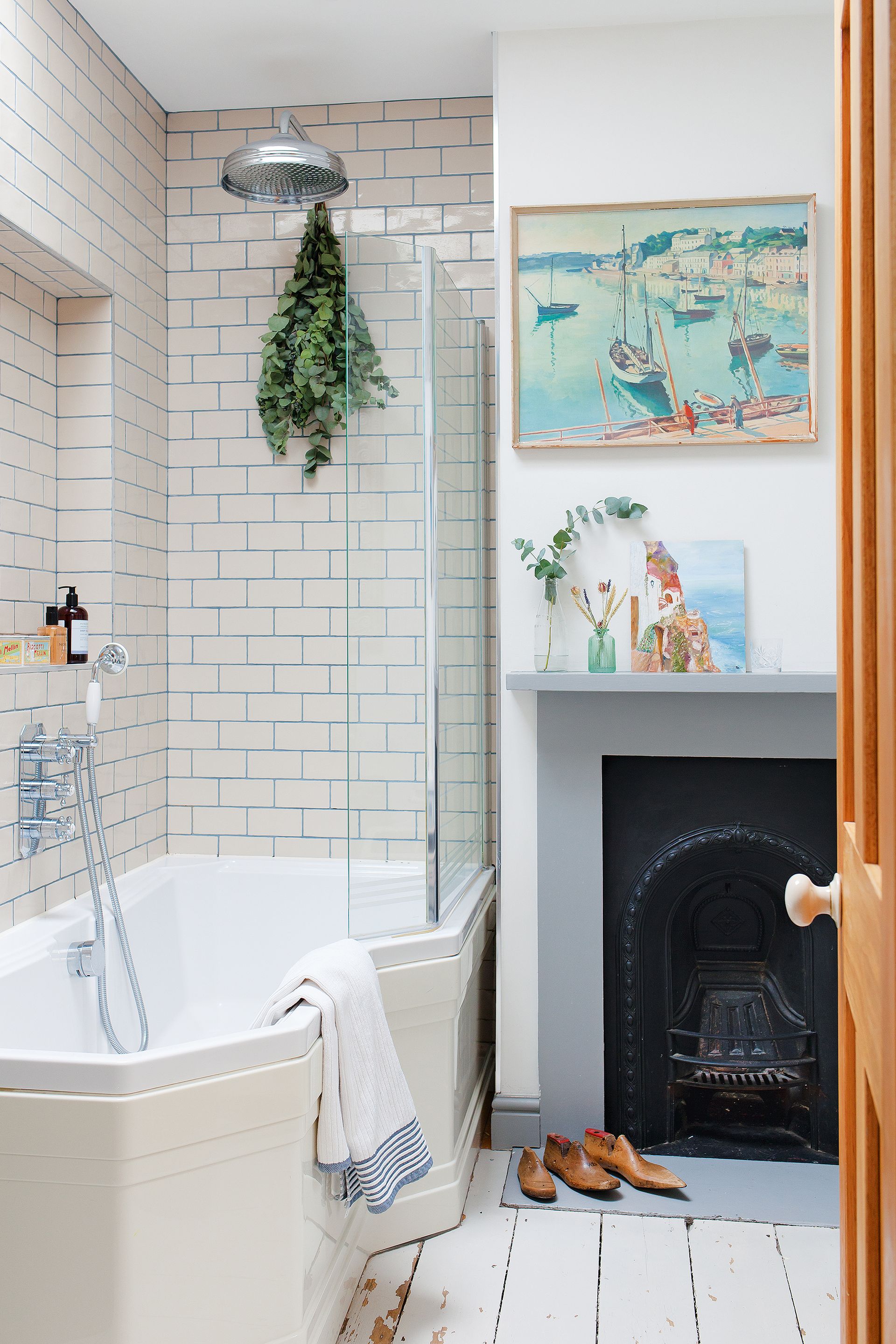 Choosing the right grout is as important as your tile ideas. Of course, there are practical considerations such as mold resistance and durability, but grout also plays a significant design role too. Traditionally grout was either white or gray, however, there is now a myriad of shades available. 
'If you really want to make a statement, use contrasting grout to let the tiles shine. Colorful grout is starting to make an impact in interior design. Gone are the days when homeowners were limited to grey, black, or the staple white. As homeowners have embraced bolder interior schemes, demand for more grout options has followed,' explains Abbas Youssefi, director of Porcelain Superstore (opens in new tab).
In this bathroom, the metro tiles have been grouted with bright blue grout to give a burst of color to the otherwise neutral space.
If you're looking to update your tiles' look with colored grout, research how to grout tiles before setting out, to ensure that you achieve the perfect finish.
13. Consider classic subway tiles for timeless appeal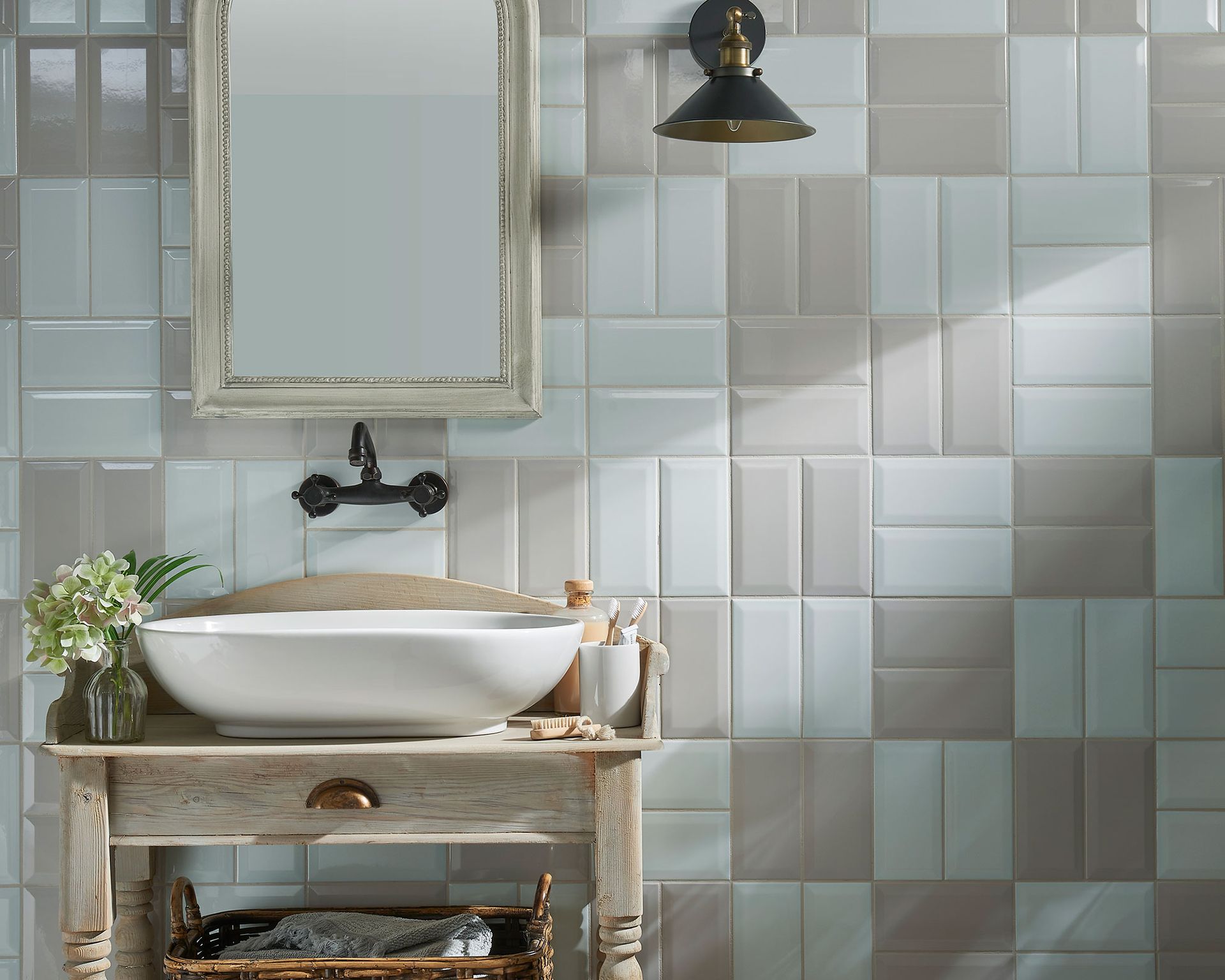 Subway tiles are a truly timeless choice of wall tiles – especially bathroom wall tile ideas.
Whether you opt for understated neutrals, bold glossy designs, or bright white dark, there is a subway tile to suit every space. You can then pair these with white grout for a lighter, country-style aesthetic, or use a darker shade to highlight each tile's silhouette and create a more modern finish.
As seen in this example of subway bathroom tile ideas, there is also flexibility in terms of layout. Of course, there is the traditional brick wall design or more unusual vertical arrangement alongside herringbone or this geometric-inspired laying pattern.
14. Choose the same tiles – both indoors and outdoors – for seamless flow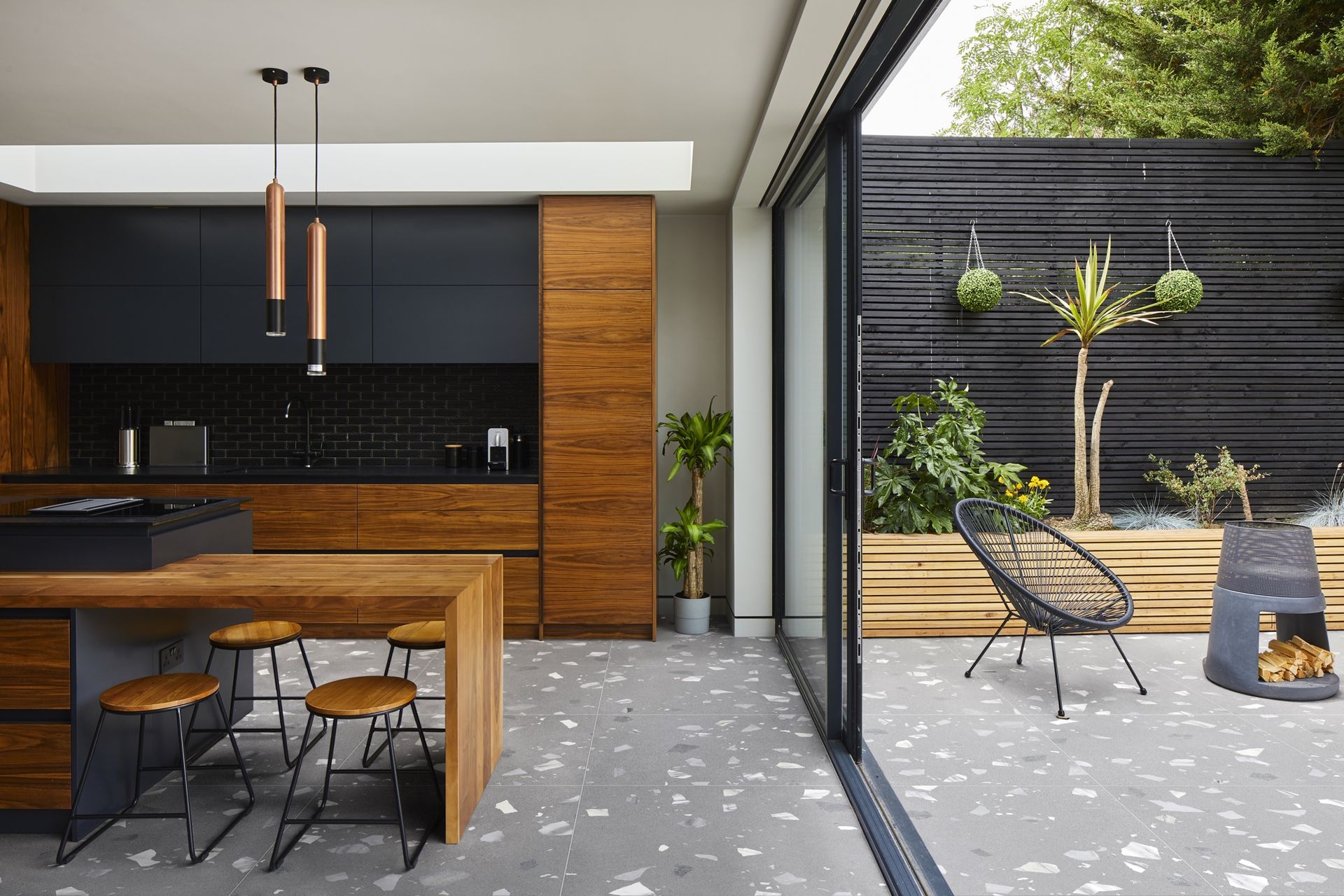 When tiling a kitchen or conservatory, that leads out onto your patio ideas or to an outdoor kitchen, opt for a tile that creates a seamless flow between outside and in. A stone or porcelain tile with a high anti-slip rating can be paired with a level threshold and applied both outside and indoors. This creates the illusion, that when the doors are open, the space is one. This would be the perfect finishing touch to create a seamless flow between a kitchen and outdoor dining area – particularly useful if you are looking for space-boosting tiny kitchens.
15. Complete a fireplace with tiles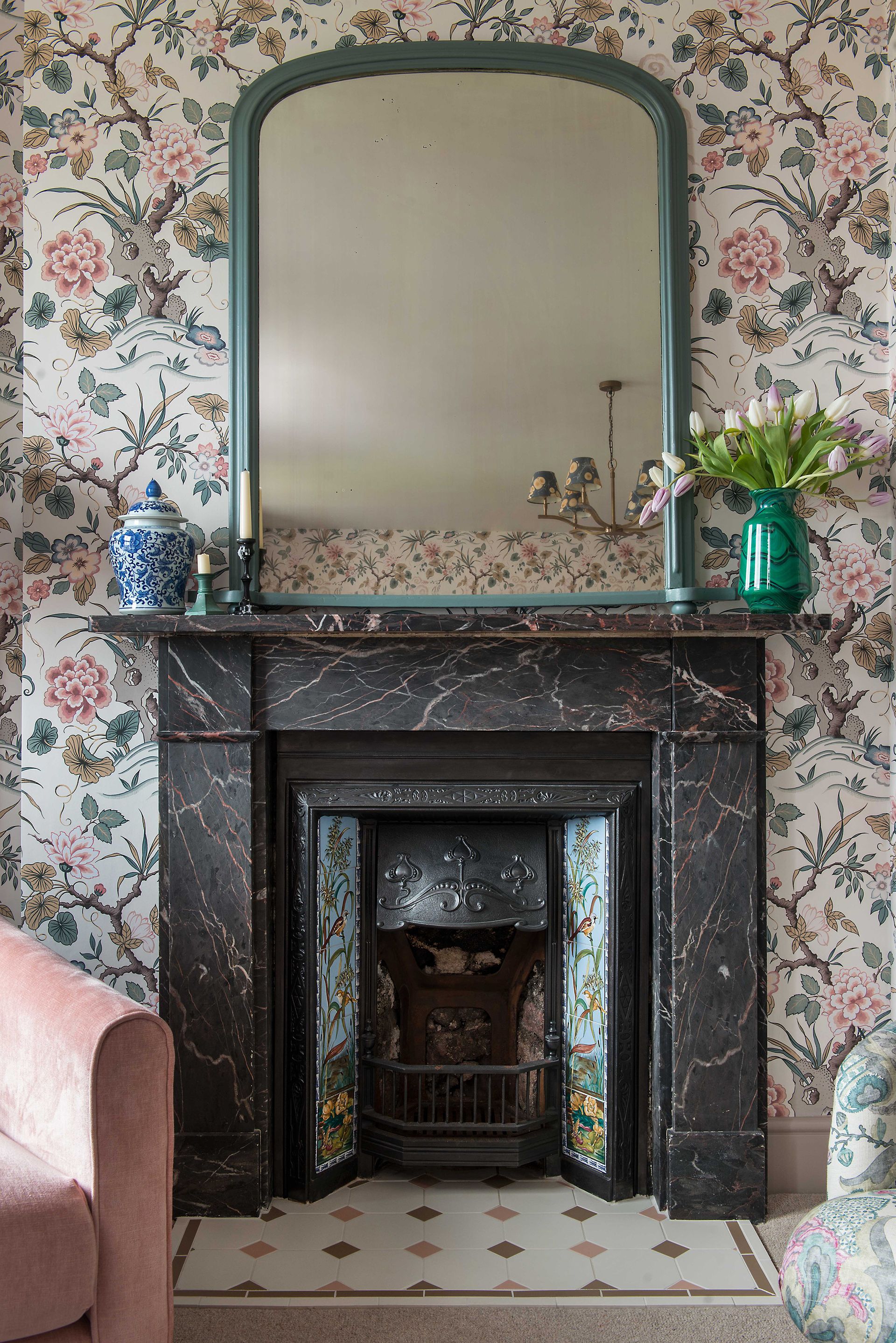 The fireplace forms the central point of any room in which it is placed and the right fireplace tile ideas can really help them to shine. In this beautiful marble fireplace, traditional decorative Victorian-style tiles panels have been paired with a more modern design on the hearth. 
If you're setting out on this project, be sure you know how to tile a fireplace to achieve a professional finish. 
Which color tile looks the cleanest?
Dark color tiles will always be easier to keep looking clean – especially if they feature patterns, detailing, or striations. 
What color floors make a house look bigger?
Light-colored flooring will make a house look bigger. Opt for cream or white tiles with a gloss finish to help reflect light back into the room. Laying patterns, such as herringbone, can also make a house look bigger as they draw the eye into the room and visually accentuate its length.