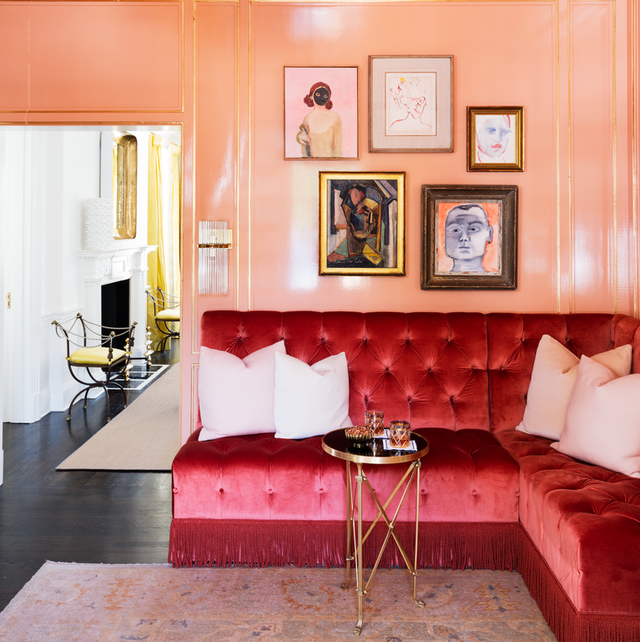 Mali Azima
Nowadays, so many influencers and designers showcase immense spaces with endless room for furniture and decor. As stunning as their designs are, they're not always realistic for every type of renter or homeowner. With that in mind, please allow us to assure you that endless space and stellar design are not synonymous. To prove it, today's topic is none other than small living room design ideas. Whether your home is equipped with a small separate room that serves as your living room or a fraction of an open floor plan that sprawls into your kitchen and bedroom, here, you'll uncover over a dozen different small living room ideas to spruce up your space. Where some ideas center on singular colors and complementary palettes, others illustrate how small spaces can seem larger and more welcoming with specific design styles. All this to say, regardless of the size of your living room, there are plenty of ways to make it work for you. You just have to get creative. The small living room design ideas in the slides ahead will help you do just that.
Advertisement – Continue Reading Below
1
Color Galore
Once upon a time, many interior designers believed that the more patterns and textures in a space, the smaller it looked. Today, however, that couldn't be further from the truth. Nowadays, one of the biggest interior design trends focuses on maximalism, with patterns and color everywhere. So, if you've been hoping to douse your small living room in a fun palette, there's no time like the present. This vibrant space designed by Liz Caan masters the art of mixing patterns and colors.
2
Corner Sectional
Designer Melanie Turner mixed contemporary furniture and decor with an unexpected glossy peach paint that gives this sitting area an old Hollywood parlor feel. If you're craving a feminine touch in your living room, let this guide you. A corner booth, small rug, and cocktail table create a mini living space, and the gallery wall adds an artistic focal point.
3
Modern Whimsy
Chartreuse is making its rounds in home design, so if you're craving a unique color to brighten your space, you can't go wrong with the traditionally retro hue, seen here in Janie Jones' home. By opting for a smaller L-shaped sectional, you can divide an open floor plan to create more of a traditional living room space, too.
4
Art Deco Abode
Sticking to the retro trend, here's a small living room idea by designer Ceara Donnelley that showcases plenty of textures and prints, without loads of vibrant color. In that way, it's a fabulous idea for a vintage-inspired designer looking for a more neutral palette.
5
Maximalist Moment
Love the idea of a more maximalist living room but not ready to embrace quite as many colors, textures, and prints as were in the first small living room idea on this list? This room from the iconic Kips Bay Decorator Show House shows how you can use bold colors and prints to complement a small living space.
6
Face-to-Face Seating
For a more traditional small living room idea, take the focus off loud furniture and wallpaper and place it on a quaint conversation set that will help encourage connection in the space. This small living room idea is the work of Los Angeles-based interior designer Casey Hill of Casey Hill Studio.
7
Green and Blue Hues
Designed by Tammy Connor, this small living room idea brings images of Only Murders in the Building to mind, thanks to its similarity to Charles-Haden Savage's (Steve Martin's) swanky apartment. It's chic yet masculine, and colorful without being overly saturated.
8
Vertical Storage
When working with a small space, few things compare to the capacity for vertical storage. Here, decorator Summer Thornton proves just how far a floor-to-ceiling built-in bookcase can go. Just look at how it seems to expand the space and make it look even grander.
9
Confined Conversation Set
Not quite sure which color palette you'd like to move forward with in your small living room? By sticking to a neutral base, complete with off-white walls and furniture–as Alessandra Branca did here—you can regularly swap out pillows, lamp shades, and artwork to drastically shift the look of your space.
10
Buttercream Beauty
Of course, you don't have to stick to white walls if you're hoping for a neutral living space. Buttercream yellow walls can brighten and warm the room without serving as a bold accent wall, which will ultimately make your small living room look bigger.
11
Cozy Corner
Working with a particularly small living room? Use the length of the room to your advantage by outfitting your space with a sprawling couch that fits perfectly in the corner. Add a few tables and easily movable chairs, et voila, you're ready to entertain–or curl up with a book on your own.
12
Hunter Green Hideout
An easy way to make your small living room look particularly well put-together is by painting it in one of the year's trendiest paint colors. In this case, it's a forest-hunter green, which Connecticut-based designer Chauncey Boothby of Chauncey Boothby Interiors, dubs one of the most popular colors of 2022.
13
Colorful Comfort
For a laid-back space that doesn't lack an ounce of quirky style, check out this small living room idea by Designer Noz Nozawa. Her goal "was to create a morning room where people could feel rejuvenated." We think she nailed it.
14
Globally Inspired
If you're a world traveler—or if you're simply inspired by wanderlust—let your global mementos serve as your living room brand style, as designer Matthew Carter did here. Each decor item will have a story to tell, making the small room feel boundless.
15
Granny Smith Green
Another color that will instantly magnify your small space? This shiny granny smith green hue. Paired with popping raspberry-colored decor, this high-contrast small space makes us feel anything but cramped.
16
Midcentury Chic
Teetering on the edge of neutral and bold? By opting for a neutral color palette displayed in bold geometric prints and shapely bookcases and vases, you'll be able to breathe life into your small living room, making it feel larger in the process. Designer Joe Lucas proves it in this room he designed for the Kips Bay Decorator Showhouse in Palm Beach.
17
Colonial Modern
We love the bright, unexpected colors found inside this modern colonial home designed by interior designer Anthony Baratta. Despite being a small living room, this room boasts a larger-than-life style thanks to the vivid colors, enlarged font, and mismatched furniture that just works.
18
Tiffany Blue View
Last but not least, we have a pastel paradise that would be the perfect small living room to host a mini bridal brunch or ladies' night. It's soft, whimsical, and romantic—even without tons of space to dedicate to the overall design.
This content is created and maintained by a third party, and imported onto this page to help users provide their email addresses. You may be able to find more information about this and similar content at piano.io
Advertisement – Continue Reading Below