A budget kitchen doesn't have to compensate on a stunning finish that is totally equipped for daily use. Sure, creating a cooking space on the cheap, that still has the look you love, as well as all the functionality the room needs, might seem like an impossible task. But we're here to tell you that a practical and stylish design can be yours for less.
Whether you're starting from scratch with a whole new kitchen or updating the parts of the room that are looking tired or old fashioned, clever choices and nifty design strategies can ensure a limited budget goes much, much further and you can create great results. 
Before you begin, check out our dedicated feature on new kitchen costs to help you plan your spend.
After that, all you need are our looks to inspire and tips on where to find kitchen essentials that are kinder on your pocket to create fabulous kitchens on a budget.
The cost of designing kitchens on a budget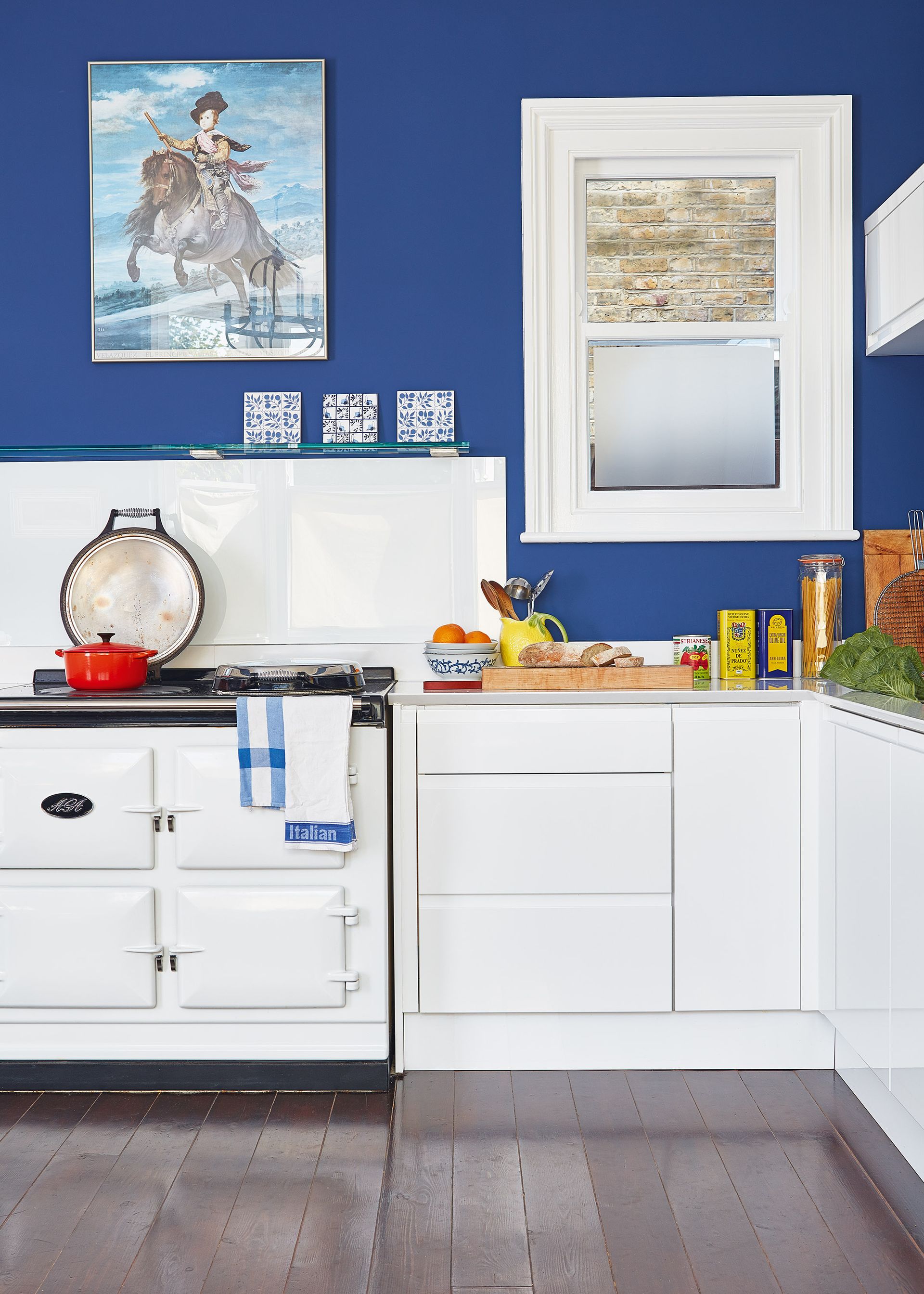 As a very rough guide, when designing a kitchen on a budget, it is sensible to spend a maximum of five per cent of the overall value of your house on a new kitchen, to avoid losing money if you sell. 
At the lower end of the scale, expect to pay upwards of £3,000 for good quality units for an average sized kitchen. On top of this, you'll need to add worktops, which cost upwards of £200, appliances and fitting, which can vary from a few hundred pounds to more than £2,000, depending on the kitchen's complexity.
When pricing up your furniture and worktops, be aware that estimates will vary quite widely depending on the quality and level of design you are after, but expect to pay from £17/m² for standard off-the-shelf units and work surface, and up to £144/m² for bespoke units and design service.
Kitchens on a budget can be DIY fitted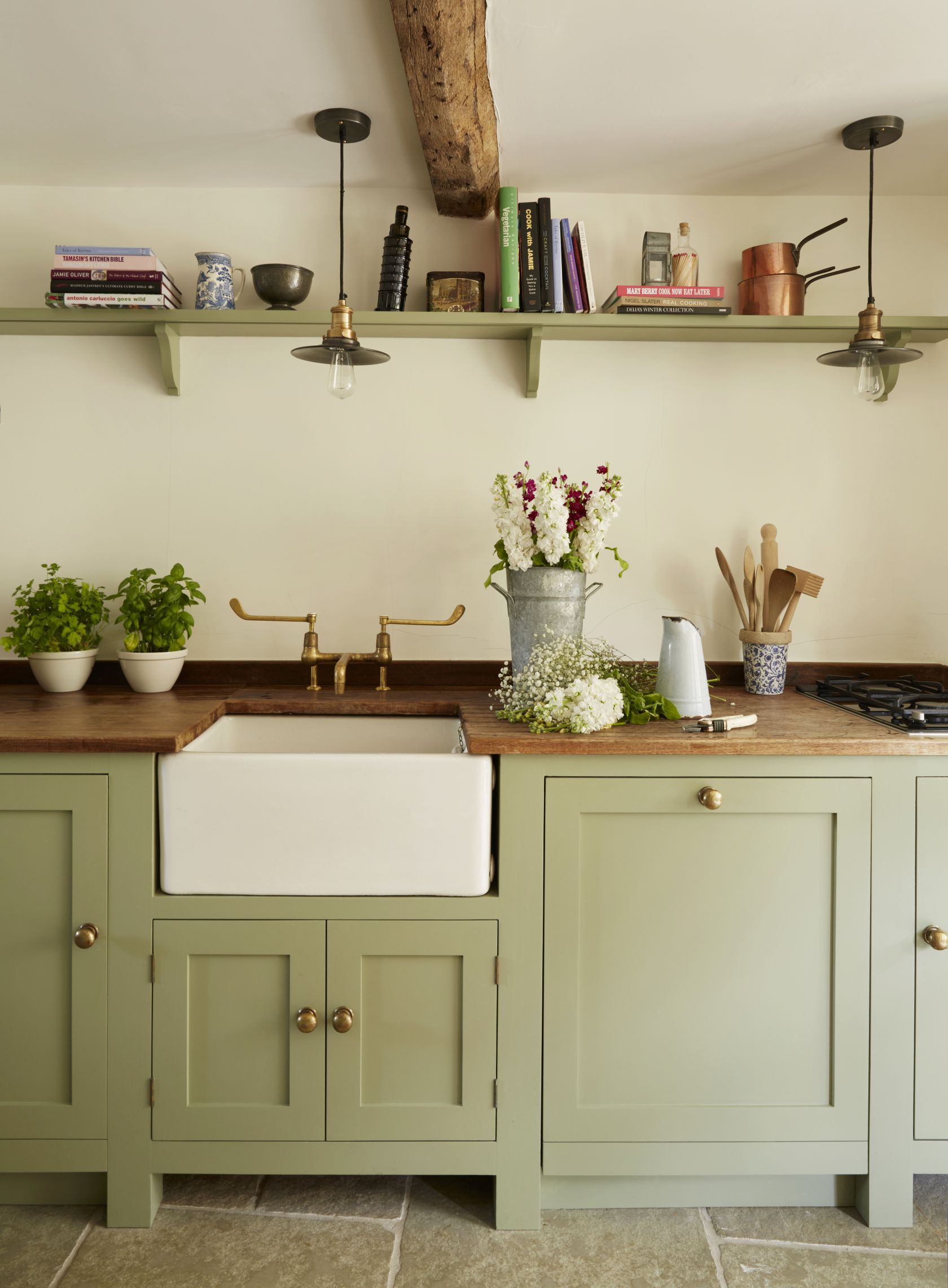 You could also save over £1,000 by installing the kitchen yourself, but you will compromise the finish if your DIY skills are not up to scratch. 
Budget kitchen ideas: 26 tips and looks to inspire
Whether you need to save because the fixtures and fittings for the room are part of the costs of a kitchen extension or you need to upgrade an existing room while being careful with your spend, the good news is that you can get a stylish design for less – you just have to get in-the-know about the best ways to shop for, design and recreate your favourite kitchen ideas for less. 
1. Paint the units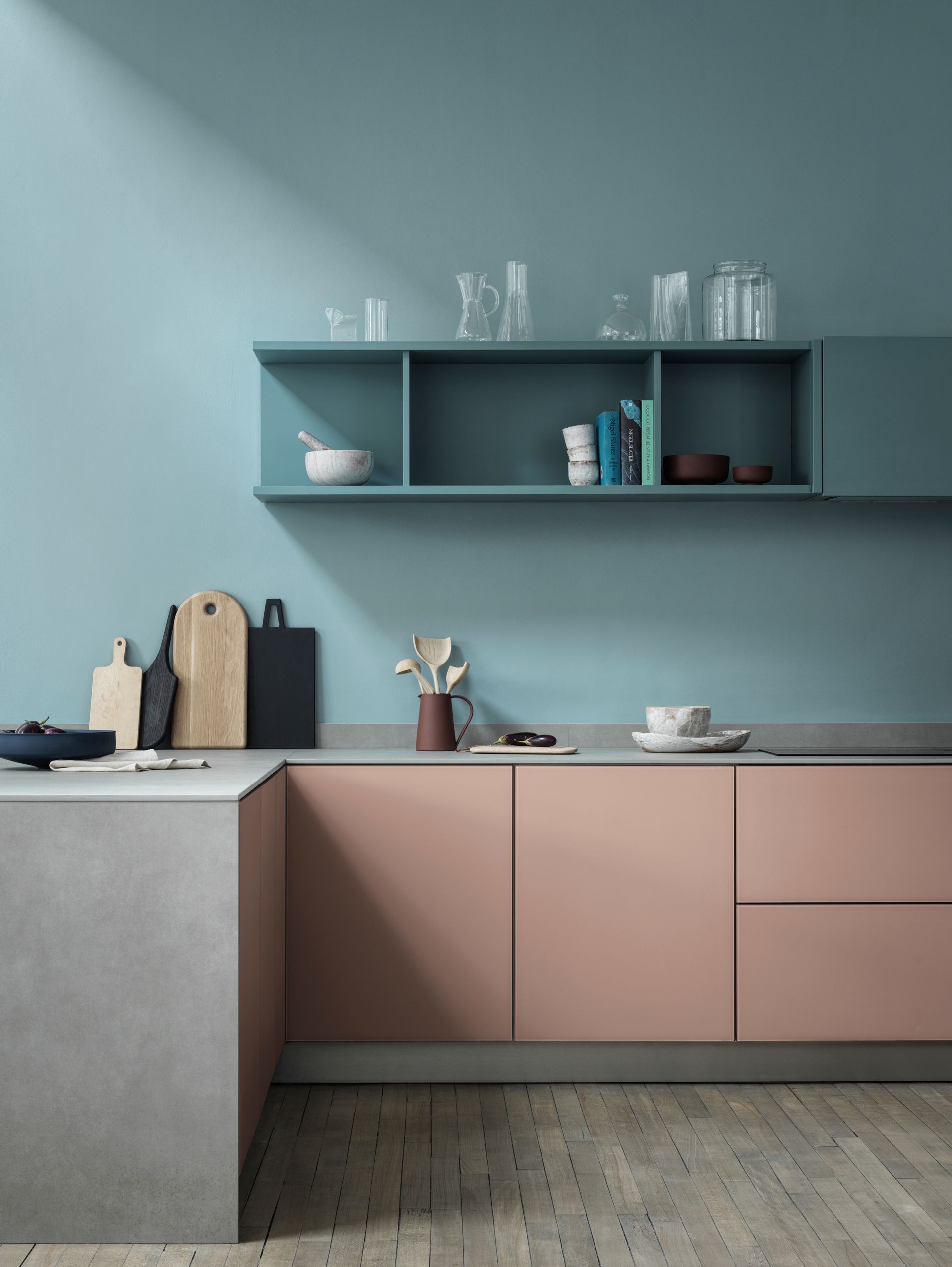 Don't assume you have to start from scratch to create a great new kitchen. If the units are sound and the layout is functional, consider painting them for a modern makeover. 'Prepare them first by sanding down and using a primer,' says Justyna Korczynska, senior designer at Crown (opens in new tab).
For the latest look, consider choosing a colour such as Crown's Powdered Clay, shown above. 'Using pastels in the home doesn't always have to be sweet and pretty,' says Justyna. 'Shades of the palest pink, sherbet lemon or watery mint green can look new and modern if combined with tones of grey and hard materials like concrete and metal.'
2. Swap the doors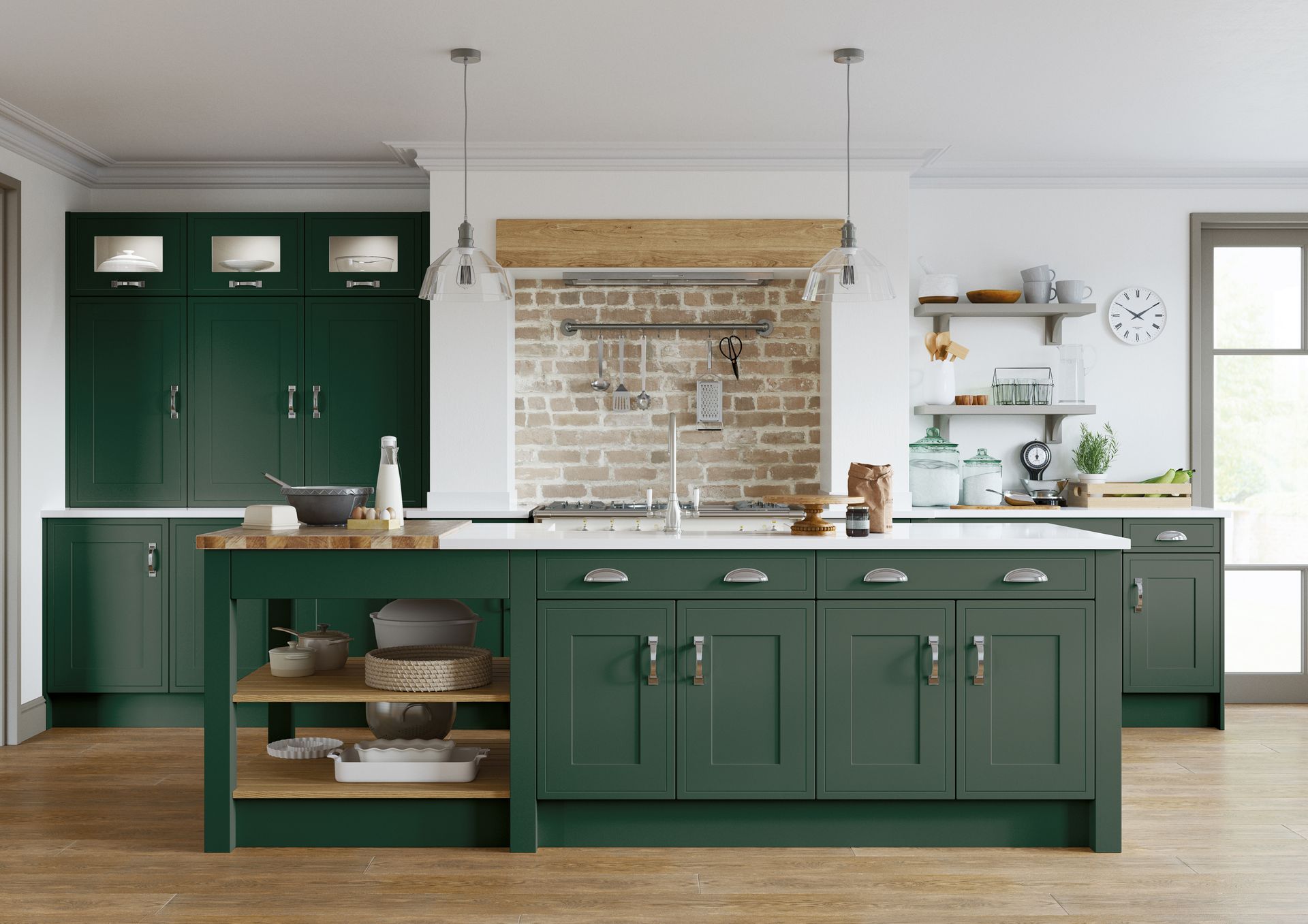 If the style of the cabinets is letting the room down, provided the interior is still sound, simply swapping old doors for new ones can transform the room without the cost and disruption of fitting new units.
'Doors are the front-facing side of your kitchen, so these are what will make the biggest difference when it comes to appearance,' says Scott Peterson from HKUK (opens in new tab). 'If you want a super quick fix that will give you a different look with the least hassle, consider replacing the doors on the lower half of your kitchen with a new colour/style but leave wall units the same, or vice versa.'
3. Buy flat-pack for a more affordable kitchen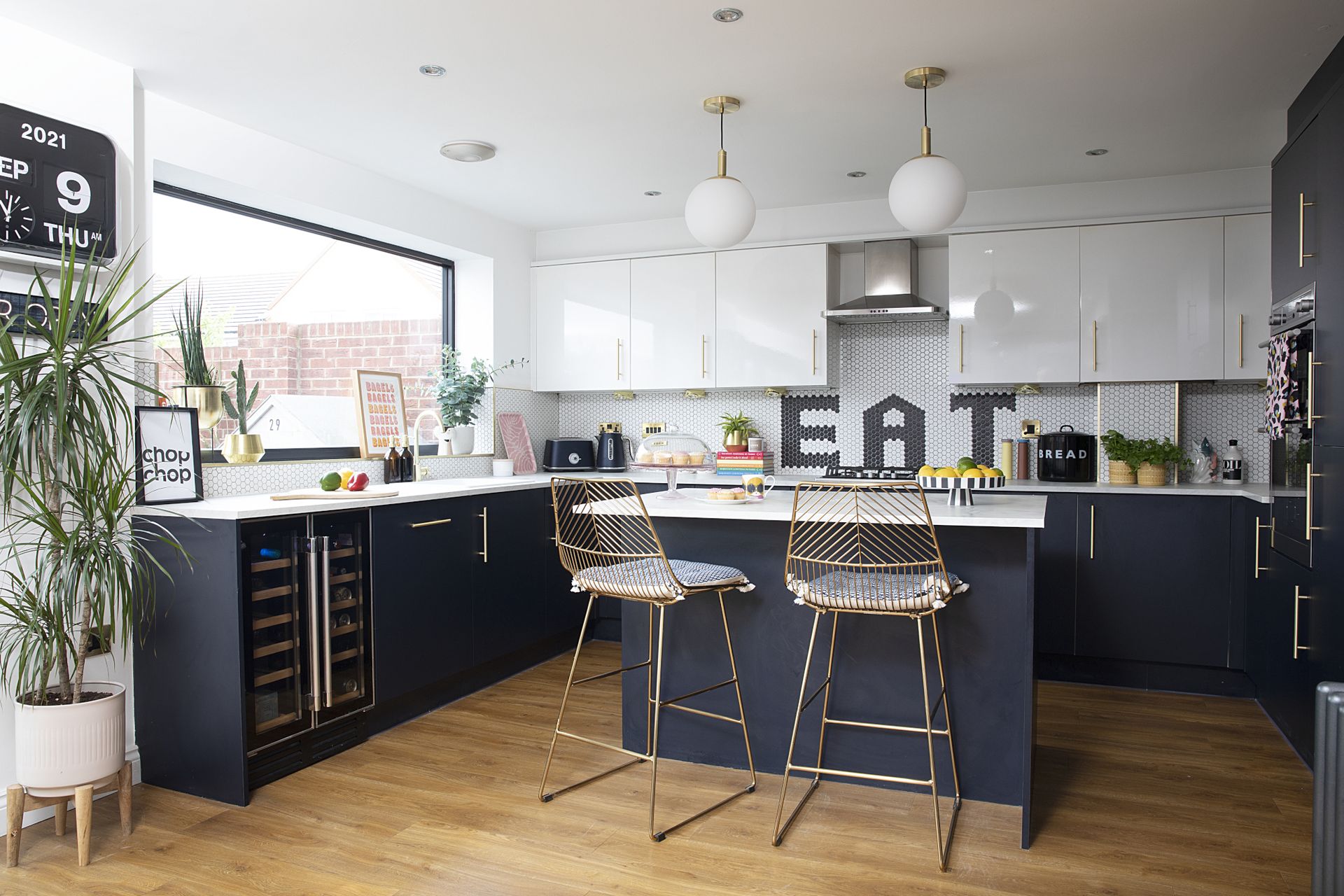 New units a must? If you have a total budget of between £5,000 to £10,000, you may be surprised at the quality of cabinets you can afford. The majority of kitchens within this price bracket will consist of flat-pack carcasses with doors mounted on to the front using hinges screwed into the chipboard. The units are generally all the same on the inside – although some are made sturdier than others with an 18mm frame – with the look dictated by the style and color of doors and decor panels.
4. Pick an Ikea kitchen and upgrade the doors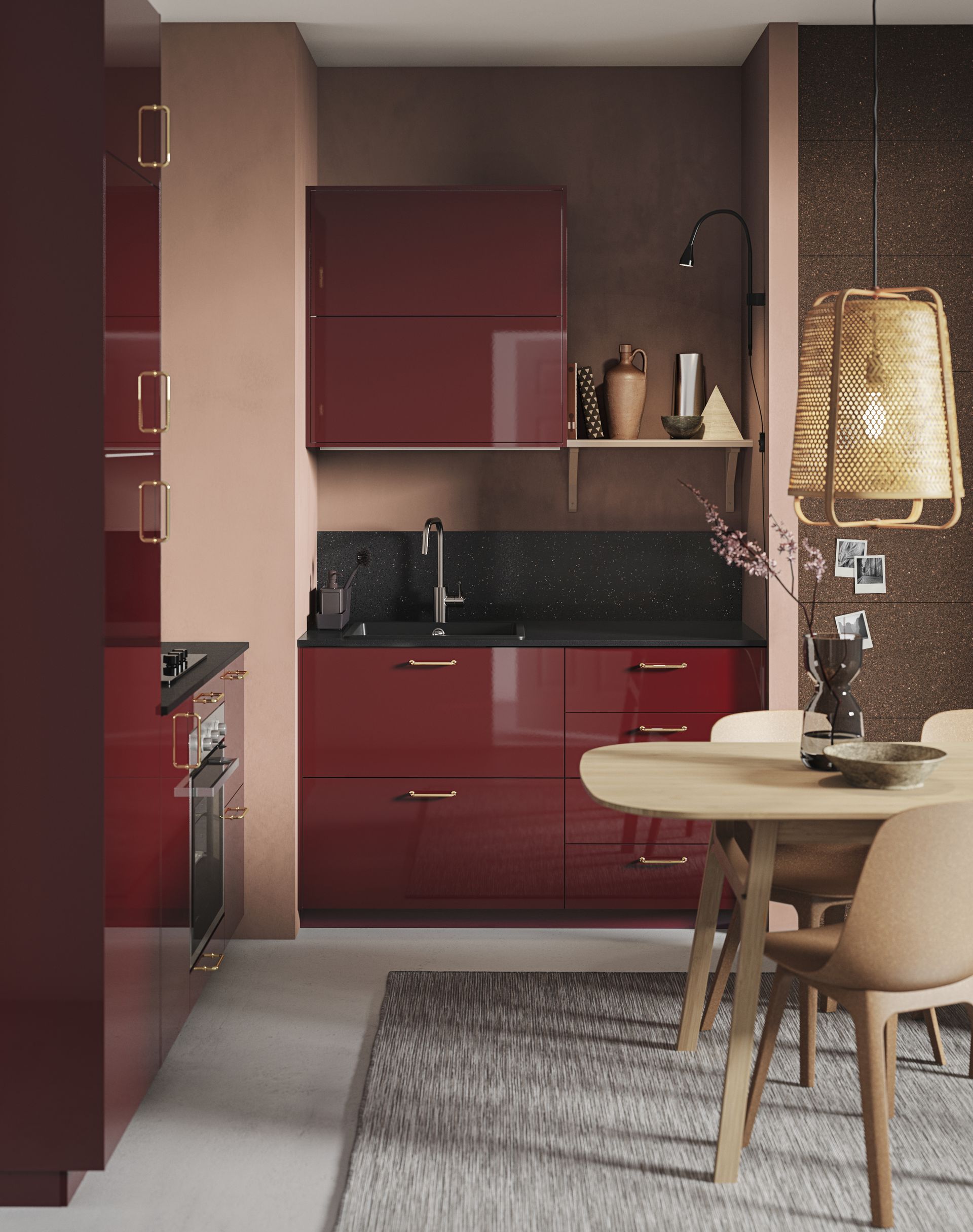 The cheapest way of getting a kitchen with a solid wood finish is to buy affordable off-the-shelf carcasses, such as from Ikea, and then get a joiner to make solid wood door fronts. You can even order them online – try Superfront (opens in new tab), which makes doors, handles and legs for Ikea frames, or Shaker Doors Oxford (opens in new tab).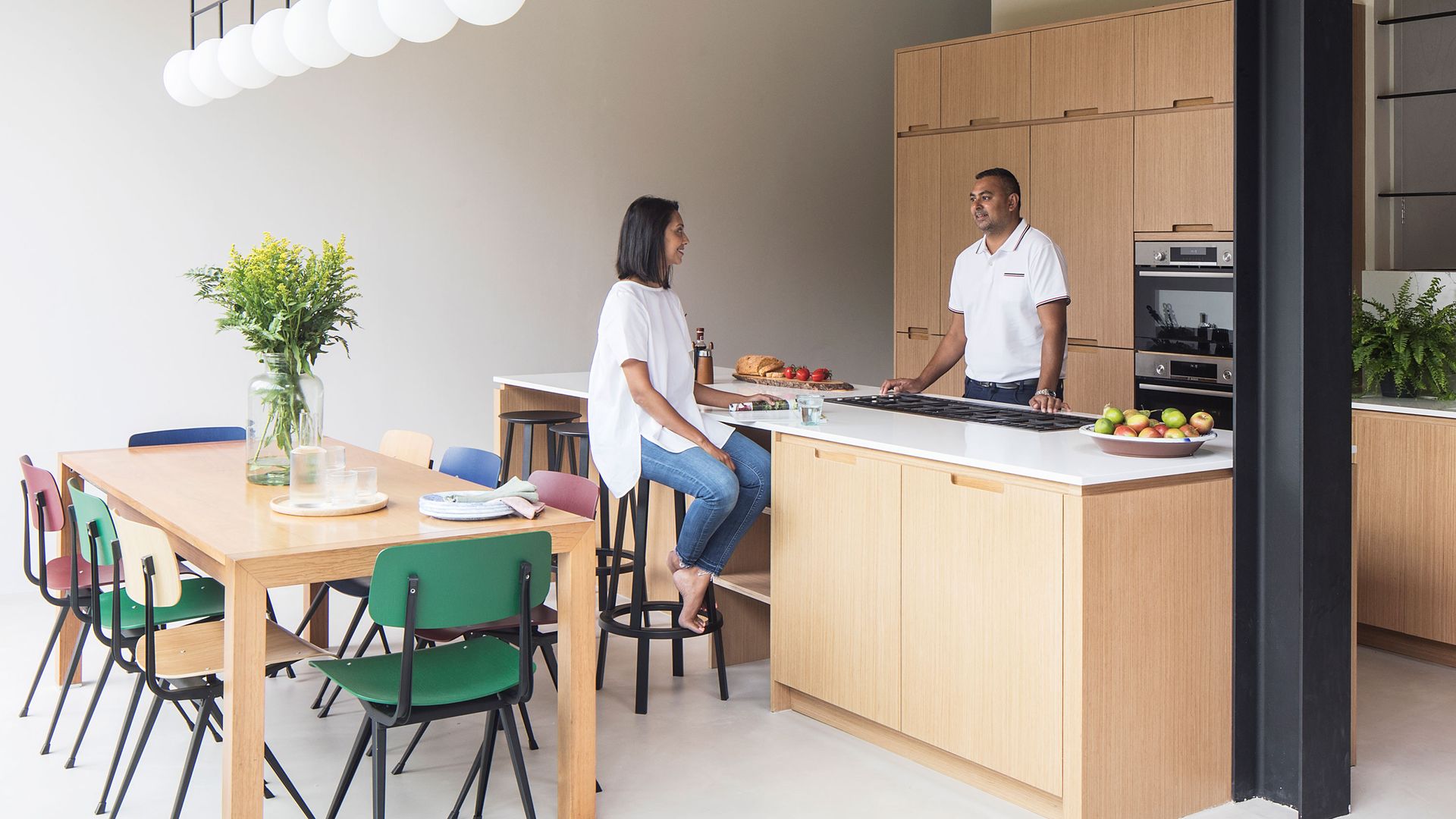 If you're designing a kitchen on a budget but want to achieve the look and feel of bespoke units, companies like Plykea (opens in new tab) and Husk (opens in new tab) upscale Ikea Metod Kitchens (opens in new tab) with the help of bespoke and stylish plywood fronts and worktops. 
The beauty of this type of kitchen is that it can recreate the look of a more expensive in-frame design for less, which can then be dressed up with luxurious fixtures and finishes, such as a beautiful Belfast sink and bridge tap. Smart kitchen storage solutions, such as pull-out carousels, can also be installed into the units at a fairly low cost.
Or, if you've found a cabinet door finish you like from Ikea, use kitchen cabinet design ideas such as swapping out the handles for ones that are more interesting.
5. Opt for a freestanding kitchen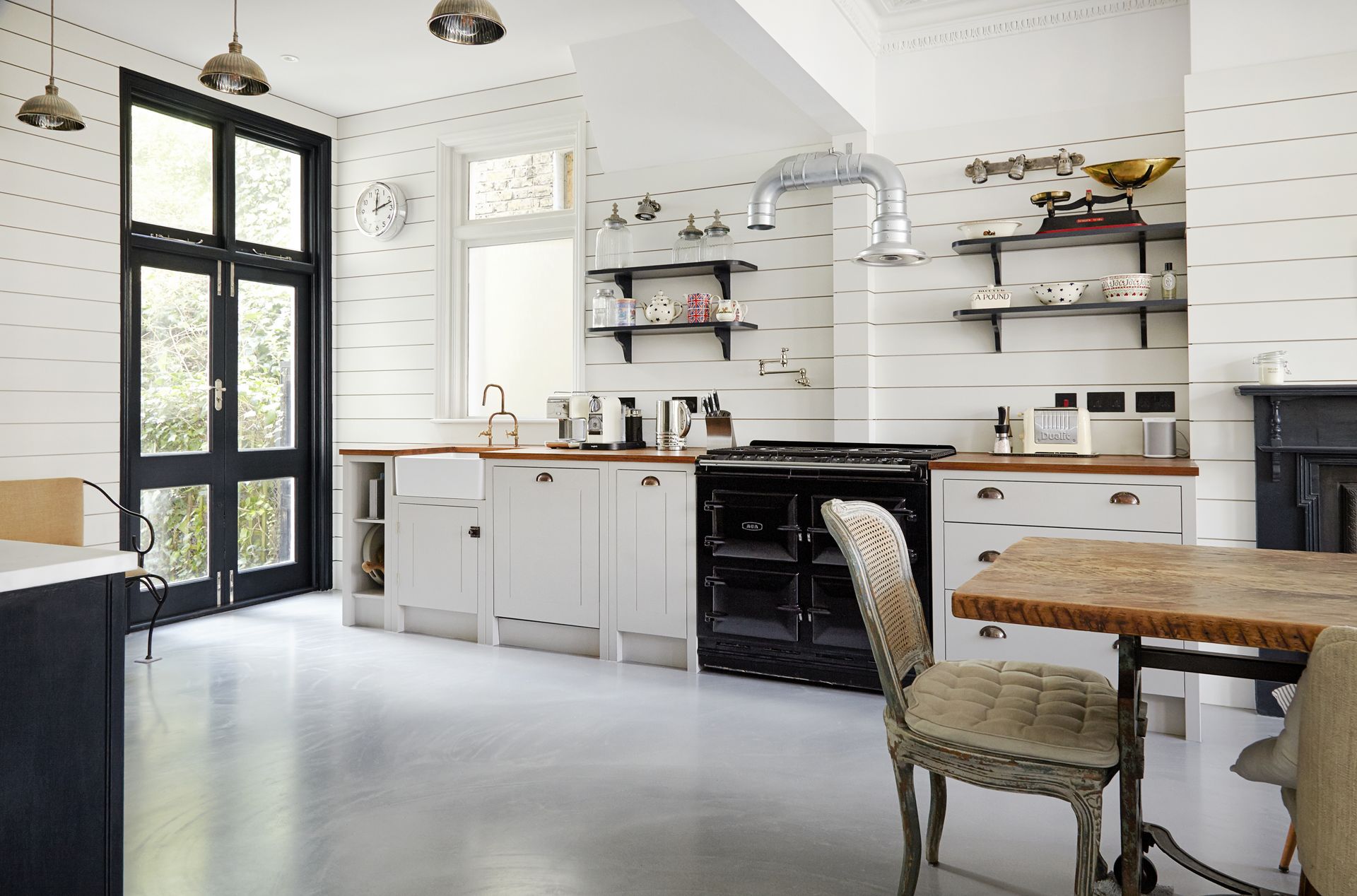 It is possible to purchase a bespoke solid wood, traditionally jointed in-frame kitchen, where the doors sit within the frame, for about £5,000. Try Old Creamery Furniture (opens in new tab) and Pineland (opens in new tab), which offer painted, solid wood units for designing a freestanding kitchen at a very reasonable price. As there are no units to put together, this reduces the time and cost it takes to install.
Also look at British Standard (opens in new tab) by Plain English. Plain English sells bespoke kitchens with an average price of £50,000 to £60,000 but, through British Standard, offers a more affordable range of quality cabinets – from £5,000 for a complete set-up. These have solid wood doors and carcasses made from white melamine faced European birch ply, with beech shelf lippings and traditionally dovetailed drawers.
6. Know where to find the best budget kitchen ideas
Other than Ikea, check out more of our favourite brands, where you can find plenty of budget kitchens that are still incredible stylish…
7. Go for ex-display or used kitchens on a budget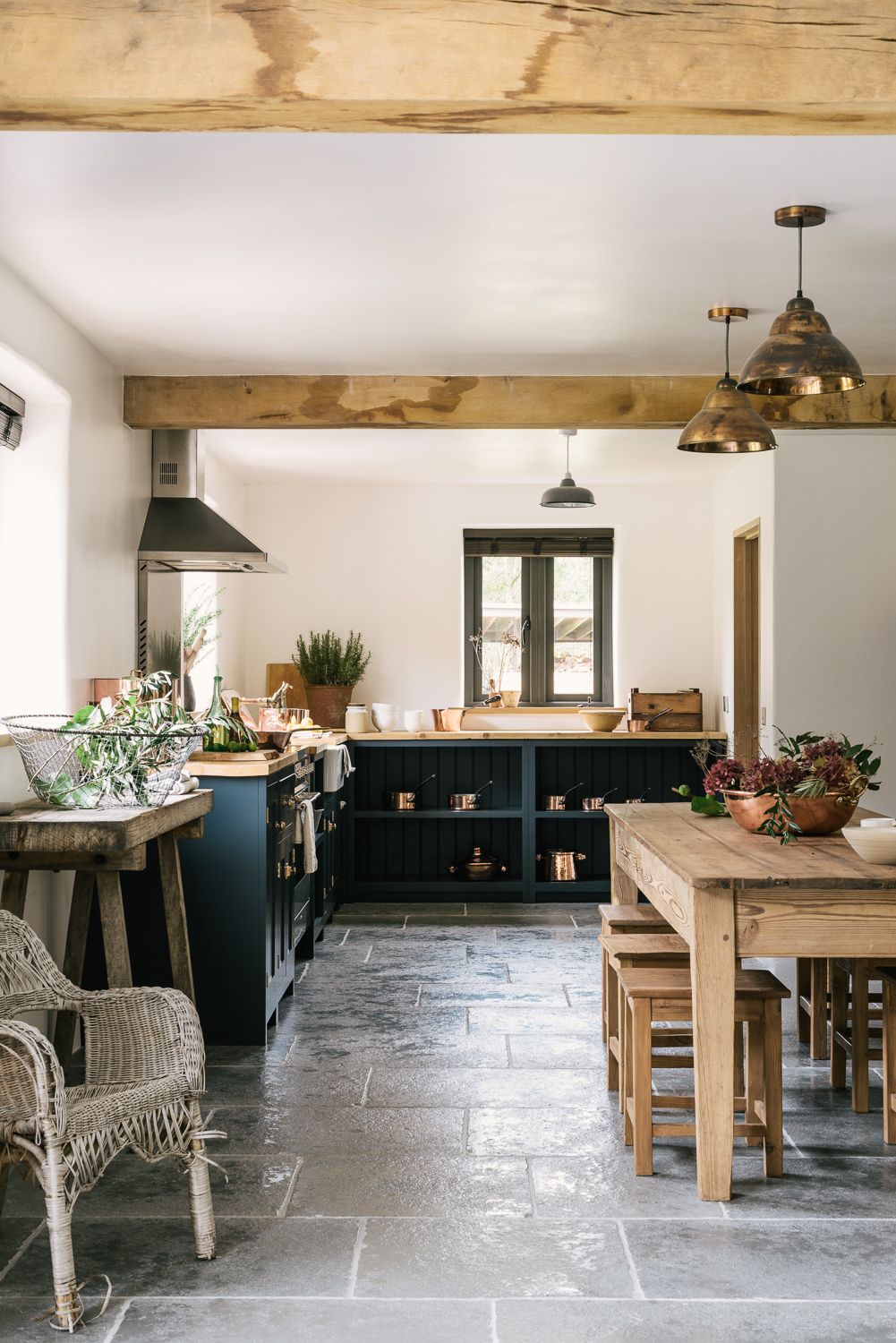 An ex-display kitchen or one that's secondhand can be an absolute bargain. The used kitchens on sites like The Used Kitchen Company (opens in new tab)and The Kitchen Exchange (opens in new tab) are fully inspected to check they are in great condition, so your secondhand kitchen won't come with scratches, scuff marks or moisture rings.  
'One of the best ways to create a stylish kitchen on a budget is to go for a used or ex-display kitchen,' says Looeeze Grossman, founder of The Used Kitchen Company. 'Not only will you be saving a considerable amount of budget but you'll also be saving up to 2 tonnes of waste from landfill as most used and ex-display kitchens are available for up to 70 per cent off the recommended retail price and from as little as £1,750.  Appliances are also often included, meaning you'll also make additional savings there.'
Remember, if you are buying an ex-display kitchen, it has essentially never been used. Everything is pretty much already assembled and ready to go with a recycled kitchen, so no time is spent matching fittings and fixtures. 
8. Mix and match budget and expensive buys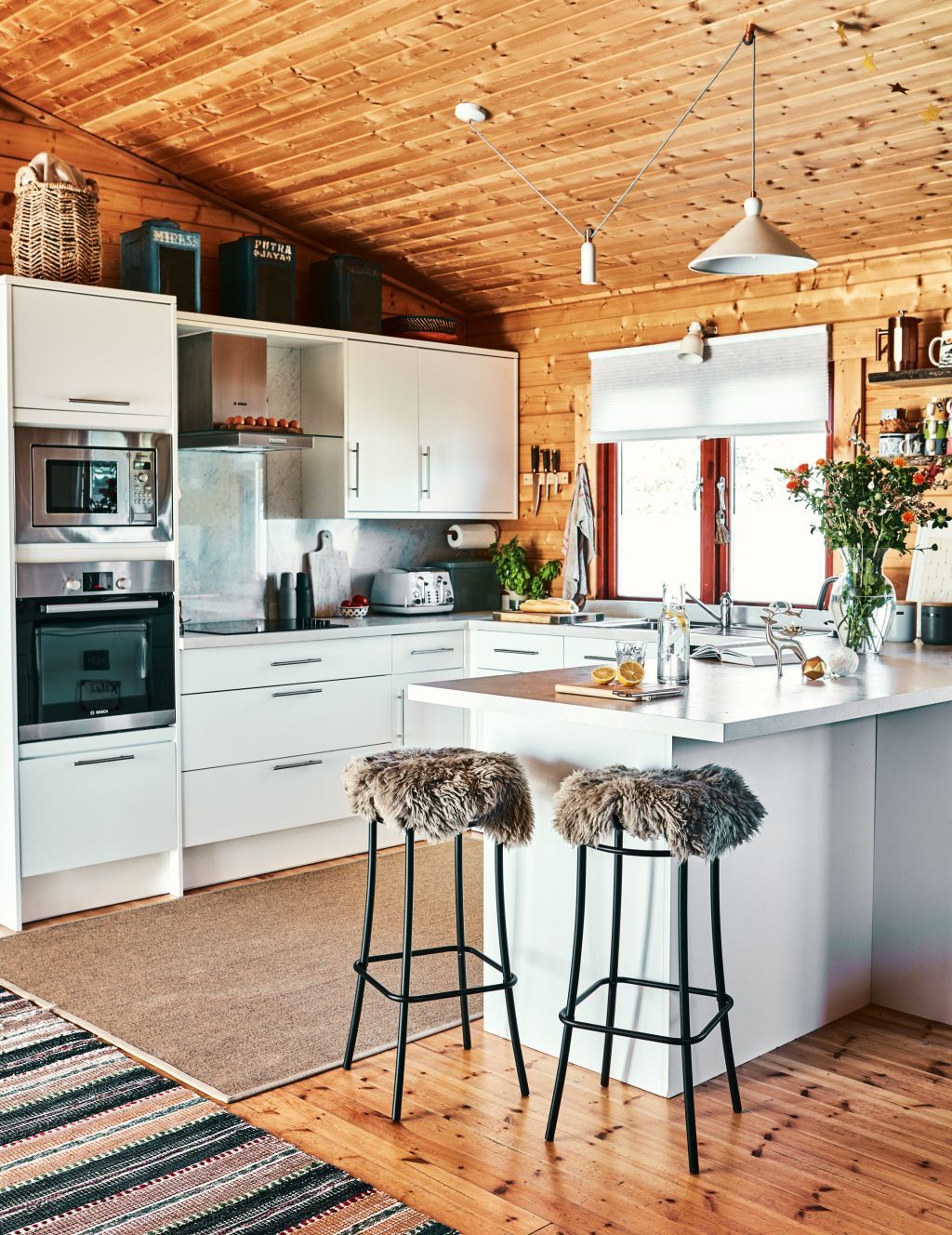 To get a look you love while sticking to budget kitchen ideas, mix and match expensive and more affordable materials. Save pricier buys for areas that are on display and make a feature of them. If you've got an island, you could choose a high-quality and striking worktop for it and pick a less-expensive worktop for the other units.  
Combining a fitted or flatpack kitchen with more unusual freestanding pieces can avoid it looking mass-produced. A statement larder will give your kitchen a bespoke feel, without the price tag. You could even repurpose and paint furniture from another room for a characterful touch.
If you've found a tile you love but it will be too expensive to use for the whole kitchen, limit it to a high-profile area, like a splashback, and complement or contrast with a cheaper tile in the rest of the room.
Mix and match closed and open kitchen storage, too. Open shelving is often much less expensive and you can make a display of favourite ceramics, cook books or jars.
9. Replace kitchen worktops on a budget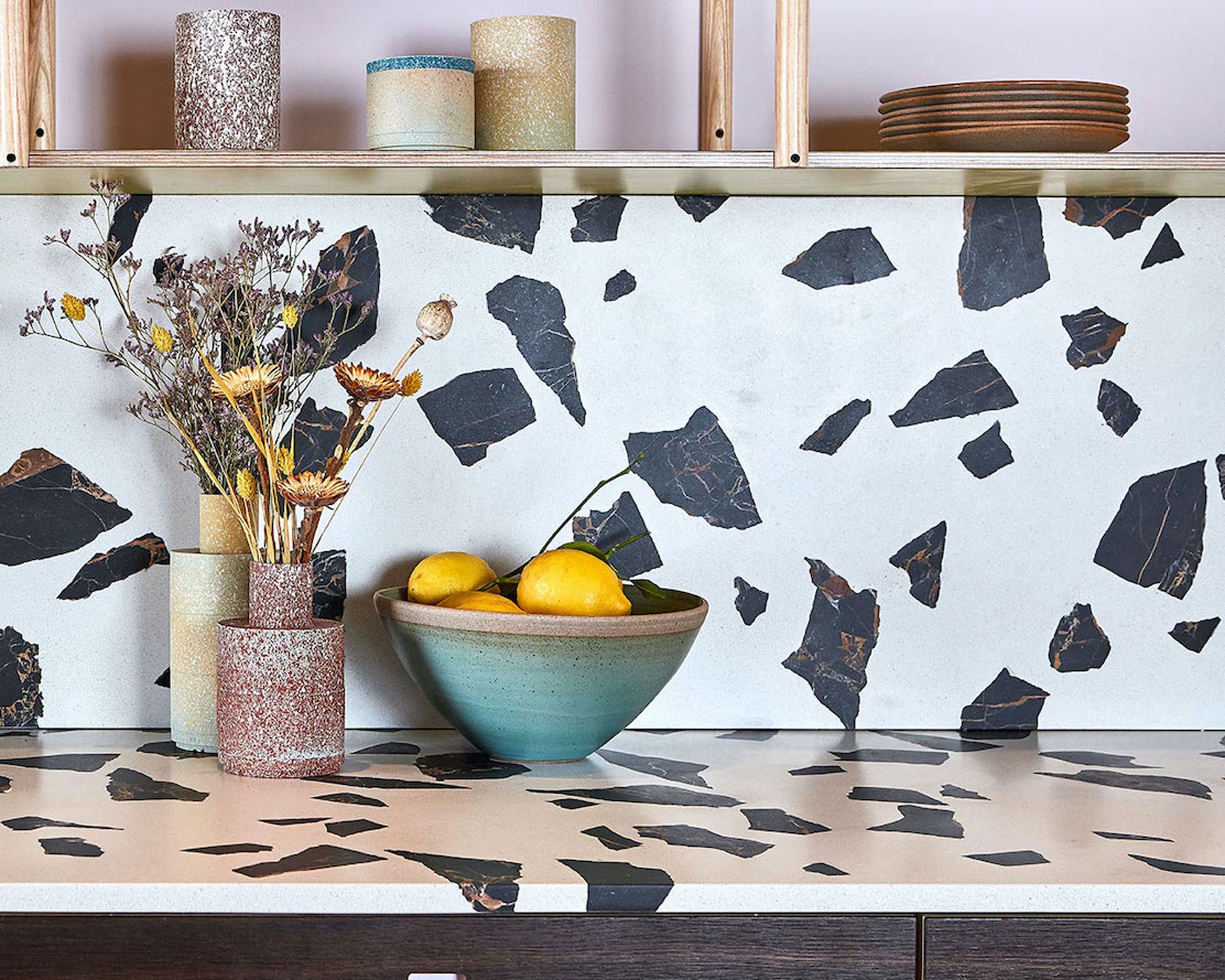 The choice of kitchen worktop mateirals can make or break the look of a budget kitchen.
When it comes to finishes, premium worktops will lift the look of the whole kitchen. Granite and quartz surfaces are a real investment, at several hundred pounds per 3m run, but durable composites, which replicate their intrinsic character and sparkle, are much more cost-effective.
Solid oak work surfaces can be ordered online for as little as £100 to £120 per 3m run; try Worktop Express (opens in new tab). 
'Modern laminate worktop designs have improved massively in recent years,' says Andy Wilton, showroom manager, Kutchenhaus York (opens in new tab). 'Beautifully developed, hyper-real stone designs now offer the perfect cost-effective alternative to solid worktop materials, for an affordable yet stylish kitchen.' If opting for a high-quality laminate, choose a good depth with a squared edge, and overhang it slightly at the end of unit runs for an elegant finish.
If you're only replacing worktops but keeping the rest of the kitchen, you could try Granite Transformations (opens in new tab), a company that fits a new worktop over the top of the old ones.
Mix and match worktop materials, for example a granite island against timber topped units, for a bespoke finish. 
This also allows you to use a cheaper and more durable material where you do most of your work and prep, then inject a bit of luxury with a breakfast bar or plinth in something more high-end such as quartz.
10. Choose a cheap but chic kitchen sink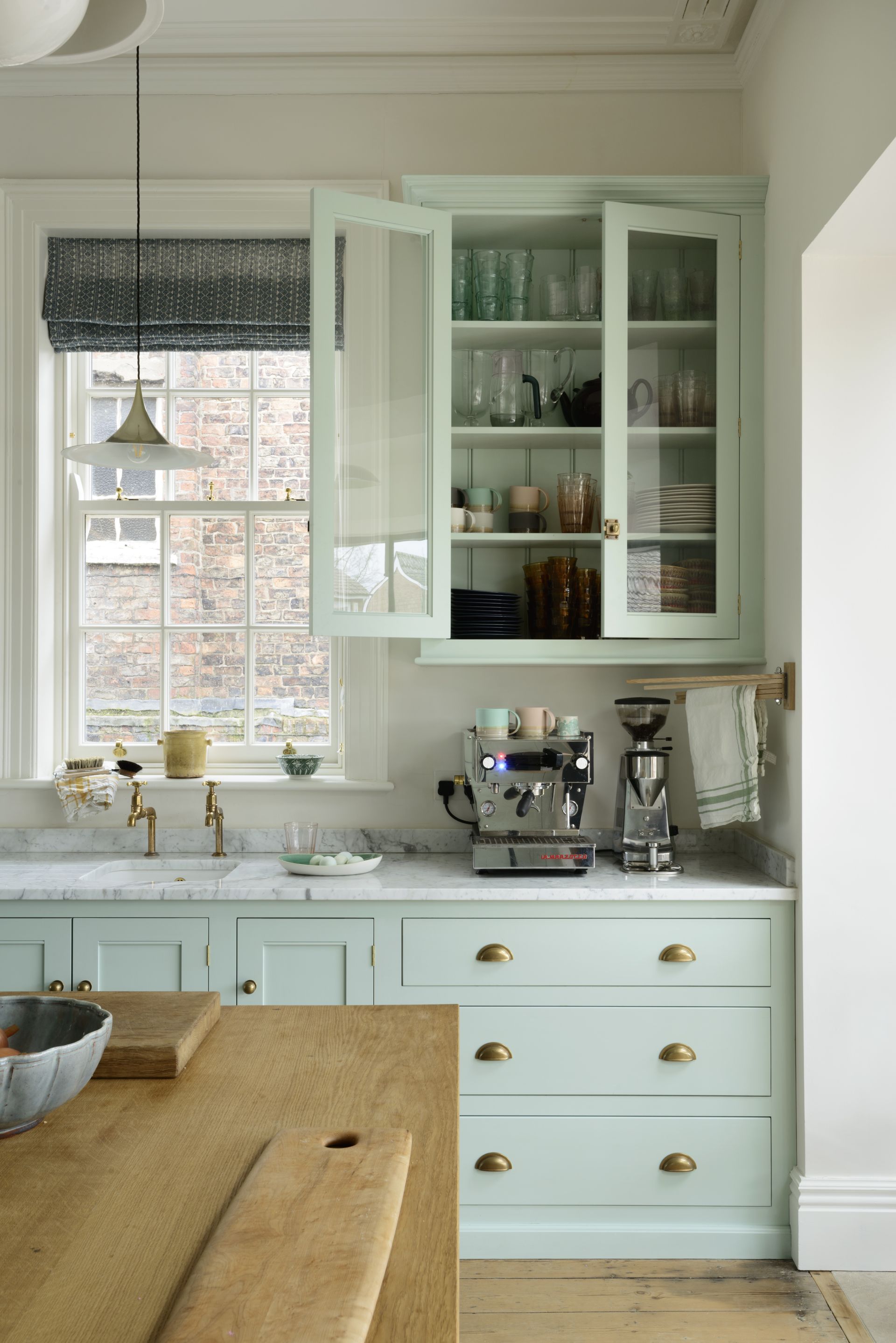 The style of kitchen sink you choose will be dictated by how much space you have available, and what will work with the look of your kitchen. Most sinks are inset into a hole cut in the worktop, so they are easier to fit and tend to be cheaper. Sinks can also be under-mounted (fixed to the underside of the worktop) which creates a cleaner finish and works well if you choose to have draining channels cut into the adjoining worksurface. When it comes to choosing a material, your main choices are stainless steel, stone/composite or ceramic:
Stainless steel is low-maintenance and tends to be the cheapest option – plus it's easy to clean stainless steel.
Composite sinks can withstand high temperatures and come in a variety of finishes. They can be pricey, but are a good investment as they are hardwearing.
Ceramic sinks tend to come in styles most suited to period homes. However, they are prone to staining and chipping, but still a good choice if properly cared for.
11. Focus on the tap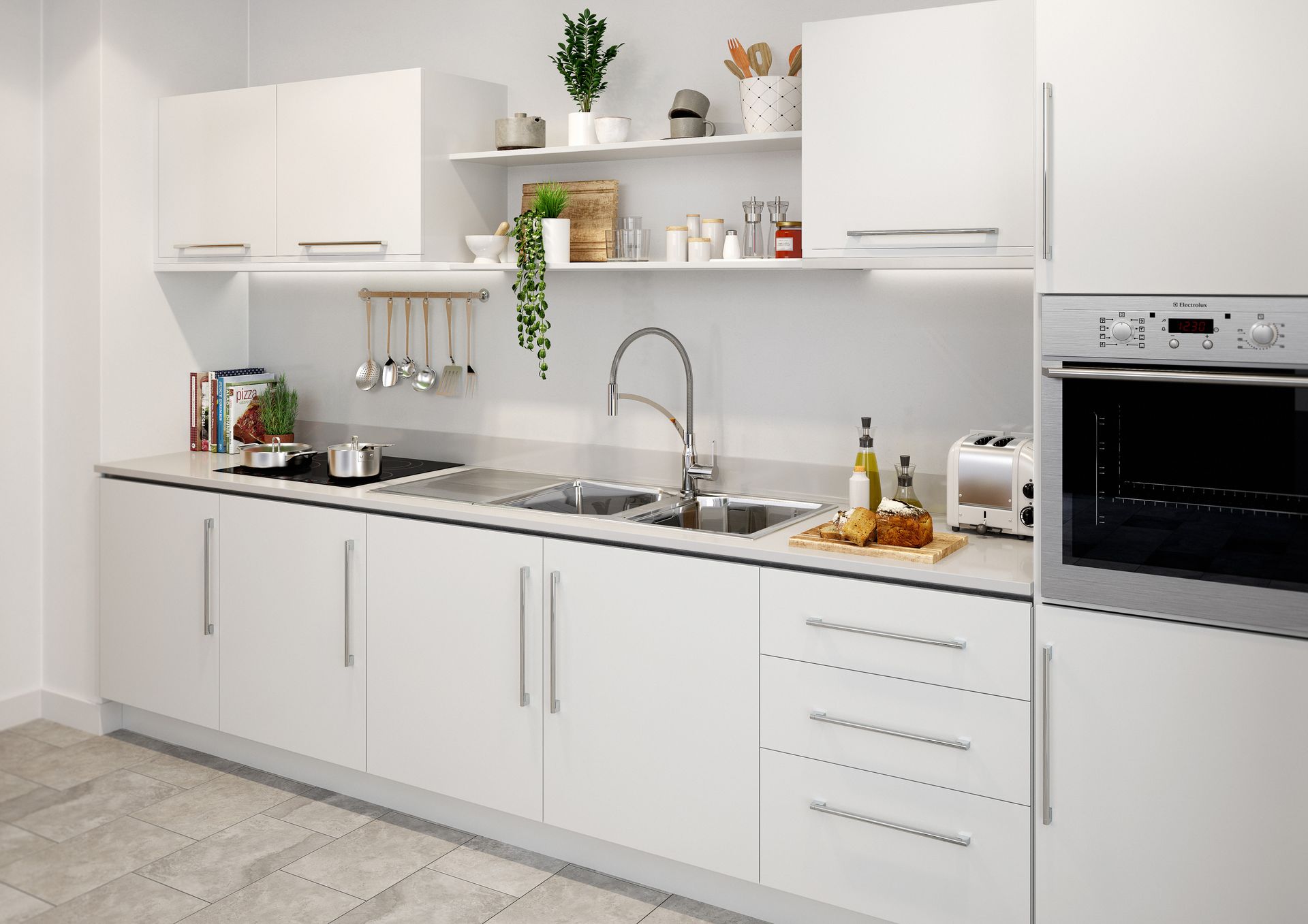 A new tap can give your kitchen a high-end look without a major spend, and it can also help reduce water consumption and lower water bills, resulting in longer-term savings.
Like the idea of a hot water tap rather than using the kettle? While it may seem like an upscale choice, you may be surprised. 'Instant hot taps will always elevate a kitchen scheme, but the myth is that they come with a significant price tag and lack of choice,' says Michael Sammon, managing director, Wödår (opens in new tab). 'Brassware has expanded to include all shapes and sizes, including modern colourways such as gunmetal and designs ranging from heritage to architectural. Look out for those which come with the filter and tank included in the price of the tap to avoid getting caught out with extra fees.'
12. Invest in the best flooring for a stylish kitchen on a budget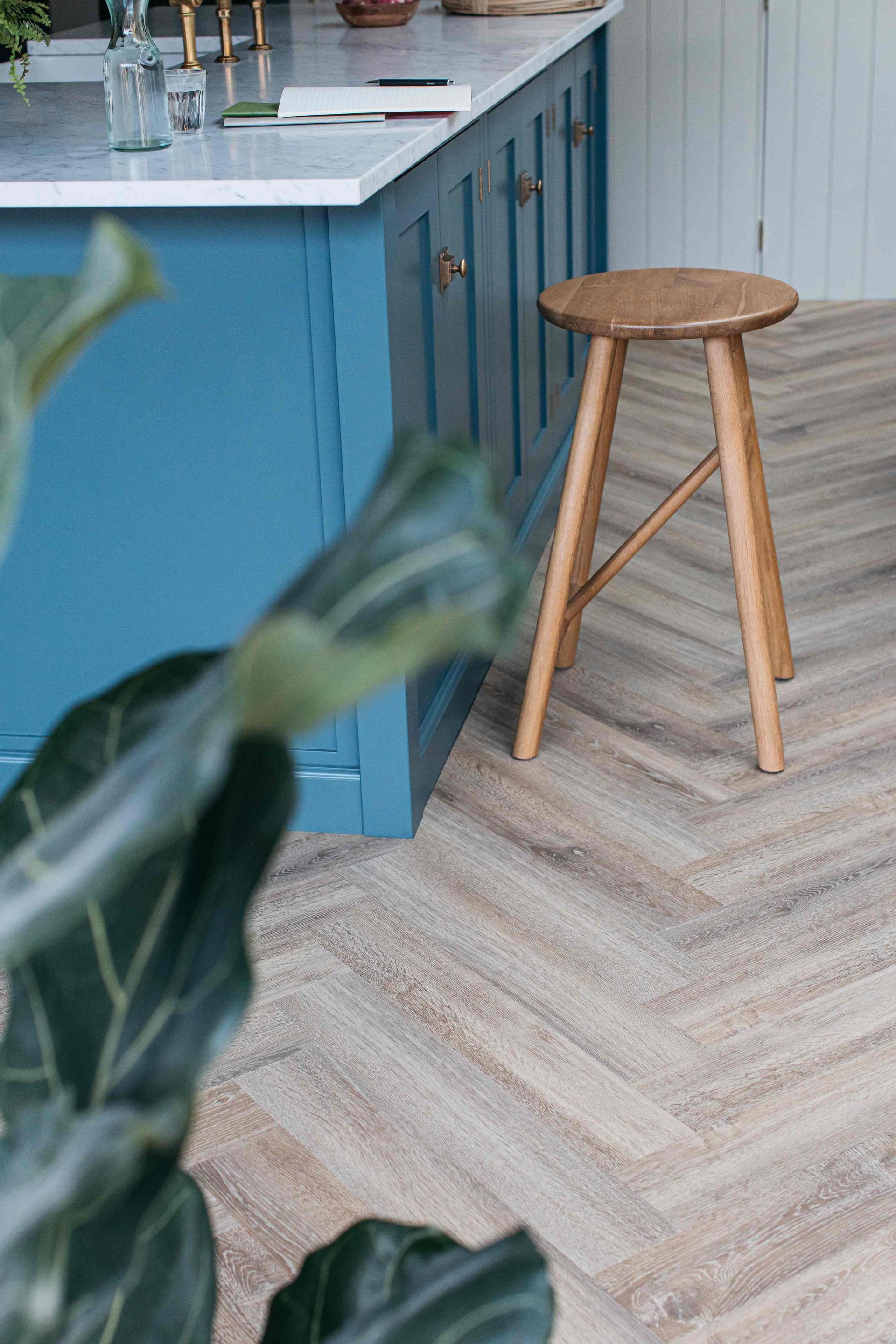 Choosing kitchen flooring that creates the look you want can be achieved on a budget. You might consider choosing vinyl flooring, including luxury vinyl tile (LVT).  'LVT flooring is often a more budget-friendly alternative to ceramic tiles or real wood planks,' says Lucy Tunstall from Harvey Maria (opens in new tab). 
'You can achieve the same stylish and authentic look, with the added bonus of this type of flooring also being massively practical. Harvey Maria floor tiles are incredibly durable, completely waterproof and suitable for underfloor heating.'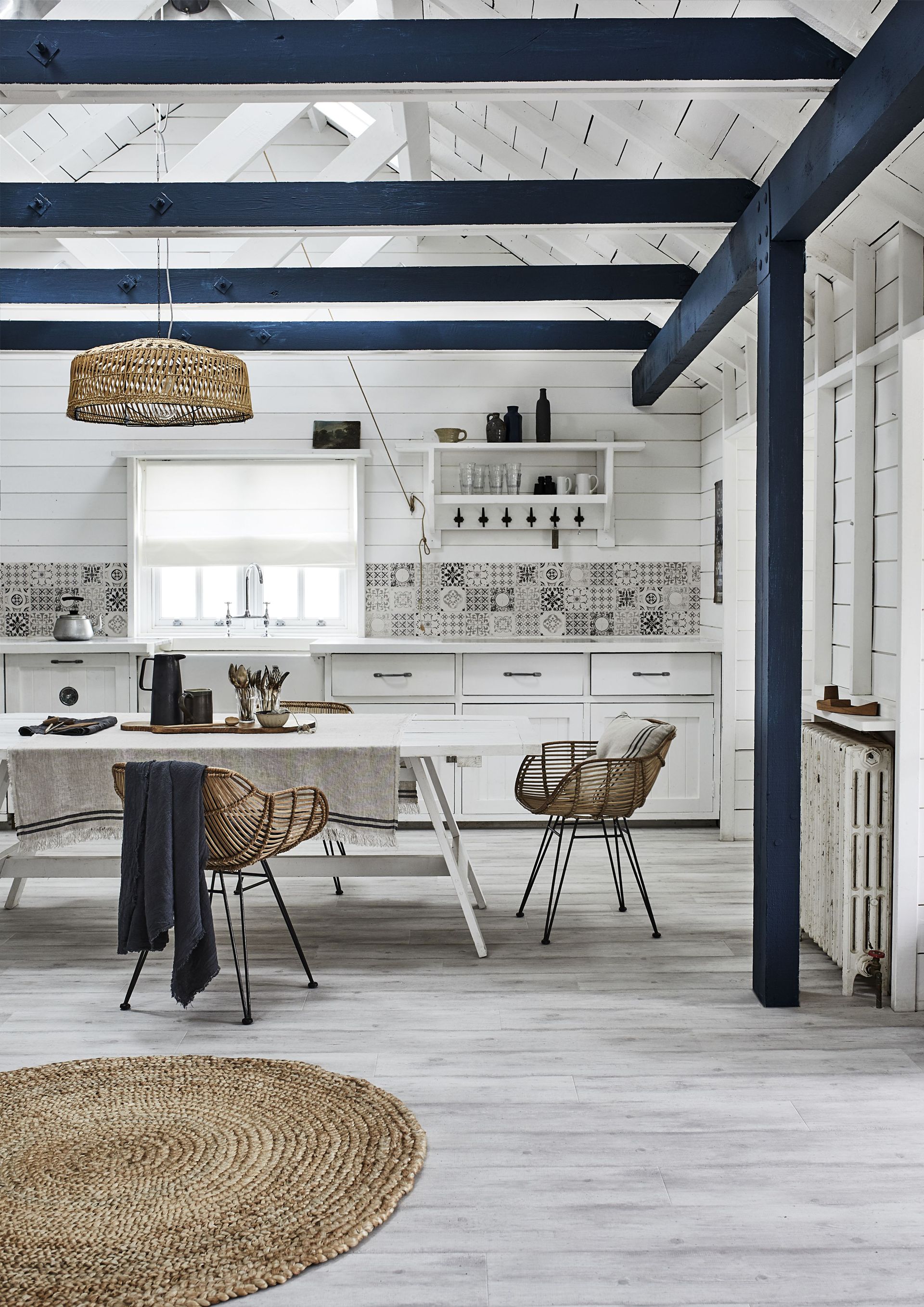 Choose the best laminate flooring and you can also reproduce the appearance of other flooring for less. 'Consider opting for laminate as an alternative to solid wood or stone finishes,' says Chris Dance, founder and managing director at InHouse Inspired Room Design (opens in new tab). 'Modern laminates are highly durable, hygienic, and create the look of natural materials at a fraction of the price. It's an easy substitution that could save you hundreds of pounds.'
Alternatively choose porcelain floor tiles rather than natural stone. 'Marble and stone-effect porcelain slabs are a fraction of the cost of the real stones they are imitating, both in the supply of the material plus installation, too,' says Jo Oliver, director, The Stone & Ceramic Warehouse (opens in new tab). 
'Real stone slabs are much thicker, making them extremely heavy and more difficult to manage. Porcelain slabs that are 3 or 6mm thick can all be cut on site by the installer, whereas when laying real stone each section needs to be templated, fabricated off-site then installed by a specialist team, which is more expensive.'
13. Use tiles to add interest to budget kitchens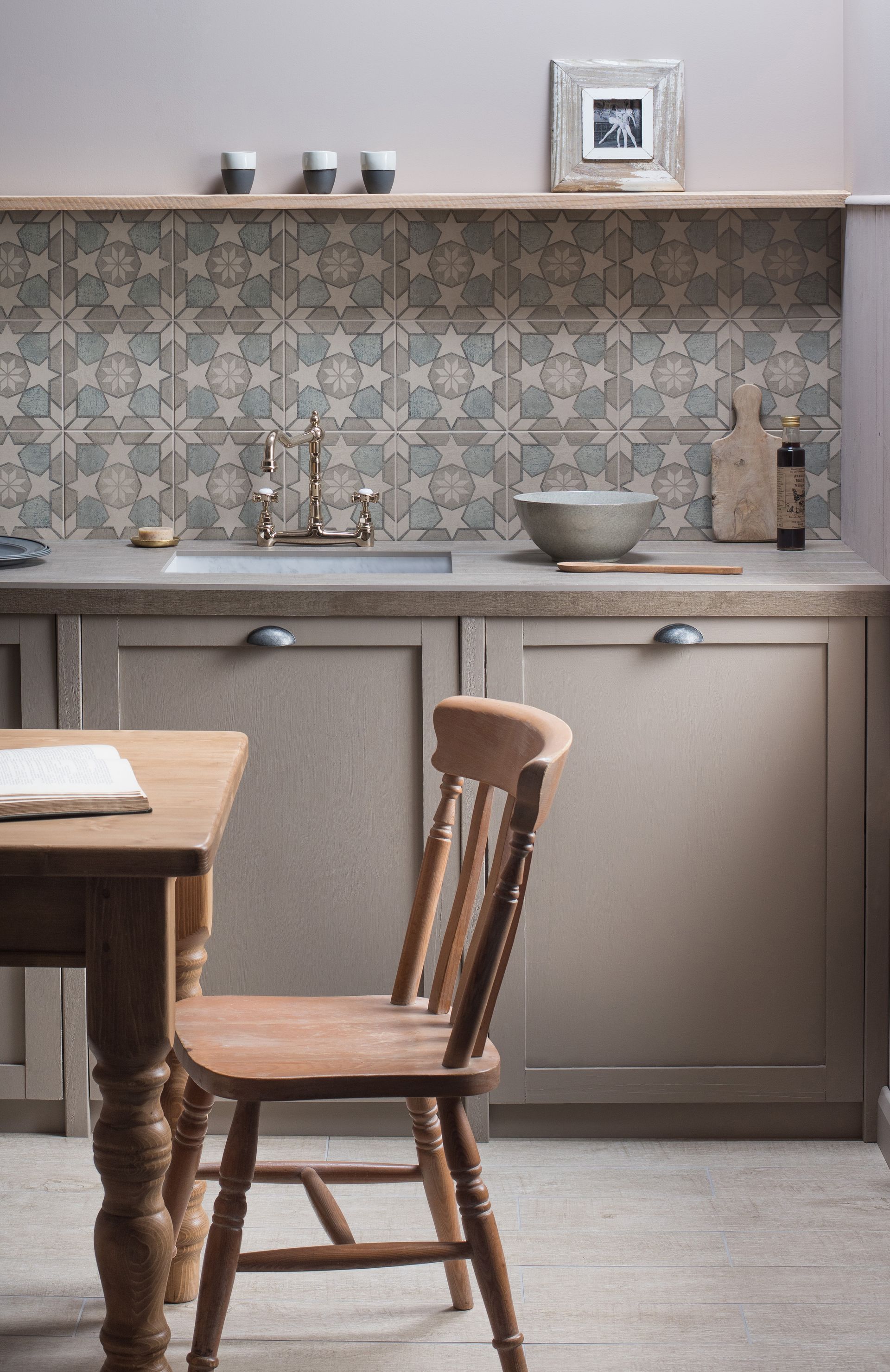 Kitchen splashbacks needn't be expensive but, since they cover a large area of wall, will make a big impact. Choosing the best kitchen tiles is an obvious way to lift the look of a budget kitchen – and needn't be expensive. Use hand-finished tiles sparingly to give an artisan look to the space. You can then use less expensive tiles for greater expanses. Try mixing in plain tiles in two or three different tones, such as grey or sage with cream, for a characterful country look. And if you tile a splashback yourself you can make even more savings.
Other splashback ideas include stainless steel or glass, which are easy to clean and add interest. Kitchen suppliers have a number available, but consider looking online too. Some companies provide made-to-measure splashbacks at a fraction of the cost you would expect.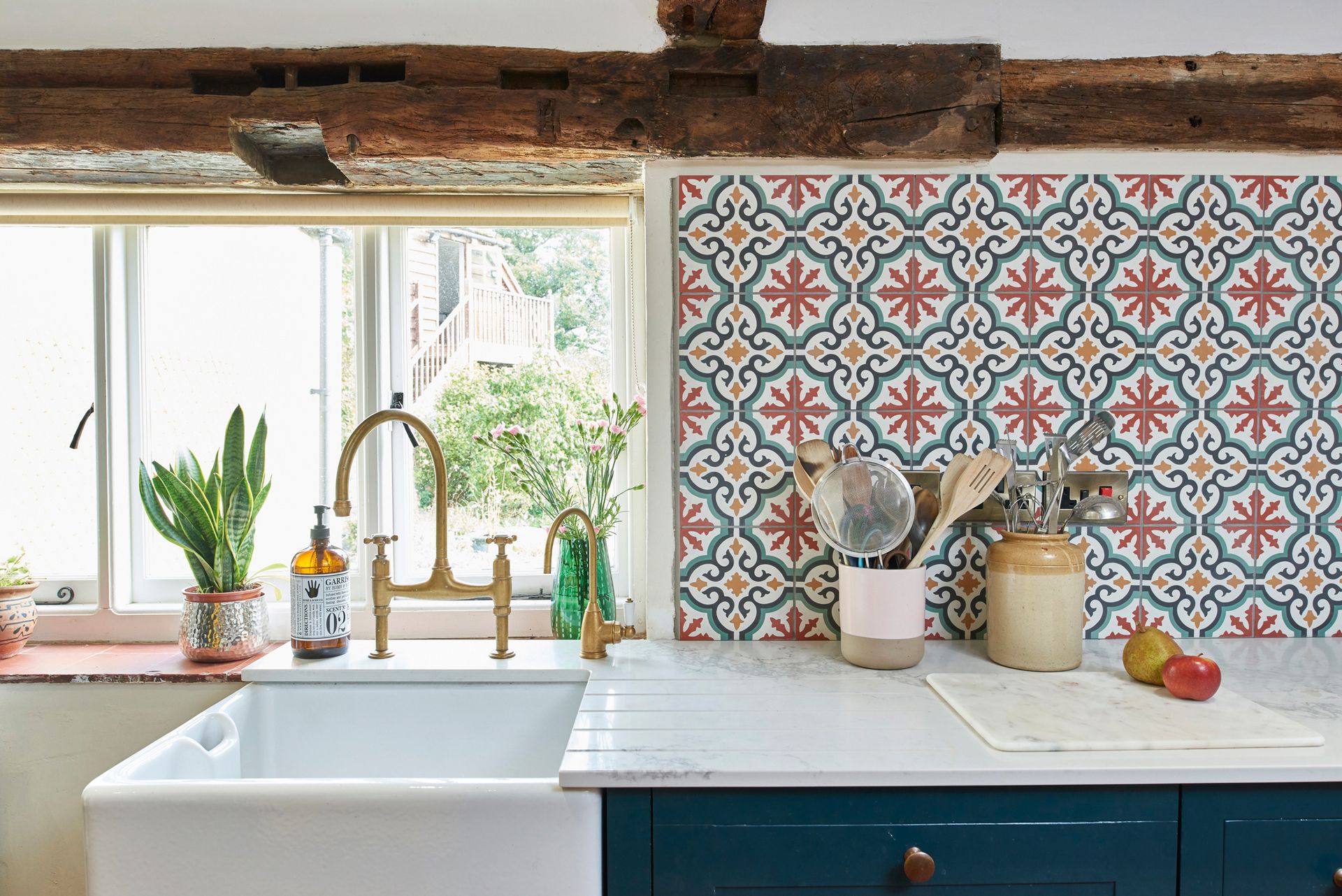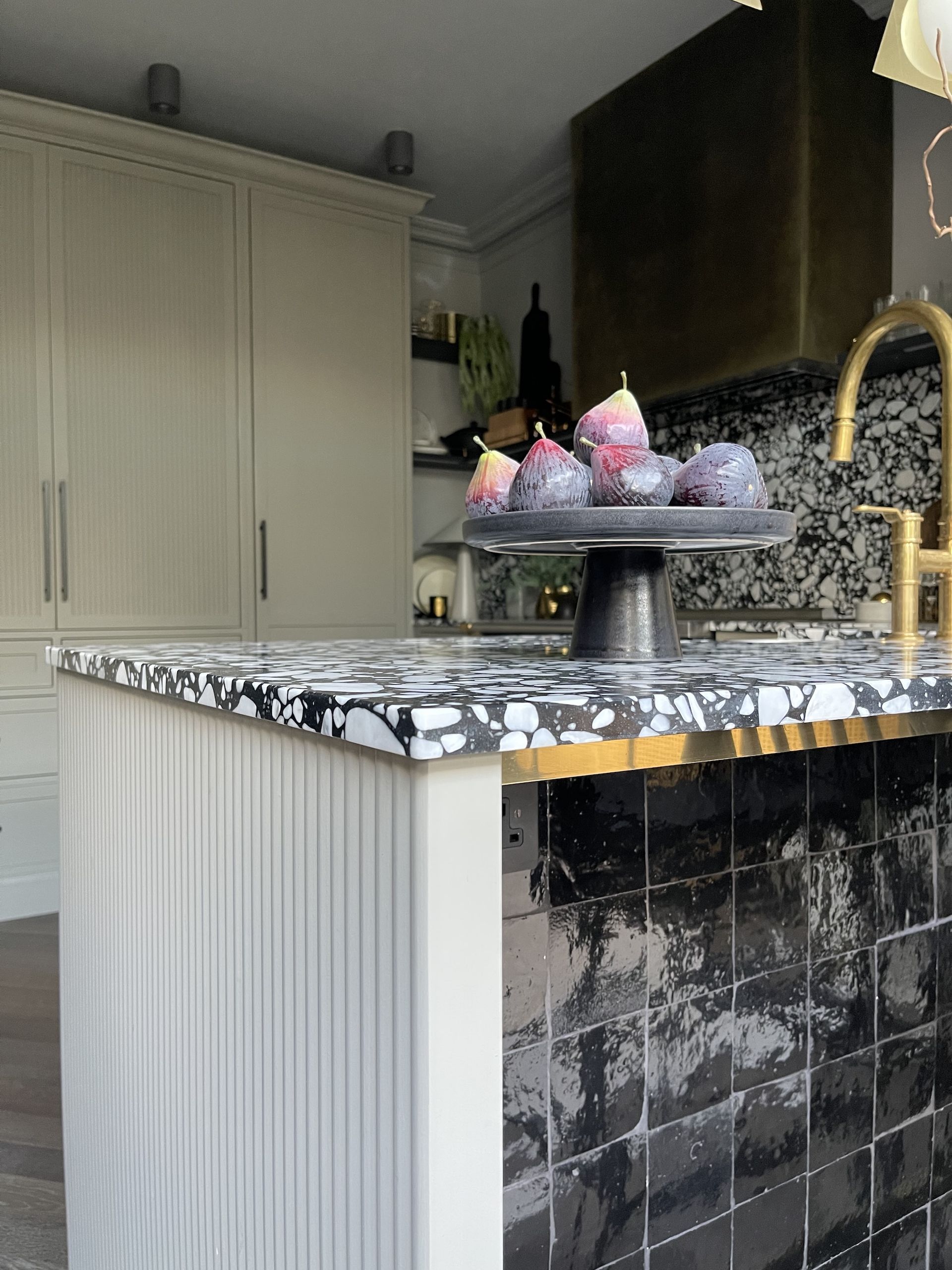 Metallic details are a clever way to upgrade without busting the budget. 'Metal sheets are reasonably inexpensive but can really upscale the look of a home,' says Paul McFadyen at metals4U (opens in new tab). 'Adding them to any edges or unfinished surfaces that would ordinarily look quite plain helps to create something really visually appealing.
'If you want to enjoy the perks of having a luxurious kitchen island, an alternative is to purchase a plain wood island frame and use a Mill Finish brass metal sheet  (shown) on the exposed sides of a kitchen island; this will cost you an average of just £50,' he adds.
15. Fit affordable handles in a budget kitchen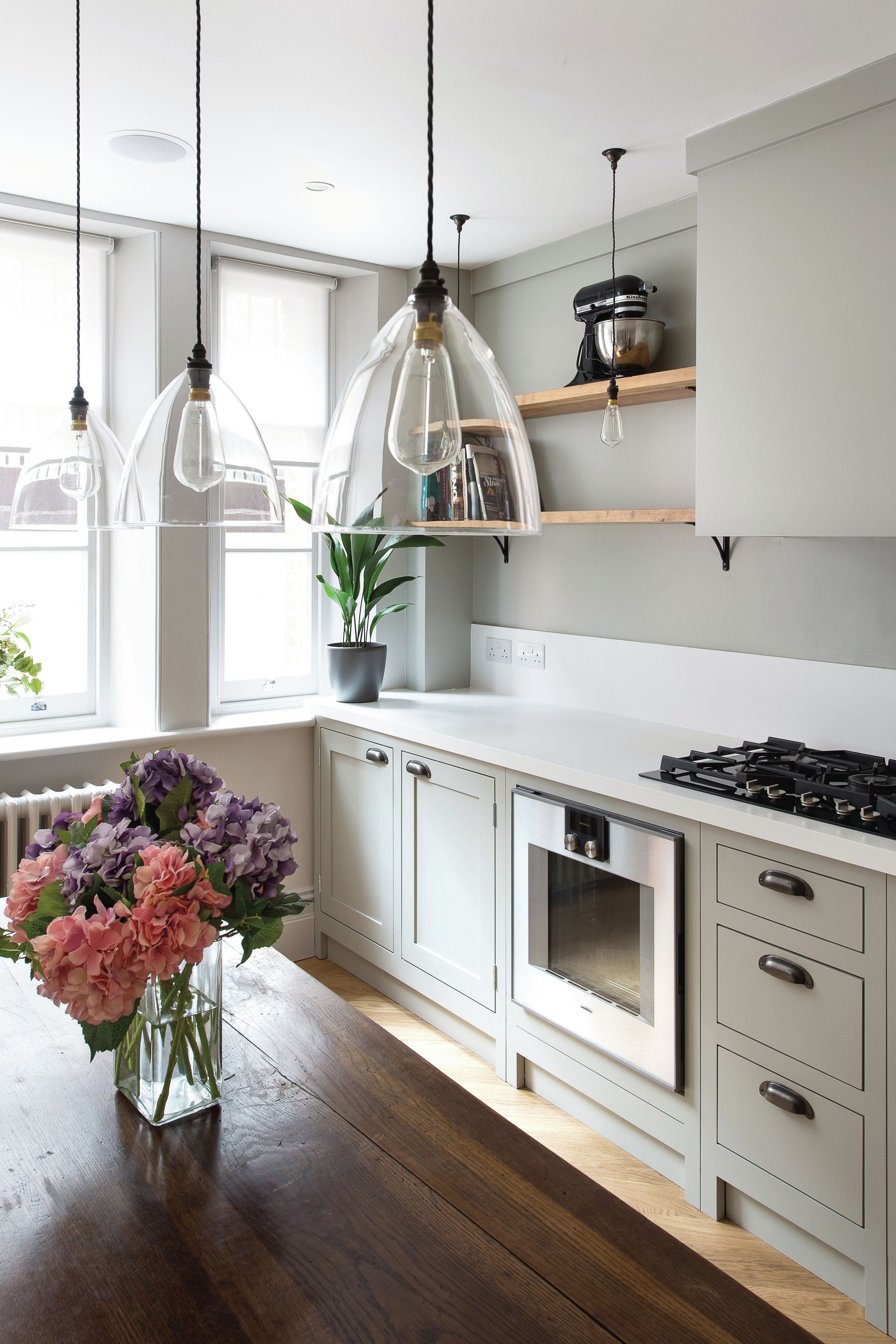 Do not neglect smaller details: handles and knobs make an enormous difference to the overall look and feel of a kitchen. Invest in characterful cup handles for drawers, and mix with elegant nickel knobs on doors. Alternatively, turned wood knobs are a more affordable option that looks perfect in traditional Shaker kitchens.
We love the leather pull handles below, and they are easy to fit. You can find similar leather handles on Amazon (opens in new tab) and at John Lewis (opens in new tab) (opens in new tab)to help create a relaxed, Scandi and modern vibe in your kitchen that will not cost you the earth.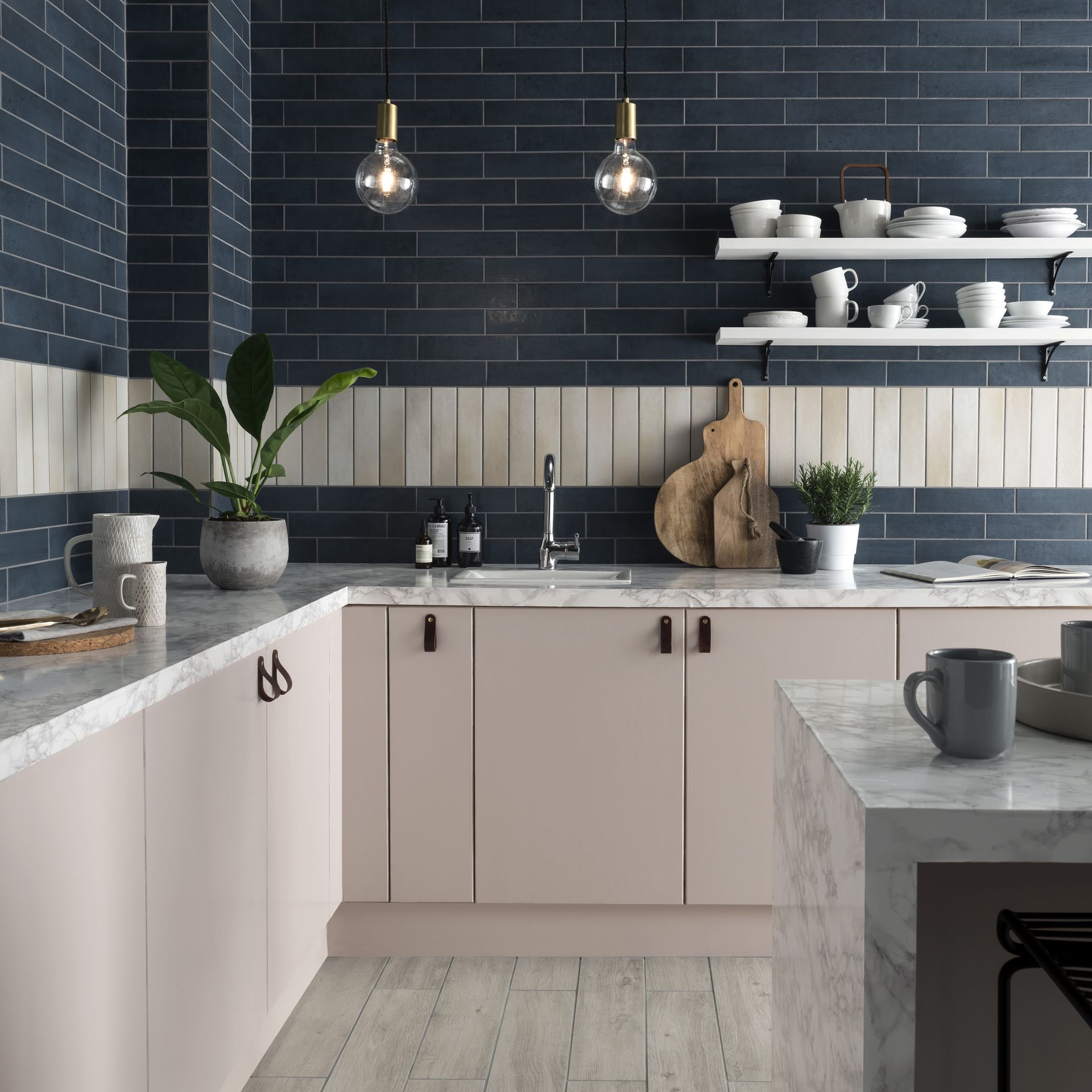 16. Pick out stylish, affordable kitchen storage options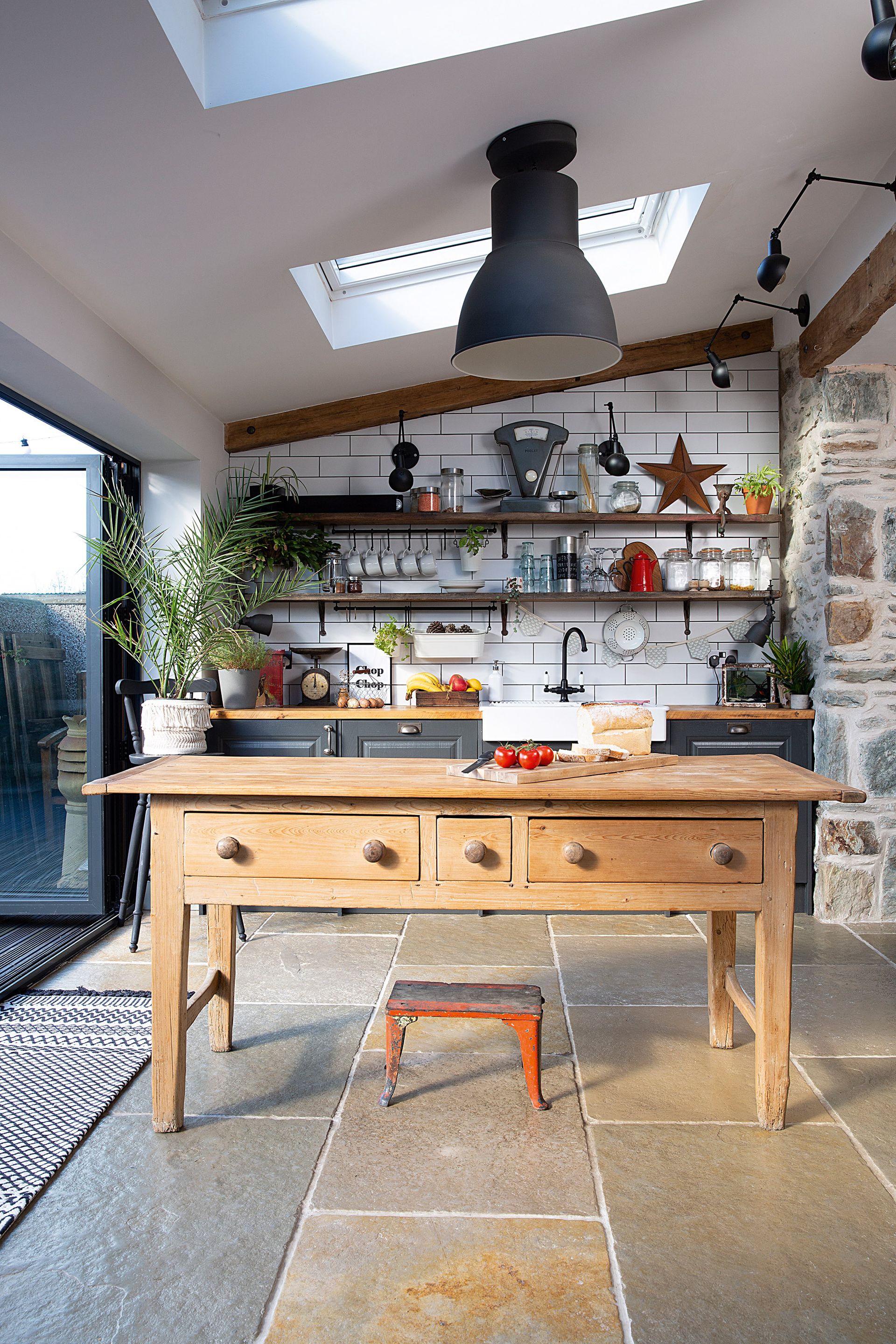 Kitchens on a budget needn't be boring. Nothing adds style to a kitchen quite like some open shelving and it's less costly than new wall cabinets. You could even DIY some yourself, which is great because it's cheaper and you can build them to perfectly fit your kitchen. You'll need to get your hands on some planed timber – B&Q (opens in new tab) and Wickes (opens in new tab) stock loads of different sizes and thicknesses. You can either leave them as they are, unfinished, or paint them with some wood stain (opens in new tab) and then saw them to the size you need. Then it's just a case of wall mounting them using some shelf brackets (opens in new tab) – we love these rustic ones from Amazon. 
17. Hang affordable but gorgeous window treatments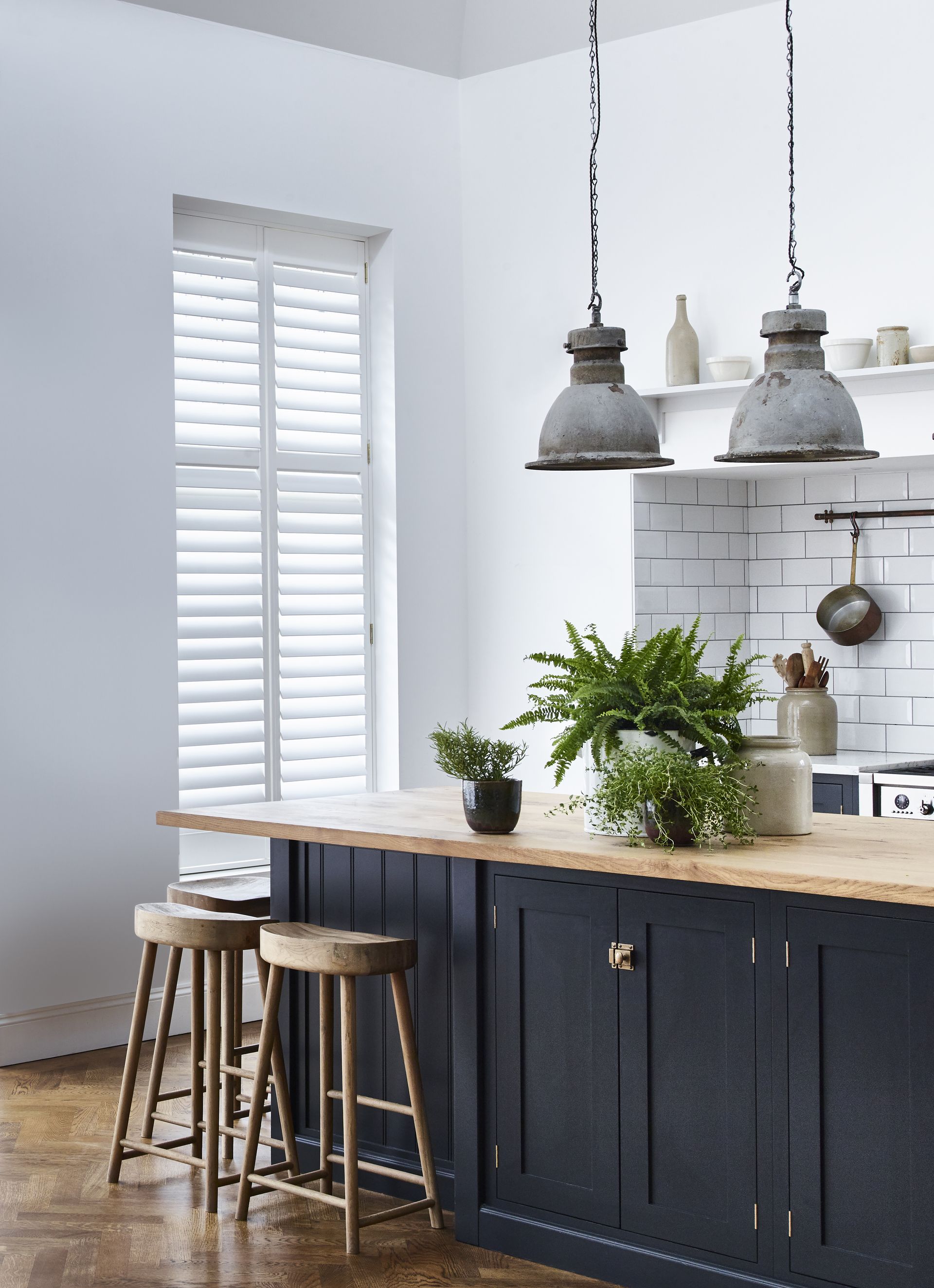 Kitchen window treatments needn't be costly to be good-looking. Roller blinds are a cost-effective choice that allow you to add colour, texture and pattern to your room and make lots of sense, particularly in a small kitchen, since they take up so little space. Window film is another affordable option that takes up no space while allowing light to flood in.
Shutters needn't be out of your price range either – choose a DIY design and fit options that cost a fraction of those that a designer measures up for and an installer fits.
18. Shop cleverly for cheap but chic kitchen furniture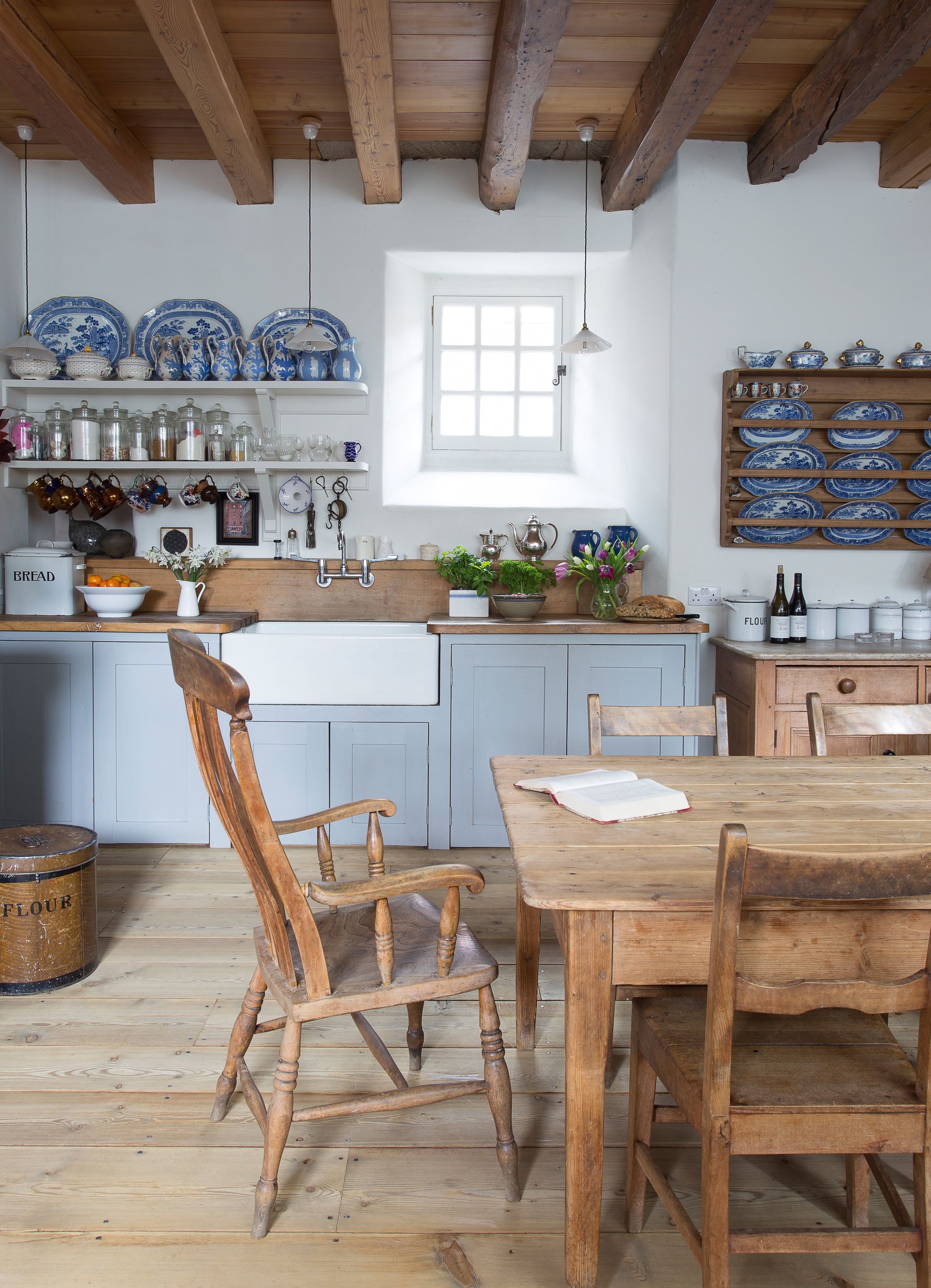 Antique shops or even charity shops are a great place to find old Welsh dressers and other freestanding furniture. These can be refreshed with the best furniture paints or varnish. Look out, too, for butcher's blocks, which can make great freestanding islands. Be sure to seal a butcher's block to protect your find.
19. Consider a freestanding kitchen island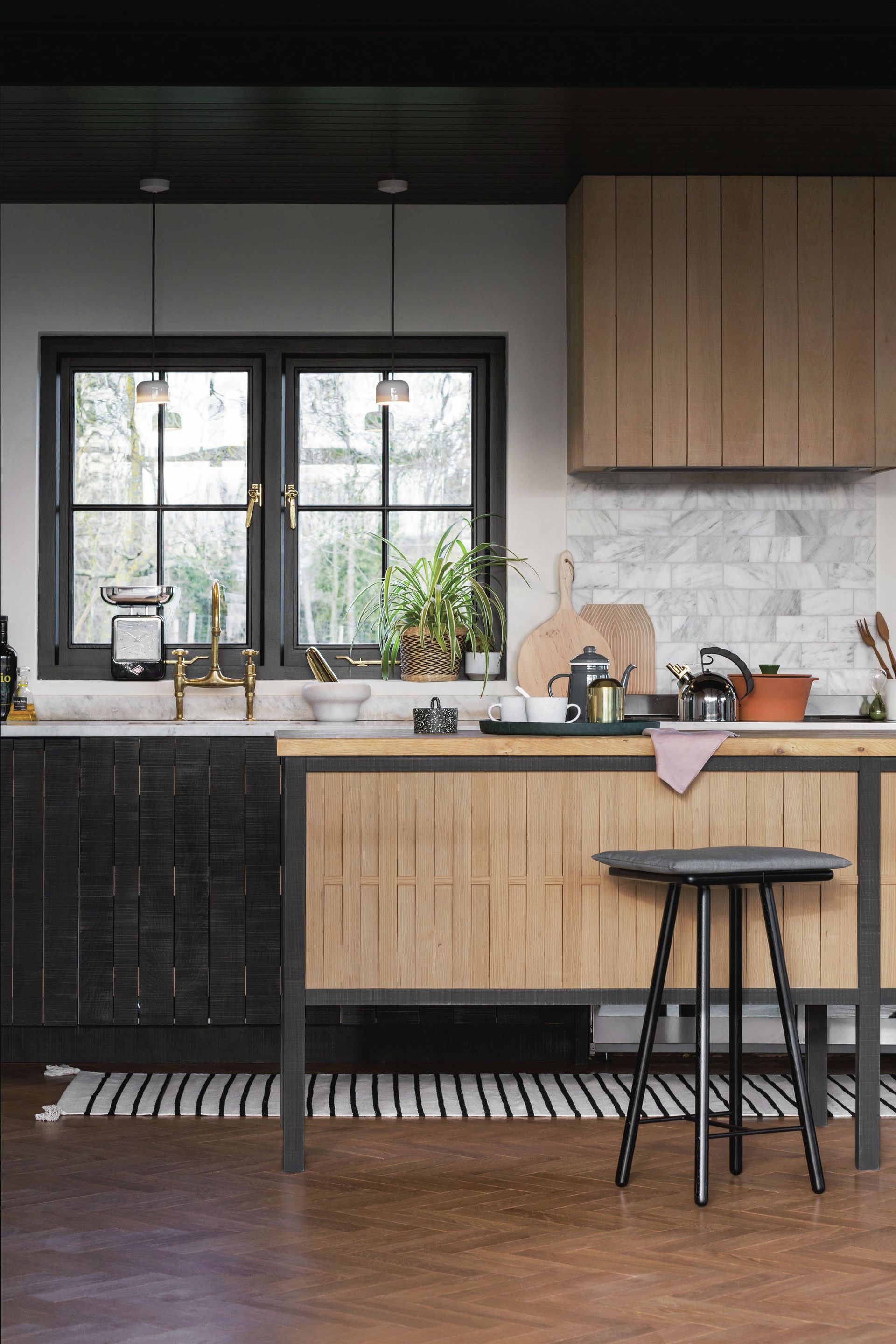 Freestanding kitchen ideas can help you stay on budget as we saw above, but even in a fitted kitchen a freestanding island is much more affordable take on kitchen island ideas, and will be a massive bonus to both prepping and storing. Or, perhaps you're renting and frustrated by the lack of kitchen storage in the room? A freestanding kitchen island is something you can take with you when you move, or flog. Plus, it often comes packed with kitchen storage space, worktop space and room for kitchen island seating.
20. Find affordable kitchen appliances
Kitchen appliances might not be as exciting to choose as cabinetry or flooring, but they are essential and will take up a fair bit of your budget, so it's important to shop smart. There are always deals going on when it comes to kitchen appliances, from the essentials like fridges to the more luxurious items, such as blenders and the best coffee makers. Keep an eye out on our deals hub page for all the latest sales and offers or click to shop below at some of our favorite places to find cheap appliances.
21. Shop smart for switches and sockets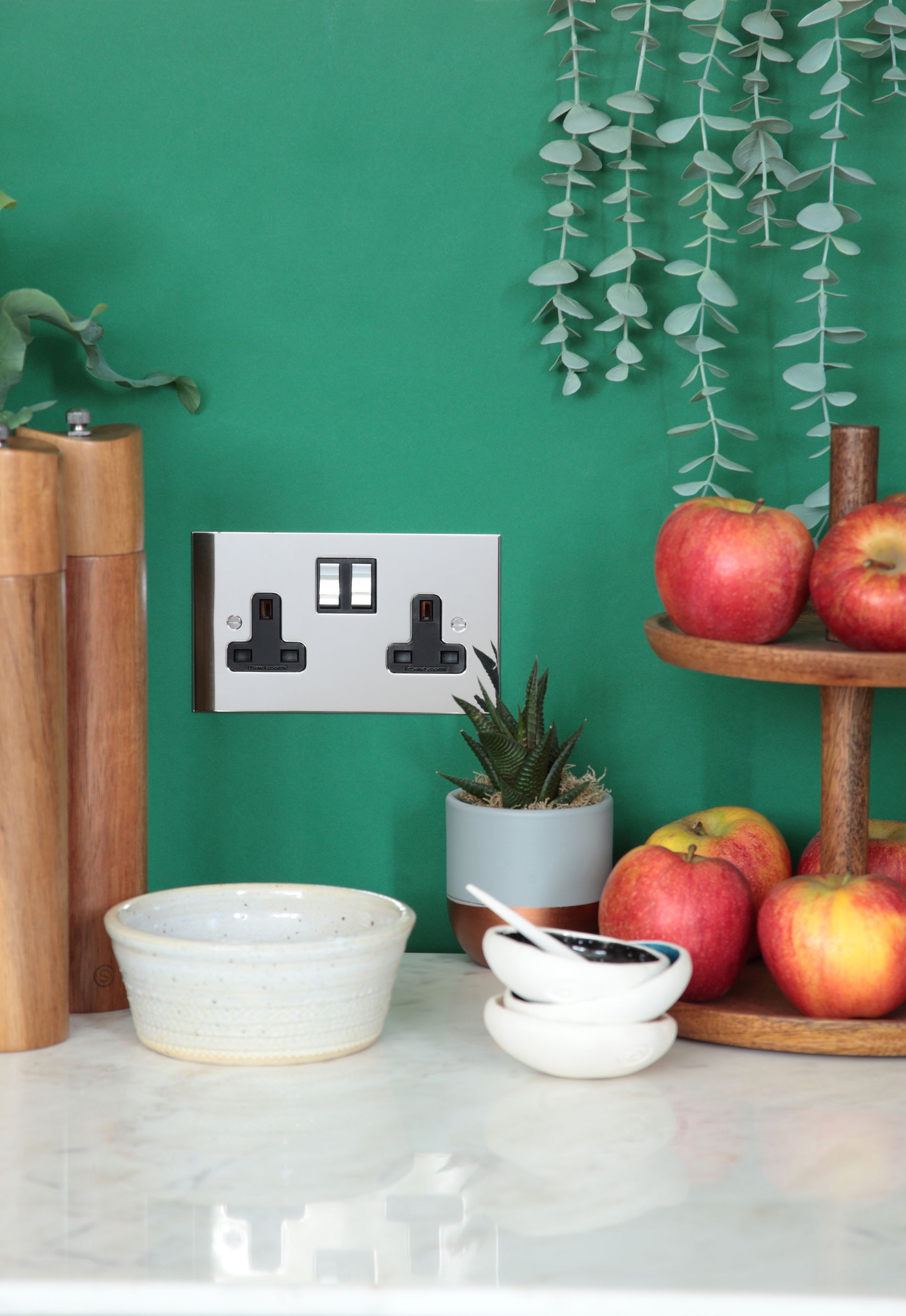 Think about what's on view when selecting switches and sockets to create a great look without going over budget.
'Your switches and sockets are some of the most touched and used parts of your interior, so it's important that the quality and design reflects the aesthetics of your home and can withstand day to day use,' says Howard Stern, head of design at Wandsworth Electrical (opens in new tab). 
'However, one cost-saving tip is to make note of any sockets that will be completely hidden by appliances, or hidden away in cupboard. These are the areas that you might want to use some reliable cheaper outlets just to keep yourself within budget, but not ruin the overall aesthetics of your interior.'
22. Paint your walls for a budget kitchen makeover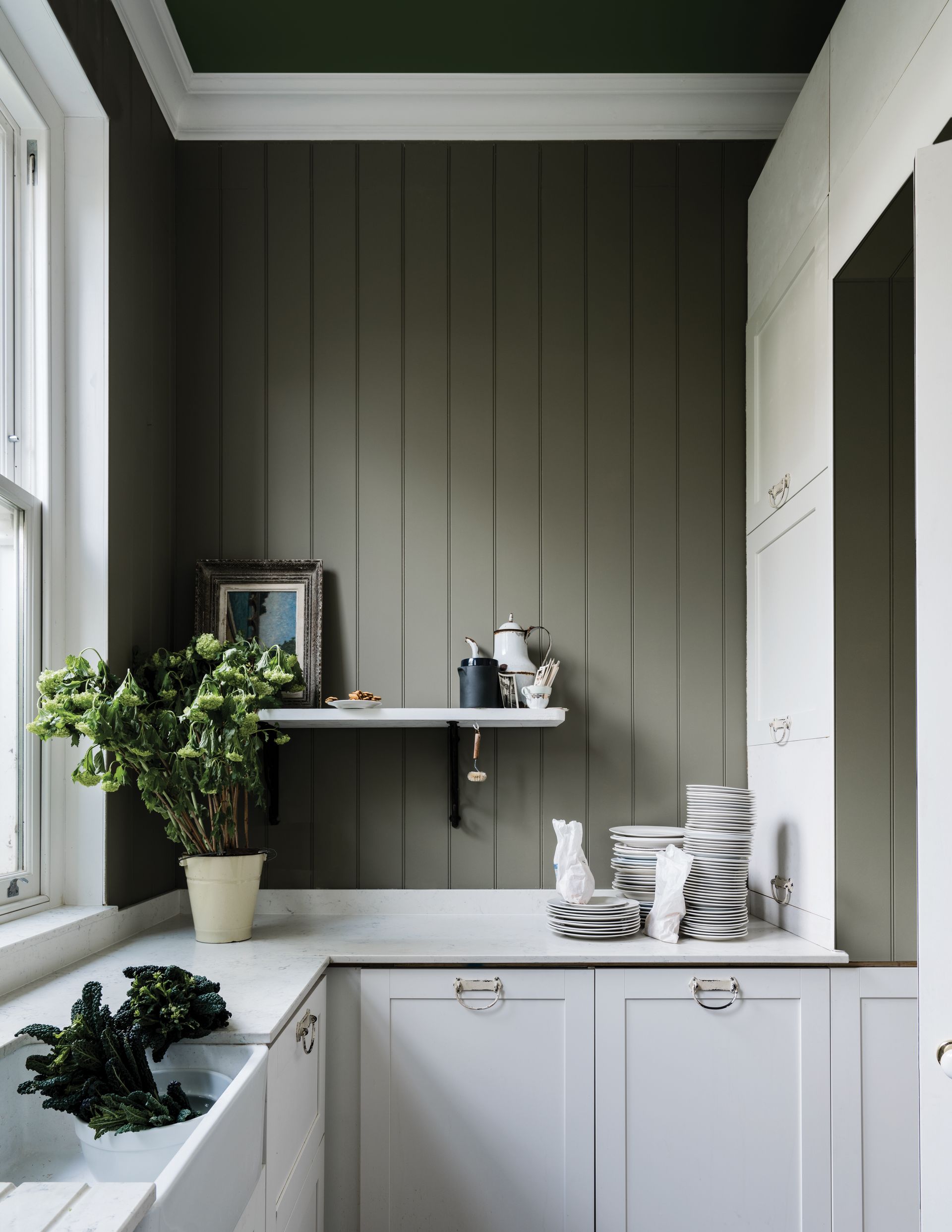 Choosing the right kitchen paint ideas can transform the room – and all for the price of a tin of paint, and it's an easy update to move on from when you want a brand new look (again). 
23. Or paint your kitchen tiles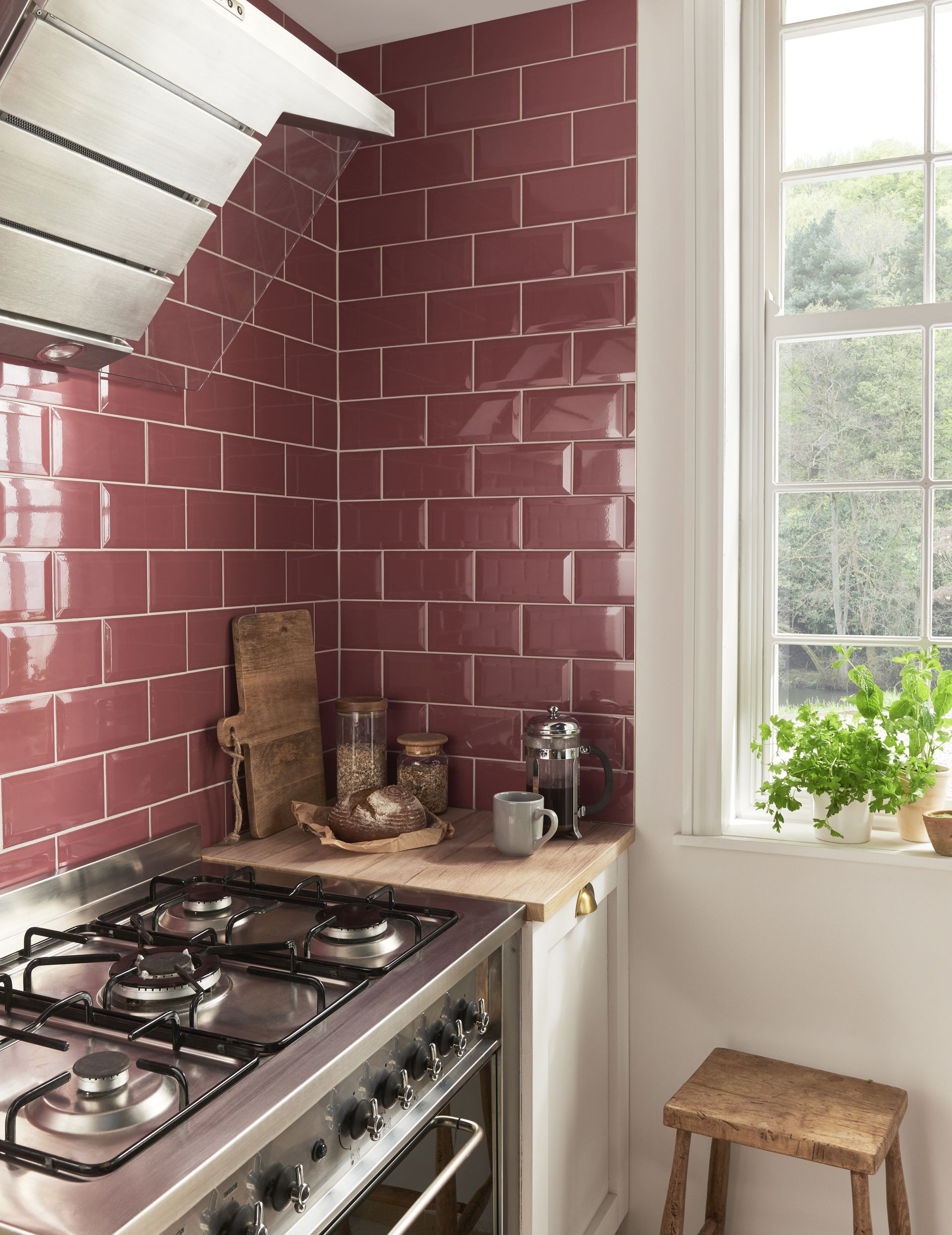 Painting tiles is an even quicker (and cheaper) solution than replacing them for style on a budget, so get out your paintbrush. It's actually a very easy DIY job.
Think about the grout, too. 'An easy and affordable way to revamp your kitchen on a budget is to choose a new grout colour for your tiles,' says Mike Head, director at Atlas Ceramics (opens in new tab). 'If you fancy something a bit more vibrant, you can't go wrong with coloured grout to make your tiles pop. Dark brown grout can provide a more rustic look, especially when paired with lighter tiles. If you have coloured tiles, matching the grout to the tile is a new trend we can expect to see more of.'
24. Hang wallpaper in the kitchen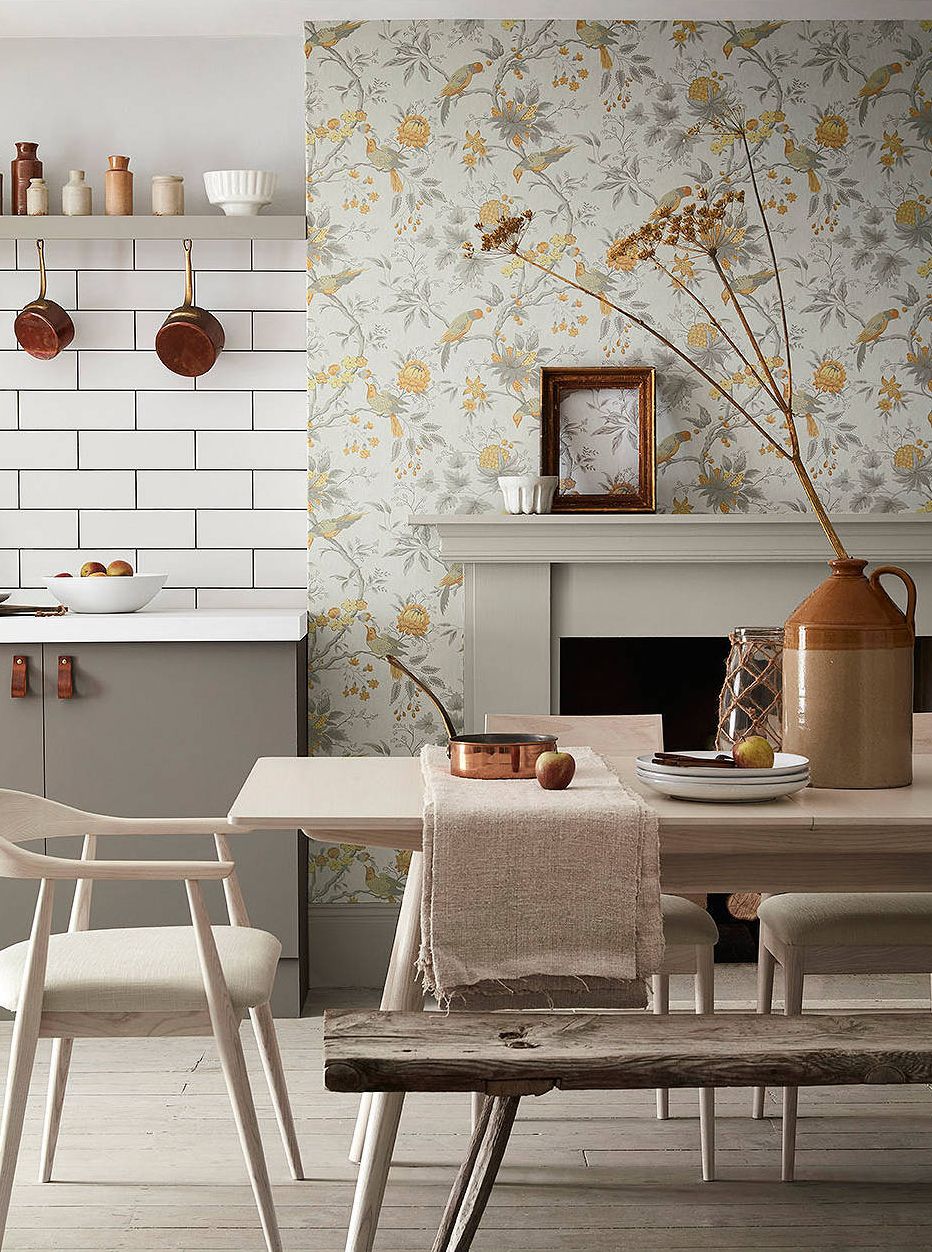 Wallpaper needn't be limited to a living space or bedroom. Putting a modern wallpaper in a kitchen – especially an open plan kitchen diner and living space or vintage-style kitchen – will add instant personality to a kitchen, and it's pretty affordable too if you do it yourself. Ensure it's wipeable, and protect any areas that might get repeatedly splashed with glass splashbacks. 
25. Introduce a dining area to a small kitchen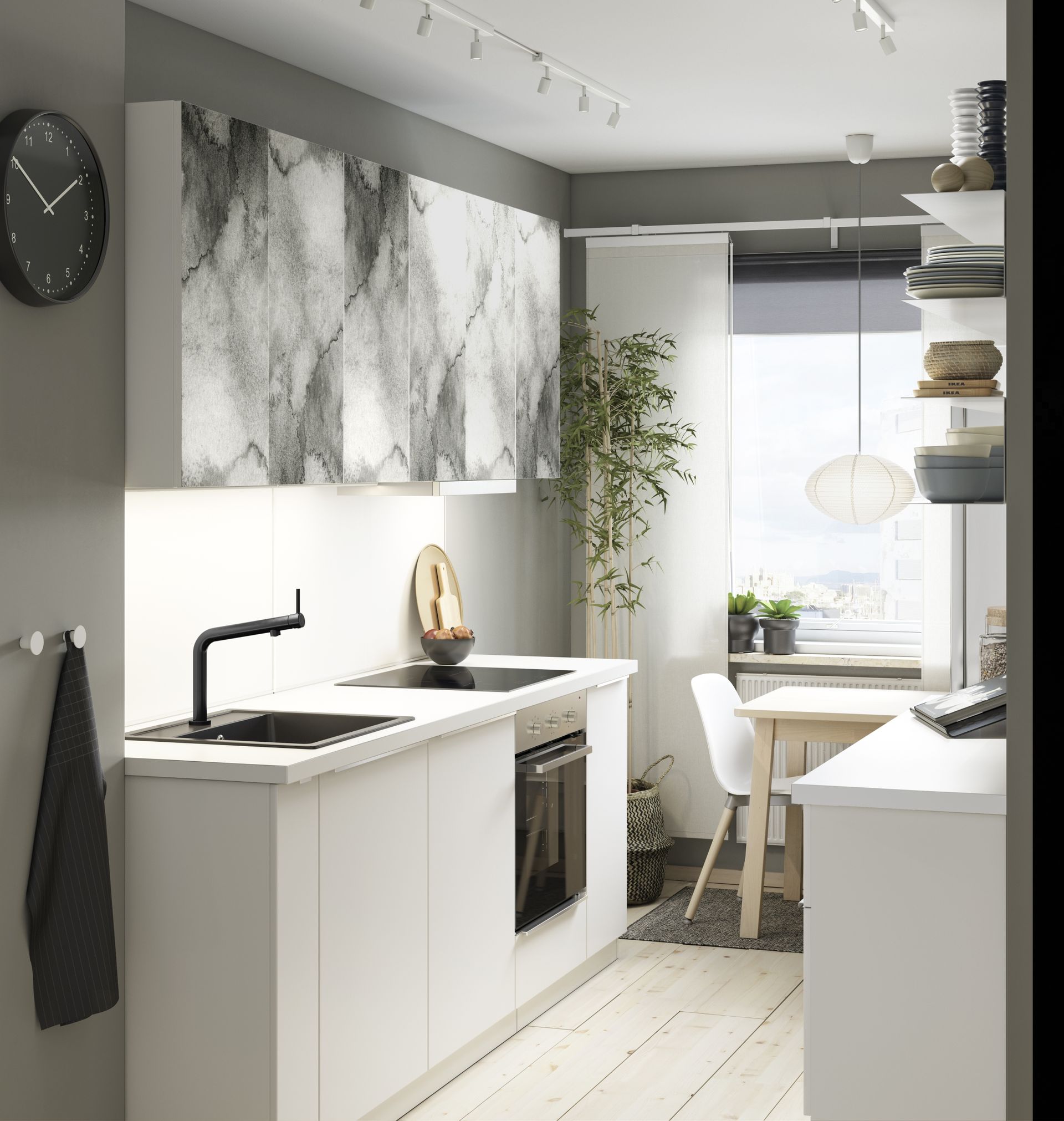 No matter that you have a small kitchen, there's often space for an inventively squeezed-in dining area. In the smallest of kitchens, a table that folds flat against the wall when not in use and chairs that similarly concertina and can hang on the wall. If you have a little more room, a breakfast bar with bar stools tucked neatly beneath will give you somewhere to perch while you eat; or, if there's room under a window, a small dining table (even a half-moon-shaped one) will do the trick.
26. Add personal touches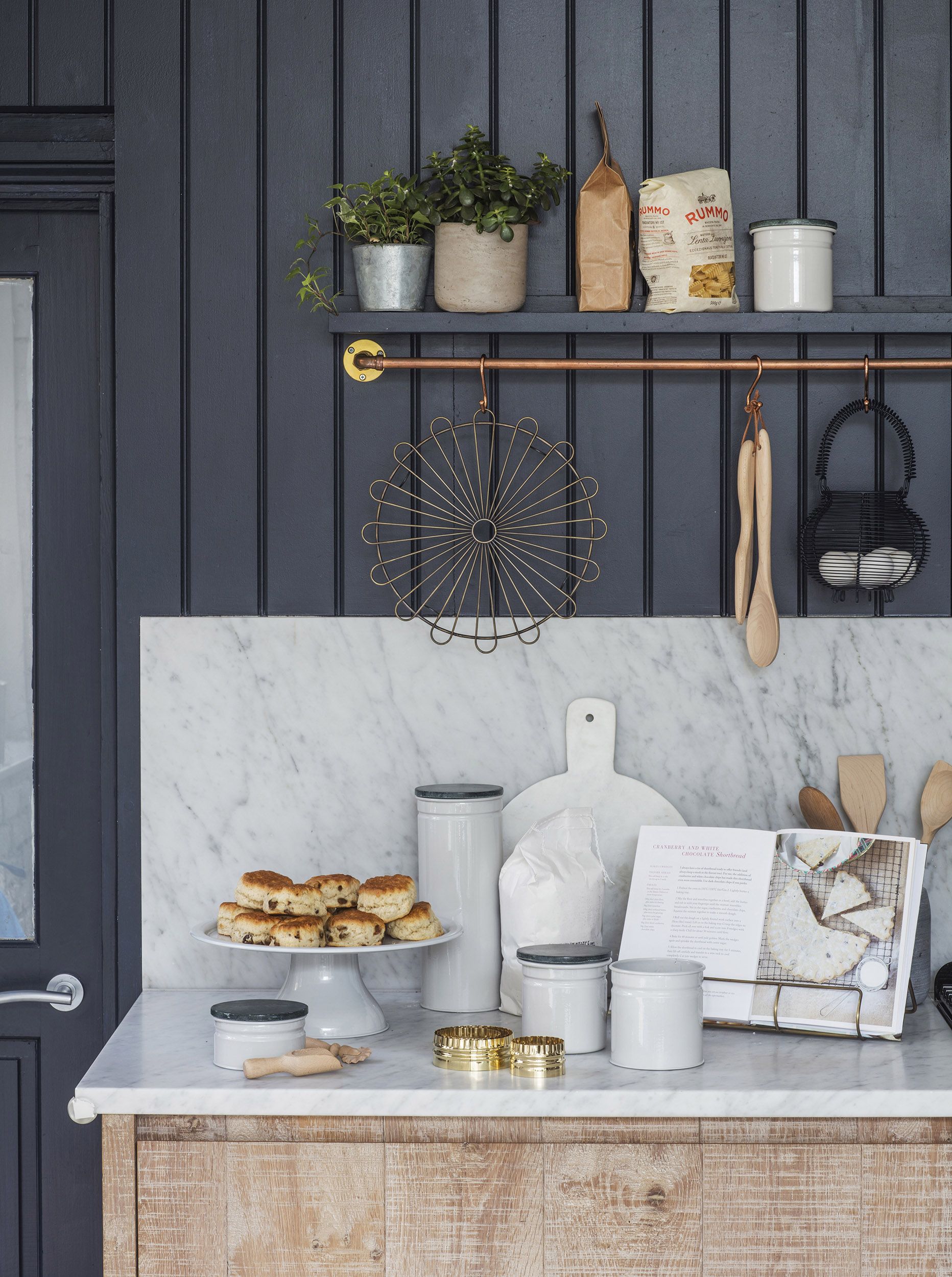 You might not have the budget to pay for an interior designer, but adding interior design touches to a kitchen needn't cost a fortune if you know how. Plus, adding personality to a kitchen with plants or by creating a cool gallery wall might be all you need, and all for free… If all else fails, a few polished accessories in similar colourways can help pull a budget kitchen look together nicely.
Spending vs saving for kitchens on the cheap
Spend:
Taps
The best taps are worth investing in. A tap is in use every day, and you want one which will not only look good, but will last. Consider size, shape and water pressure for a perfect fit. 
Fixtures and hardware
Quality hardware and fixtures – we're talking door handles and knobs and hinges – will be long-lasting and allow ease of use. Even if you choose inexpensive cabinets, good designs can make a huge difference.
Worktops 
They're a natural focal point and kitchen worktops need to be hardwearing. Avoid cheap laminates as they can chip and damage easily. Invest in the best you can afford. Quality laminates can look convincingly like stone and composite. Timber is warm and stylish but requires maintenance. For a statement in an urban-style kitchen, consider stainless steel. 
Save: 
Appliances
If you're changing your fridge-freezer, washing machine or cooker, take advantage of holiday sales and outlet stores for specific brands like Miele, Hotpoint or Whirlpool. It could be worth a trip to save £100s on your white goods, oven and hob. 
Kitchen sink
A stainless-steel kitchen sink is hard-wearing, easy to clean, resistant to high temperatures, and cost-effective. But be wary of choosing the cheapest steel option as this may scratch and dent easily.
Tiles
Your tiles won't be exposed to as much wear and tear as your kitchen flooring or worktops, so a budget-friendly ceramic can be just as good as pricey porcelain or cement options. Experiment with unusual arrangements; try laying great-value metro tiles in a herringbone pattern and fill with an on-trend coloured grout – simple but effective. Shop around for the best price.