Greige is a color that's risen in popularity in interiors over recent years, striking a balance between warm beige tones and cool grays. Praised for its versatility, it makes for an obvious color choice in the kitchen, setting a neutral base for the rest of the room's decor.
'Greige is a balanced neutral,' explains interior designer Marilyn LaVergne. 'It is a gentler shade of taupe, yet warmer than classic gray. In the kitchen, greige offers an undeniably cozy sophistication that will never go out of style.'
Mor Krisher, Head of Product Design at Caesarstone adds that greige kitchen cabinet ideas can set a cozy and peaceful feel, saying: 'Incorporating organic textures and earthy tones such as greige into the kitchen cabinetry is a wonderful way of creating a cozy and calming environment.'
Greige kitchen cabinet ideas
But what's the best way of styling kitchen ideas around greige cabinets? It's clear that greige cabinets will, according to design experts, promote a timeless feel, but it's important to know how to style the other elements of the room to create a fully cohesive look. 
'Greige cabinets are a great investment because they offer incredible versatility when it comes to styling. They are fantastic because they work beautifully with hardware in nearly any finish – brass, dark bronze, and even black,' explains Kara Piepmeyer, Founder of design studio Studio Kosma. 'Greige offers just enough color and contrast to make a statement without overwhelming the kitchen.'
Niko Rasides, Design Director at Nicholas Anthony agrees that greige cabinets offer an array of styling options, saying: 'The neutral nature of greige allows for easy pairing with a wide range of colors, making it a versatile choice for those who want to experiment with different accent hues or maintain a classic and understated appearance.'
While there are endless possibilities for styling this kitchen cabinet color trend, we've rounded up some of our favorite expert-approved ideas below to give you some inspiration.
1. Create a rustic look with texture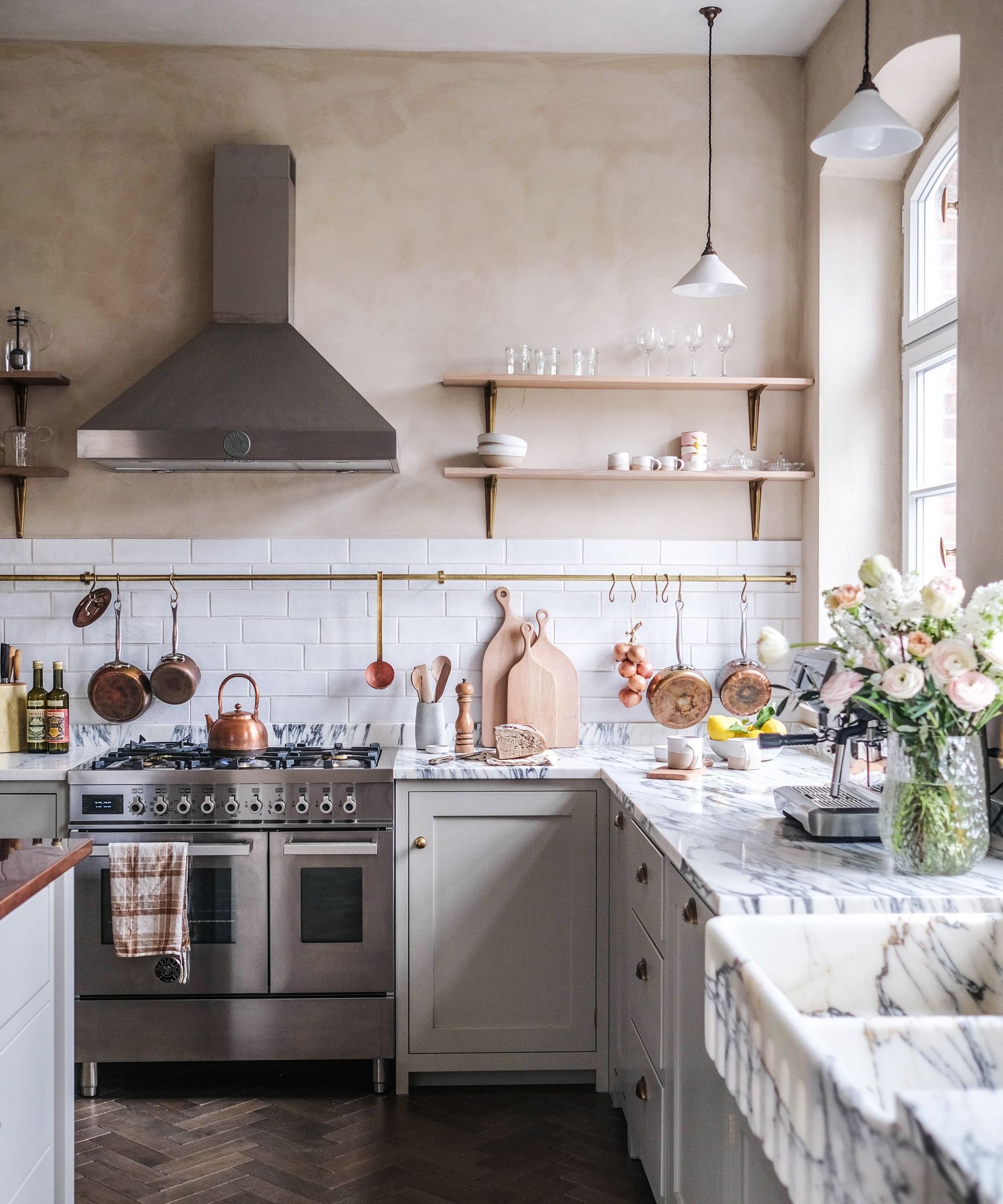 To elevate the look of your greige kitchen cabinets, opting for rustic details will create an organic feel to the room. While greige can lean towards modern kitchen ideas with its sophisticated and sleek appeal, contrasting this by incorporating organic textures can create a more interesting rustic kitchen.  
To create a rustic look, Kara Piepmeyer suggests: 'Select a rustic, handmade tile for the backsplash and add a rustic wood open shelf. Paired with a dramatic natural stone backsplash and polished brass fixtures, the space feels posh and elevated.'
'Choosing a worktop that incorporates earthy tones and textures will instantly create a cozy environment that links you with the natural world,' adds Mor Krisher.
2. Opt for white countertops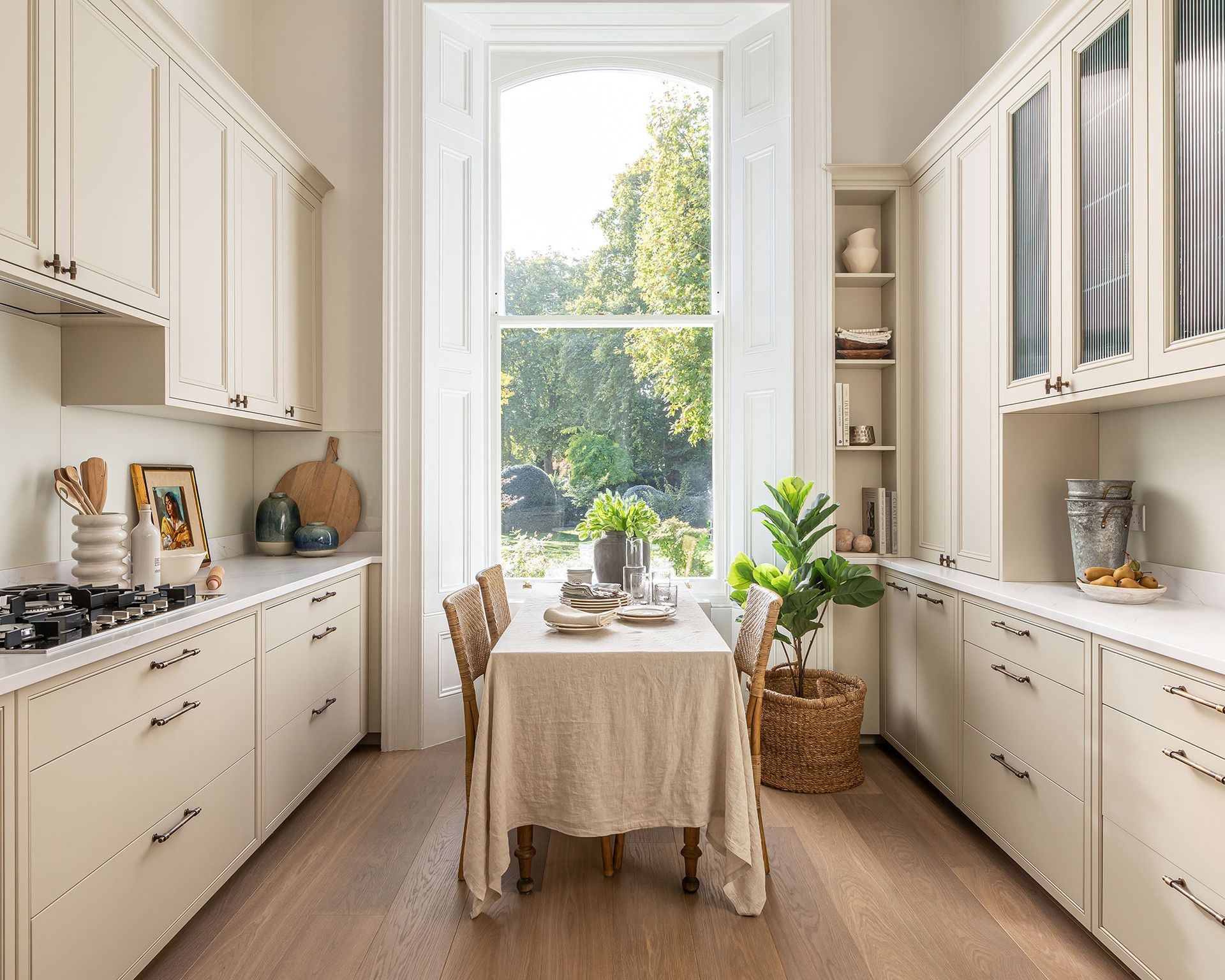 For a modern look for greige kitchen cabinets, opting to embrace classic white countertops can create a timeless look. For those drawn to minimalist kitchen ideas, this is a great way to achieve a sleek look that balances the earthy undertones of the cabinets. 
'Stone countertops in shades of white or ivory offer subtle contrast with greige cabinets and yield visual expansiveness,' explains Marilyn LaVergne. 'These light colors also give a sense of cleanliness that conveys a commitment to hygiene. My favorite is quartz or porcelain which show only subtle veining or movement. This allows the cabinets to take center stage.'
If you do opt for a classic look with white countertops, you can create a sense of contrast by 'combining greige cabinets with black hardware', according to interior designer Artem Kropovinsky.
Based in New York, Artem Kropovinsky, founder of Arsight, has a decade of extensive and considerable global design experience. Prioritizing minimalism, sustainability, and authenticity, Artem, alongside his team of professionals, works on projects in the US and worldwide.
3. Add character with brass hardware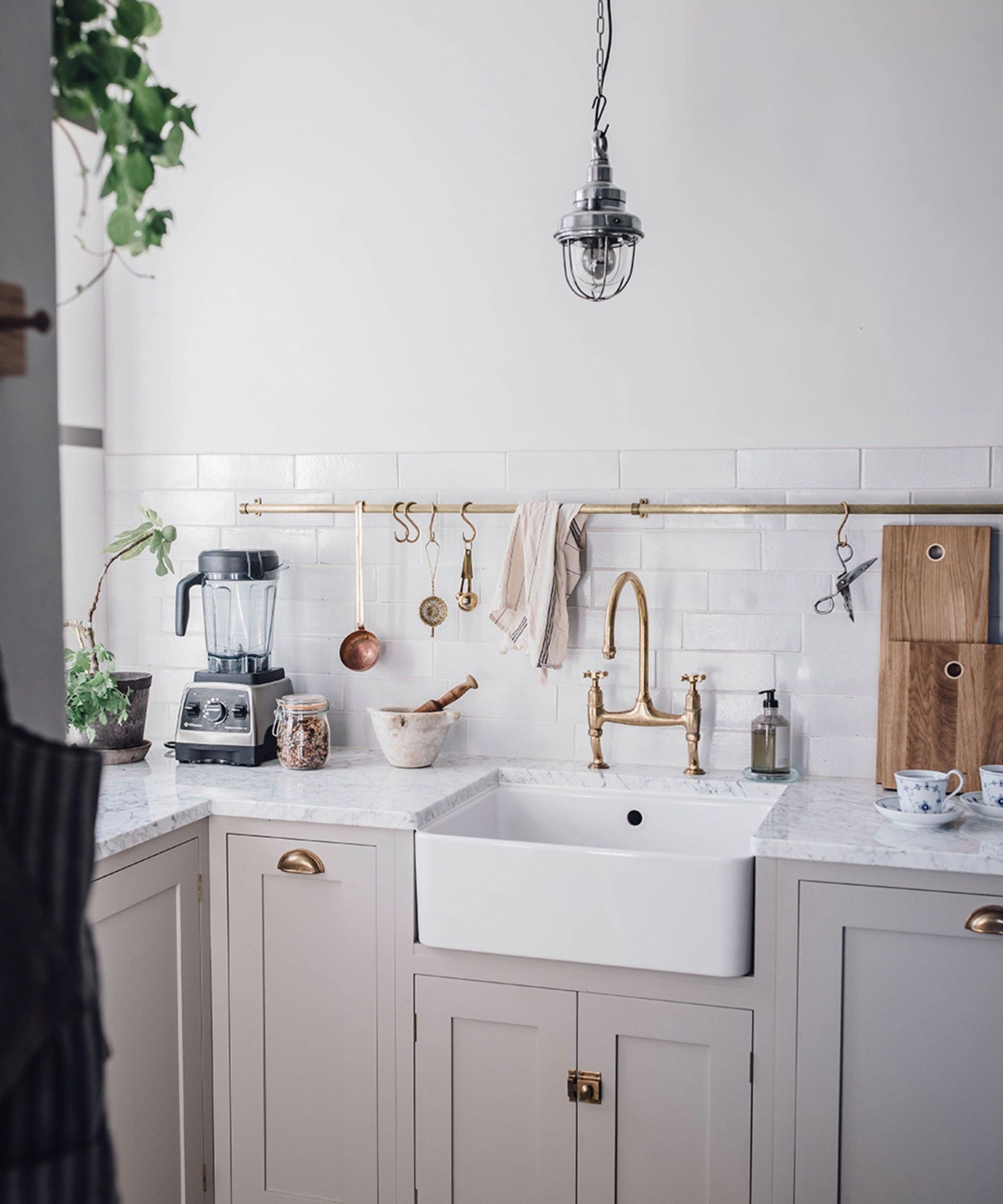 Choosing the color of hardware to pair with your greige cabinets really comes down to the overall style of your kitchen. But, experts agree that brass hardware is a timeless choice that pairs particularly well with the color greige, whilst also promoting a timeless and sophisticated look.
Marilyn LaVergne explains: 'I suggest brass hardware to pair with greige cabinets. In a brushed or satin finish, brass brings a warm elegance to the kitchen.' Interior designer Elizabeth Sims, Founder of CALAFIA Home Design agrees, saying: 'Brass hardware really gleams against greige because of its coolness, but there isn't so much contrast that it looks gaudy.'
4. Incorporate natural wood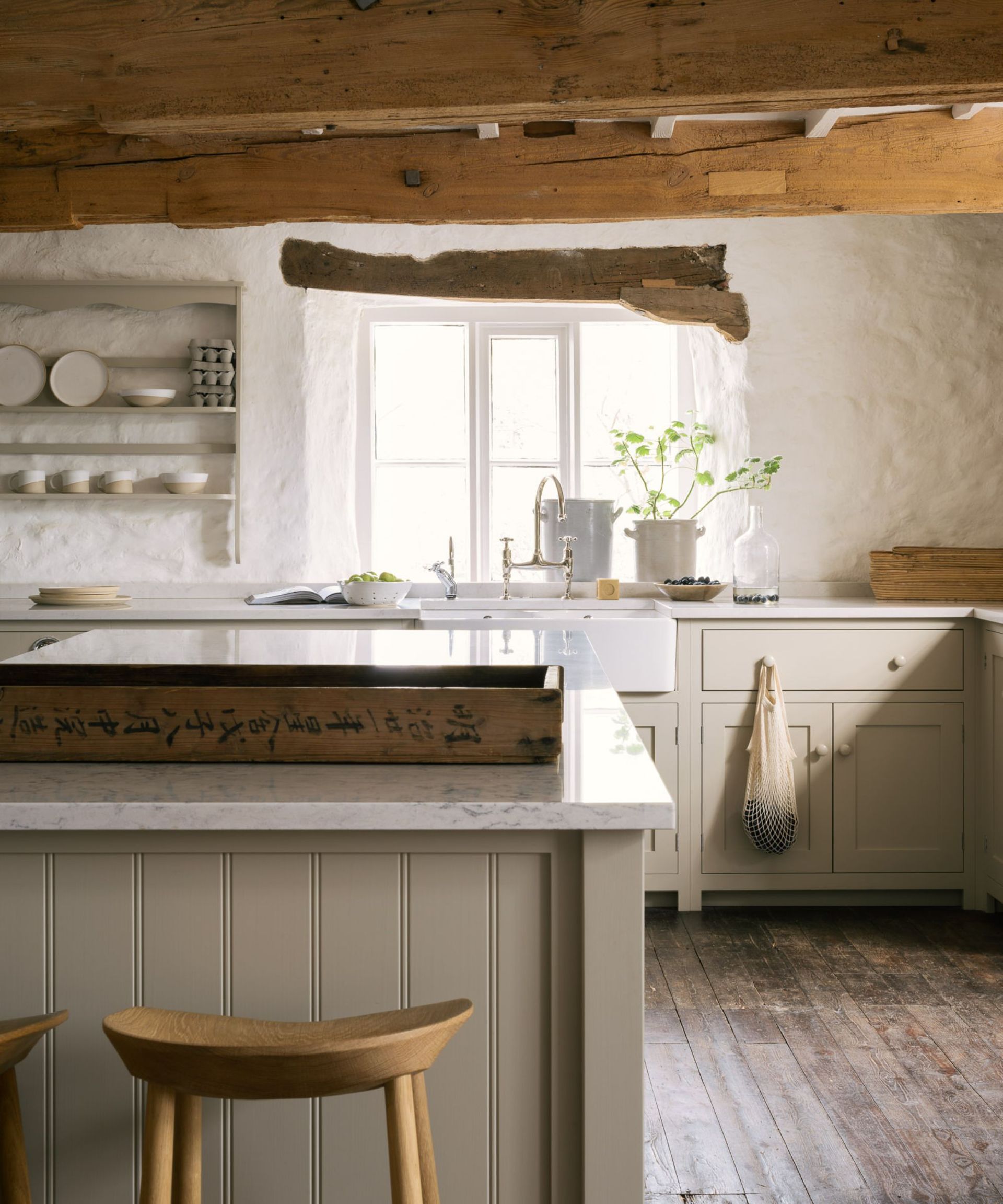 To create a natural feel in your kitchen, incorporating elements of wood can elevate the overall look of your greige cabinets. 'Paired with natural wood, greige delivers real elegance,' says Marilyn LaVergne. 'I recommend medium shades of walnut or white oak.'
Artem Kropovinsky agrees, and adds that opting for wood can create a feeling of warmth in the room: 'Blend greige with rich wood elements like walnut chairs or a reclaimed wooden table to warm up the space.'
As well as furniture items, there are many other ways to introduce wood to the kitchen, as Marilyn suggests: 'Incorporate natural wood with floating shelves or a butcher's block dining surface on the island.' For a bolder way of decorating with wood, you could even opt to channel wood flooring ideas, as Marilyn continues: 'Consider natural wood floors throughout the kitchen to truly underscore the feeling of warm elegance.'
5. Decorate with marble for a sophisticated look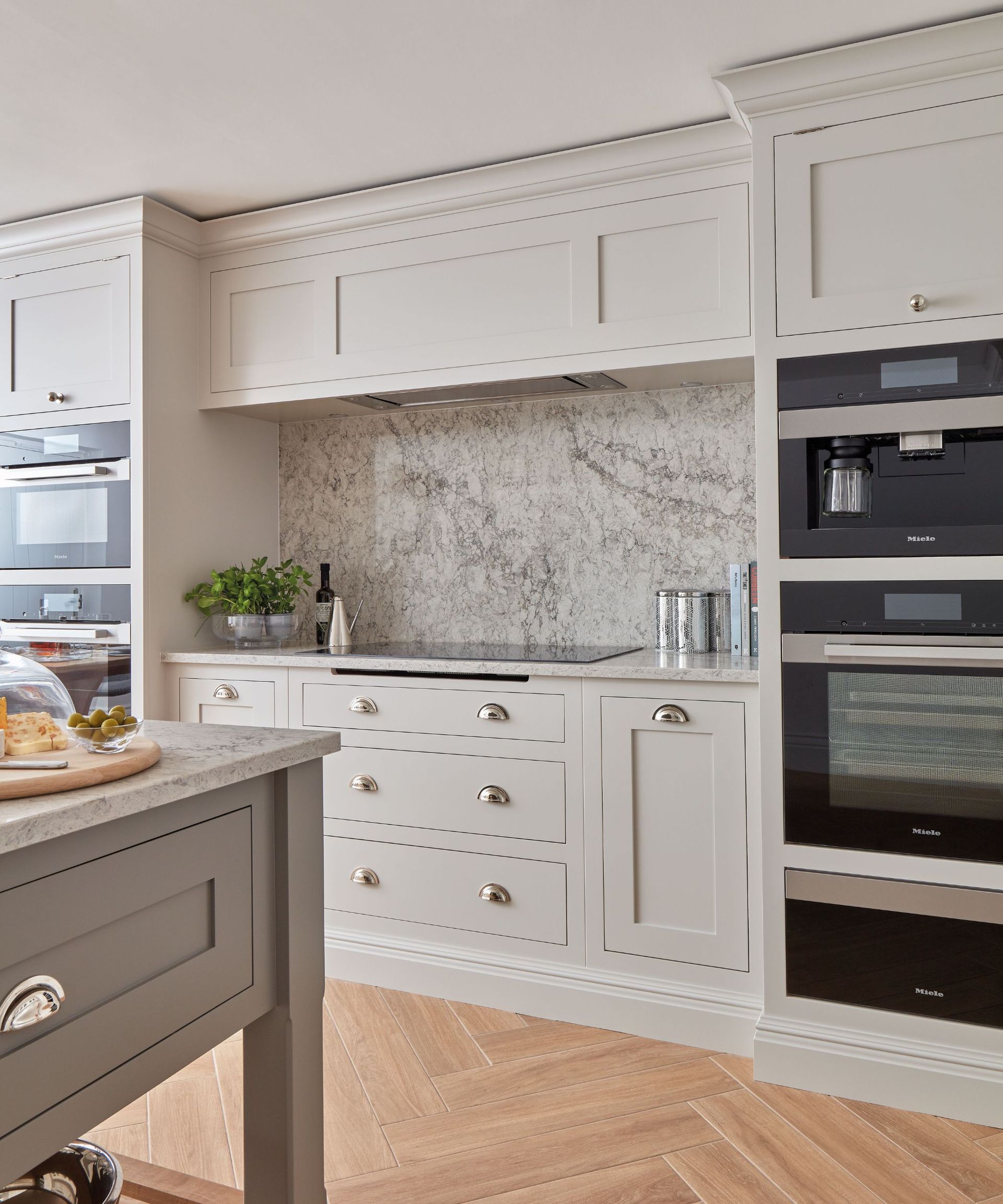 Marble kitchen ideas are a classic choice, but experts say that this sophisticated material pairs particularly well with greige kitchen cabinets. 'Greige and marble is such a dreamy combination,' says Elizabeth Sims.
You can choose to incorporate marble in many different ways, whether as a subtle look through smaller accessories or by fully embracing it with marble countertops and a backsplash. 'I love the look of running the marble up the backsplash to meet the cabinets,' continues Elizabeth. 
6. Make a statement with a contrasting color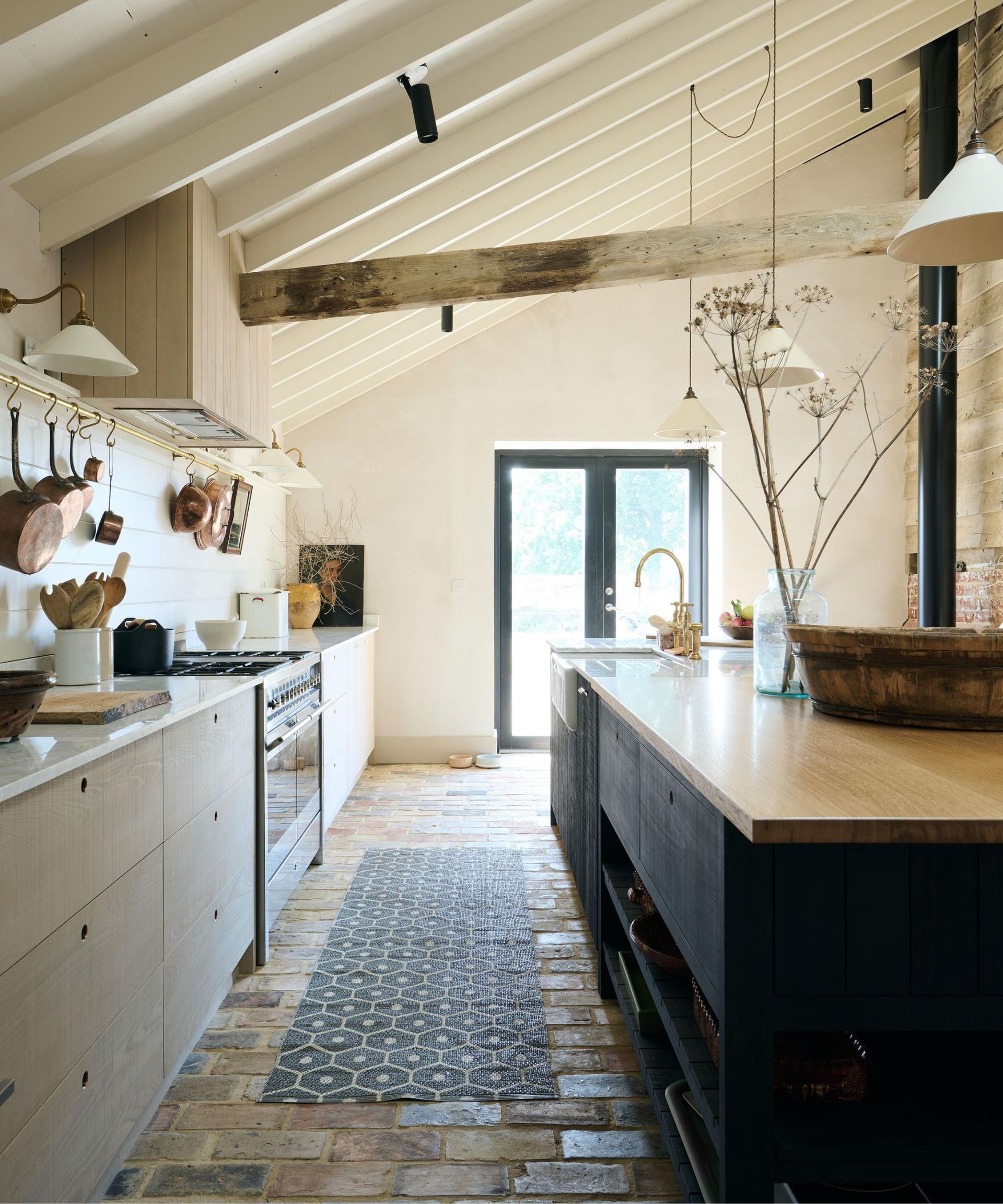 To create more of a statement look in the kitchen, choosing to embrace a contrasting color on the walls against the soft greige cabinets can create a visually appealing look. 
Helen Parker, Creative Director at deVOL Kitchens explains: 'A soft minky brown gray is a wonderfully chic color to pick for kitchen cupboards; it feels less harsh than regular gray and works well in both contemporary or more period interiors as it so easy to combine with rich dark reds and greens or more muted pinks and browns.'
Helen is the Creative Director at deVOL, a leading kitchen design company that mixes classic and contemporary. Helen has been creative director at the company since 2011, passionate about the signature understated approach deVOL takes to designing kitchens.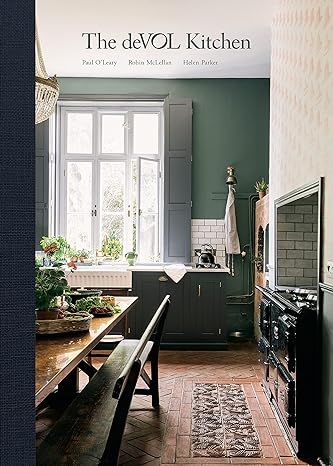 The deVOL Kitchen: Designing and Styling the Most Important Room in Your Home
Full of inspirational images, learn all about how to design and style your kitchen to create a fully personalized and functional space.
FAQs
What are the advantages to greige kitchen cabinets?
There are many benefits to opting for greige kitchen cabinets, but perhaps the most significant one is their versatility. While other colors of kitchen cabinets, especially bolder and brighter hues, can be very specific towards one design style, greige is incredibly compatible with many different styles. This means that if over time you want to create a different feel in your kitchen, you can do so without changing the color of the cabinets. 
'Whether your design preference leans towards traditional, modern, or somewhere in between, greige kitchens seamlessly integrate into various design schemes,' explains Niko Rasides. 'This versatility opens the door for creativity, allowing homeowners to personalize their space according to their unique tastes. Accessories, such as colorful kitchenware, vibrant artwork, or trendy light fixtures, can be easily incorporated to refresh the look without a complete overhaul.'
---
'With their timeless appeal, versatility in design, and ability to enhance natural light, greige kitchens captivate those who appreciate a balance between classic and contemporary aesthetics,' concludes Niko. If you're looking for some more inspiration, we have lots more kitchen color ideas to help you on your way, whatever your design style.