Knowing how to make your living room look expensive is essential if you want to achieve the luxury look without the luxury price tag. 
There are plenty of living room ideas that will help to make your space look expensive, from focusing on high-end materials, such as marble and stone, through to maximizing the amount of natural light that floods into the room.
How can I make my living room look expensive?
Start by taking inspiration from luxury living room ideas. These will help you to achieve a high-end aesthetic as you emulate the look.
From the finest living room furniture and most beautiful living room color schemes, some of our favorite interior designers share their economical decorating ideas, advice and expertise on making a living room look expensive.
1. Add paneling to your walls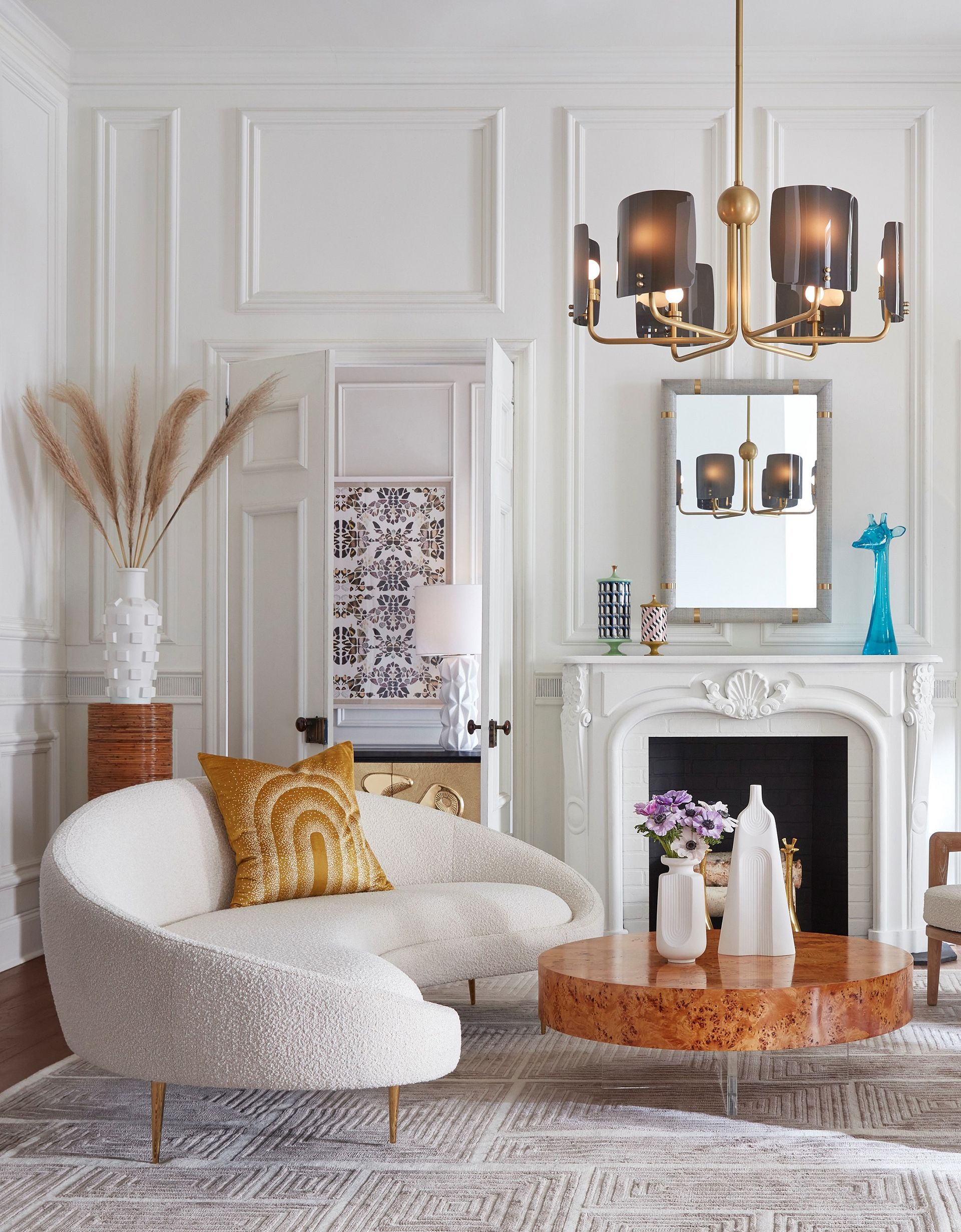 Instantly evoking the grandeur of historical properties, wall paneling ideas are an easy yet effective way to make your living room look expensive. Living room paneling ideas are a great way to emphasise the height of the room and will quickly have the compliments flooding in. Wainscotting ideas aren't just for grand old houses either, installing them in more modern properties can bring a stylish element of sophistication.
While the look is high-end the price is not. You can achieve the look of paneling by simply installing a batten framework and is an easy option for a competent DIYer.
Once you've installed your wall paneling, the next step is painting. Opt for a single block color to create a classic look. 'The highlights and shadows created by the paneling will add another dimension to your feature color creating a bold statement wall. As the sun moves throughout the day shadows and texture will be created from the reflection of the sun. Paneling looks great when color matched to form a drenched wall,' says Justyna Korczynska, senior designer at Crown.
2. Focus on balance in your design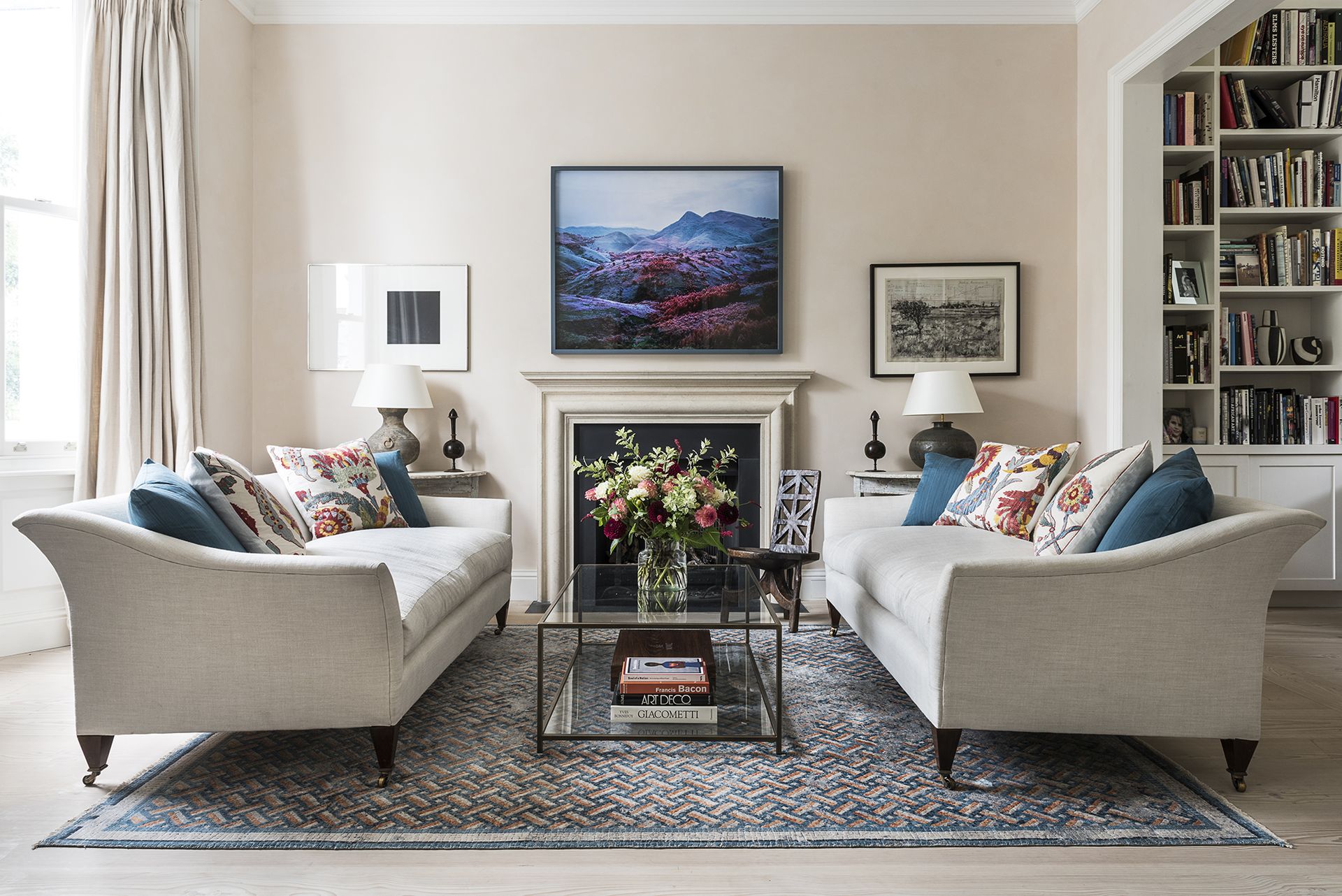 When designing your living room layout start with a central point – this can be an architectural feature, a piece of art or furniture that only works in one part of the room. In this living room the elegant fireplace stands as the central point around which the rest of the room's design is orientated.
'We designed this room to be balanced rather than truly symmetrical. I like that the space gives the feeling of symmetry without it being perfectly so, at first glance it appears to be a mirror image and it's not until you look closer that you notice the lamps and pictures on each side are different – which I think makes it more interesting. Taking advantage of architectural elements, like the fireplace in this case, helps provides a central point resulting in a balanced and relaxing space,' says Kate Guinness of Kate Guinness Design (opens in new tab).
3. Add oversized artwork or a gallery wall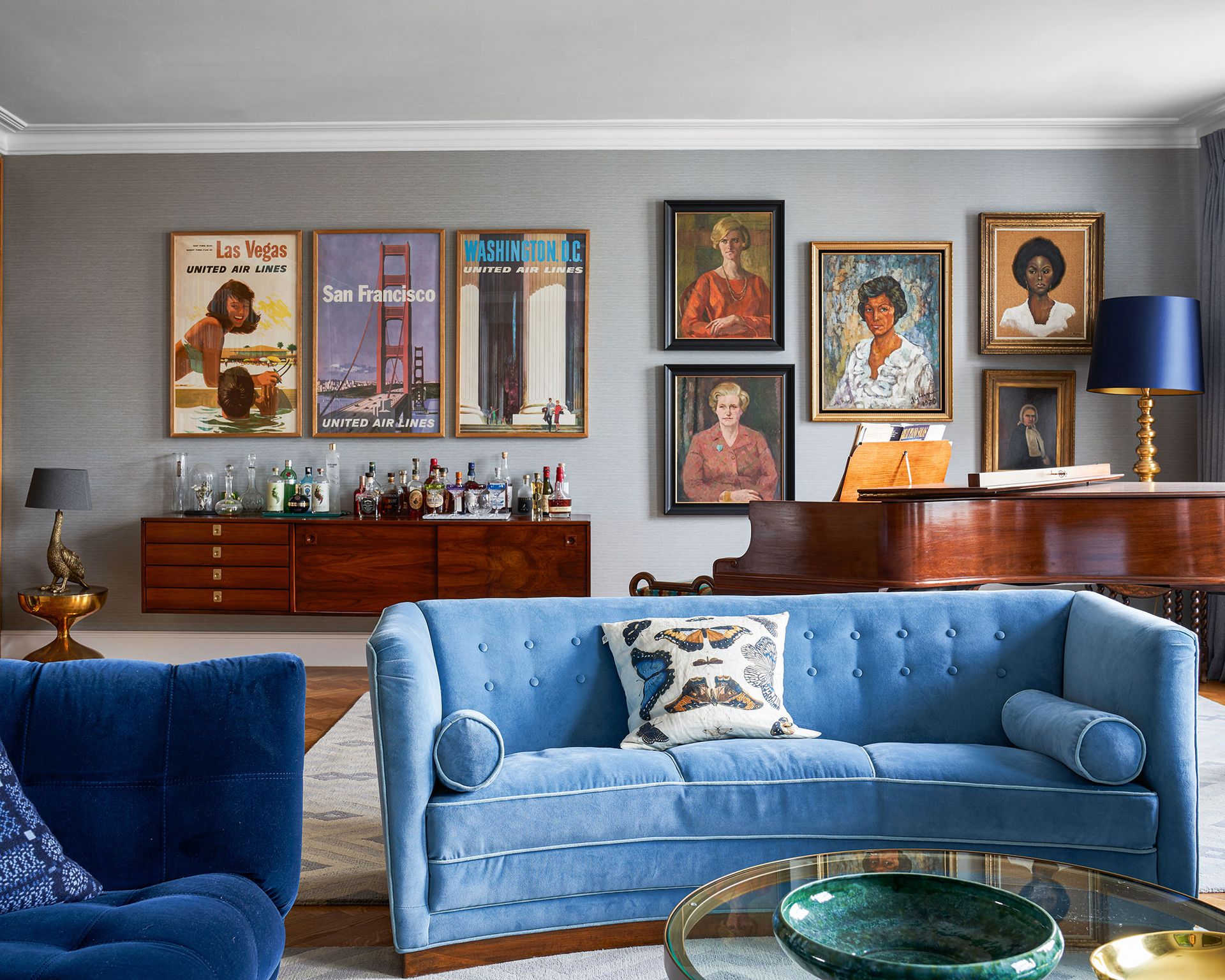 Art is one of the most affordable ways to elevate the look of your living room and is a great way to make your living room beautiful. Look for living room art ideas that will draw the eye while also adding color and texture to your interior design.
The price of art covers a wide scale, however, there are lots of affordable, yet beautiful options that will instantly transform your space. When it comes to art, let your choice be guided by your room's color palette – whether you opt for something complementary or contrasting is up to you.
If you are creating a gallery wall, then framing can rack up a high bill. Instead, turn to thrift stores. They are a treasure trove of interesting and characterful frames that will take your artwork to the next level. Plus they are often available at a steal. 
4. Invest in a marble fireplace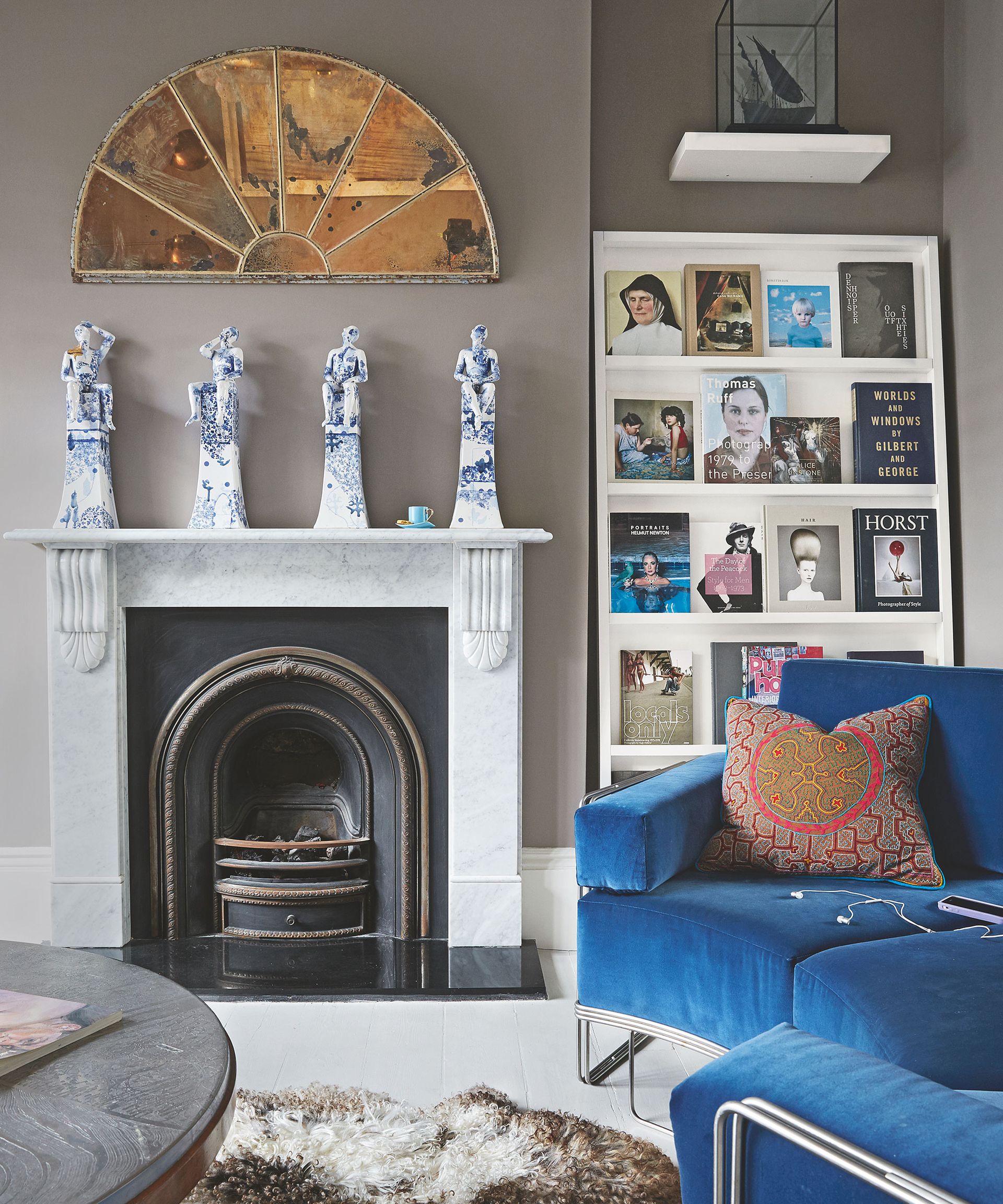 If you have the infrastructure, fireplace ideas are a great way to achieve an expensive look. Opting for natural materials such as stone and marble will channel formal living room ideas and help to add gravitas to your space, while also promoting sustainability.
'Natural stone acts as a "character-builder" for your home, as the natural imperfections and inconsistencies in each fireplace will bring an intrinsic uniqueness to your home,' says Owen Pacey, the founder of Renaissance London (opens in new tab). 'The sprawling veins of Carrara marble forge their own distinct pathways and nebulous fossils found in jet-black Kilkenny limestone are dotted in one-of-a-kind constellations.'
5. Maximize the amount of natural light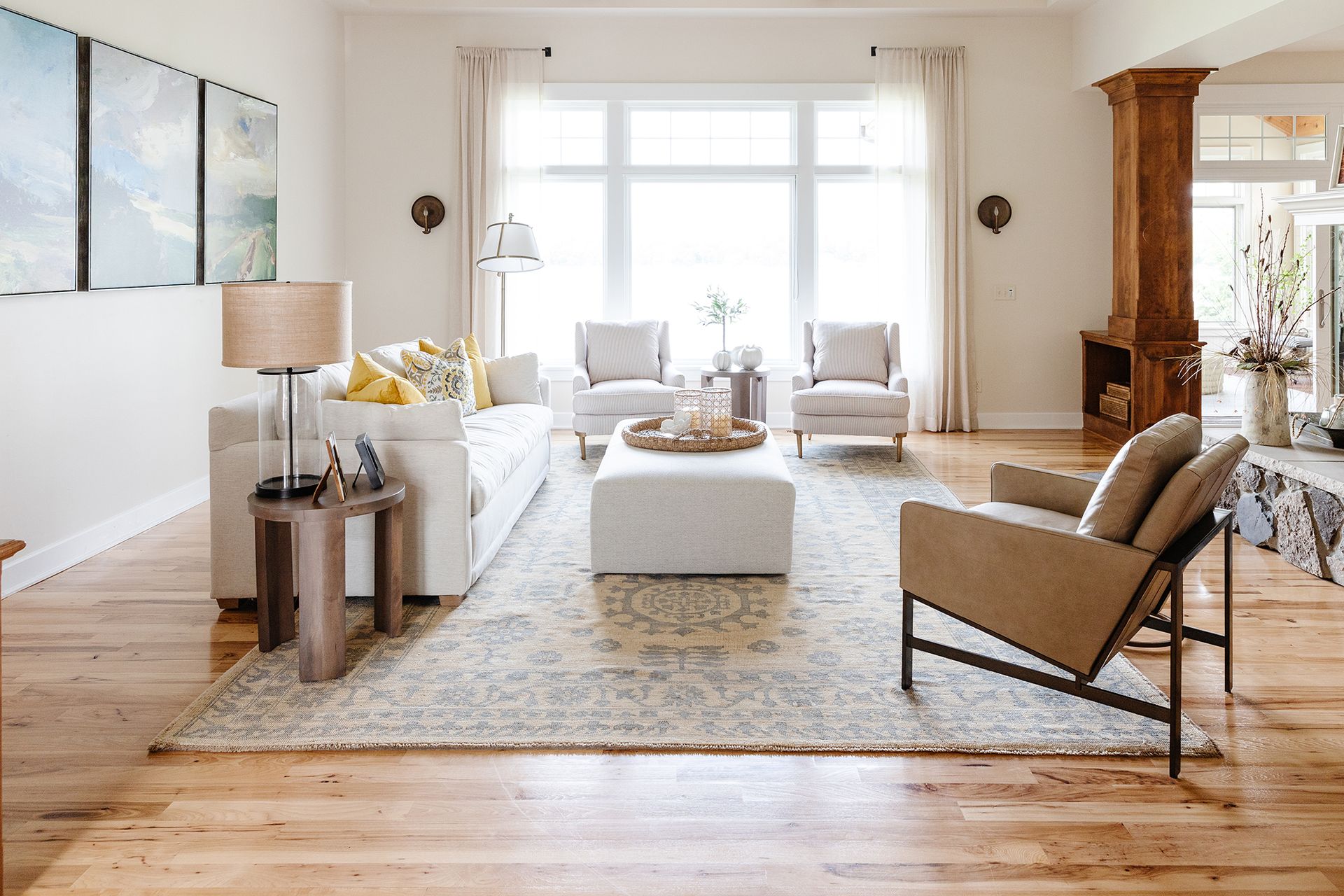 Natural light will instantly elevate the look of the space and installing large windows is a great way to make a living room look expensive. However, if you don't already have large windows, this will be a significant investment.
Thankfully, there are also affordable ways to increase natural light in your home. From mirrors positioned opposite windows and a light color palette, there are plenty of ways to brighten your room. 
'When designing this space, we wanted to incorporate the immense amount of natural light that the large windows had to offer. We kept the selections light in color and incorporated warmth in other ways through wood, stone, leather and mixed metals. When making a beautiful space, don't be afraid to combine elements. Mixing elements brings in warmth, depth, and a coziness to a space,' says Amy Leferink, founder of Interior Impressions (opens in new tab).
6.  Install statement chandeliers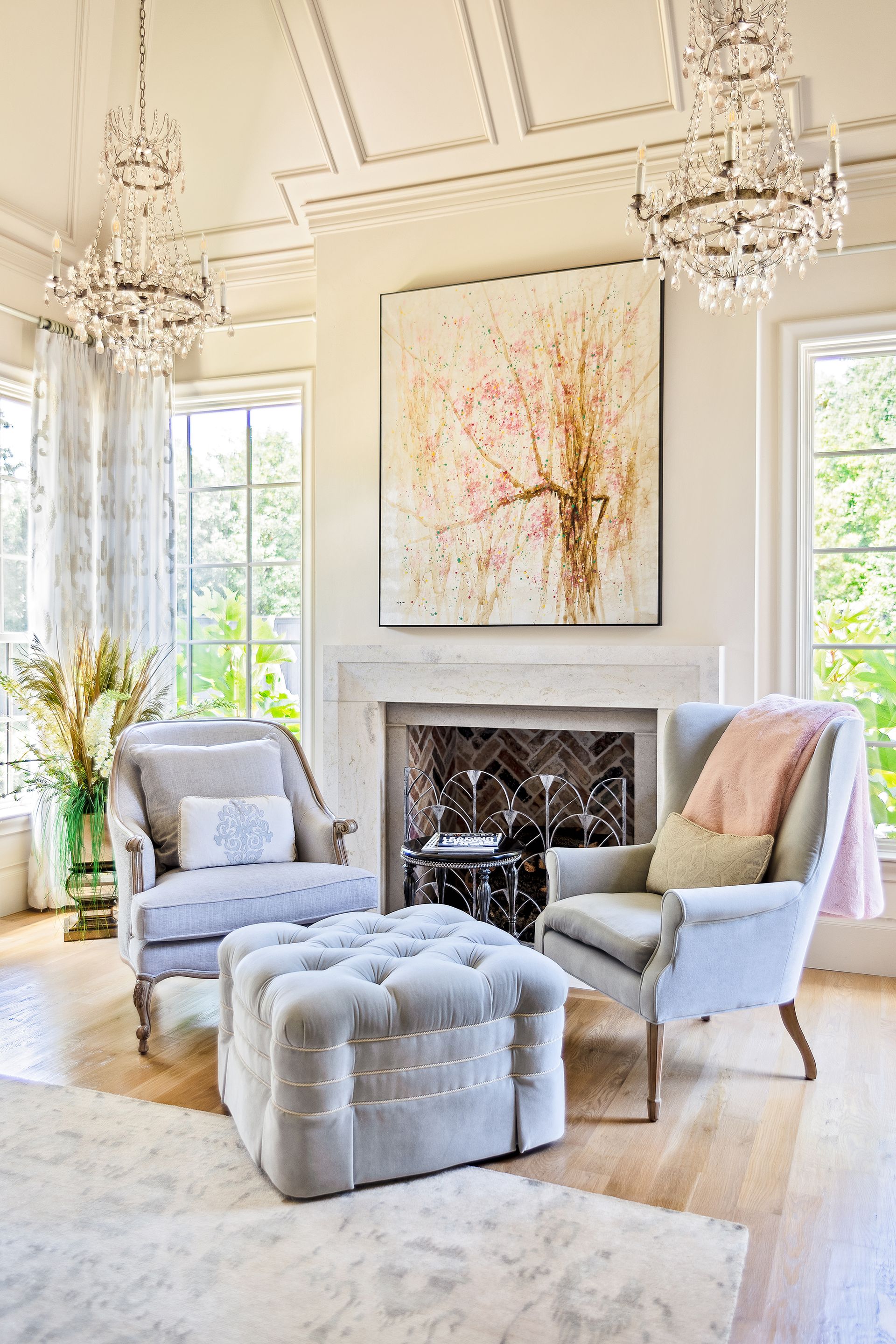 When it comes to living room ceiling light ideas: think luxury and you think chandelier. There's a reason these two elements come hand in hand. Historically, glass was expensive and therefore, to have a pendant cascading with glass droplets made a bold and luxurious statement. Even though glass is more affordable today, the impressive nature of chandeliers hasn't waned. 
As well as looking beautiful in their own right, living room chandelier ideas can also be used to enhance the natural beauty of a room. 'The two chandeliers in this space were incorporated to draw the eye up to the vaulted ceilings. The wall and ceiling color were matched for a continuous look throughout. The traditional feel of the space was elevated by the addition of two fixtures. These elegant crystal fixtures add sophistication to this refined space,' says Maria Viola- Kuttruff of Viola Interior Design (opens in new tab).
7. Don't forget styling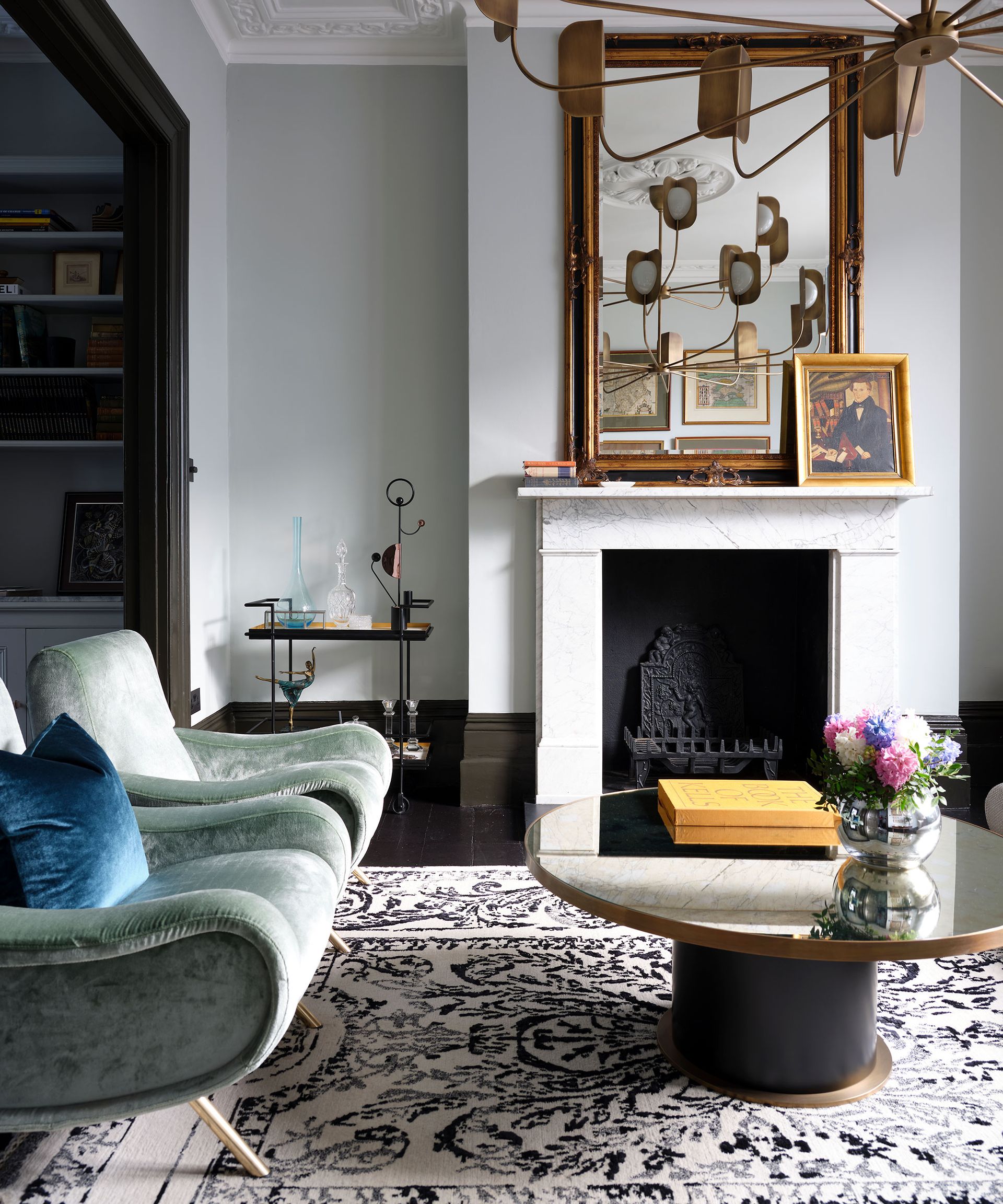 If you've ever looked at a house in a magazine or a gorgeous interior on Instagram, it will have been styled. Everything will have been placed 'just so' to give the room a luxury edge. 
The first step is, of course, to tidy away anything that is not needed for your scheme – there are plenty of storage ideas that are guaranteed to help you in organizing a living room, keeping the space looking minimalist and chic.
Then comes the living room styling. 'No living room is complete without thoughtfully curated artwork and decor. A styled coffee table, decorated bookshelf, or artwork wall can make any room look professionally styled. I also love layering color, texture and pattern with pillows, wallpaper and area rugs, these are great ways to create a certain mood or feel in your living room,' says Ally Maloney Winzer, principal at Maloney Interiors.
8. Don't be afraid of color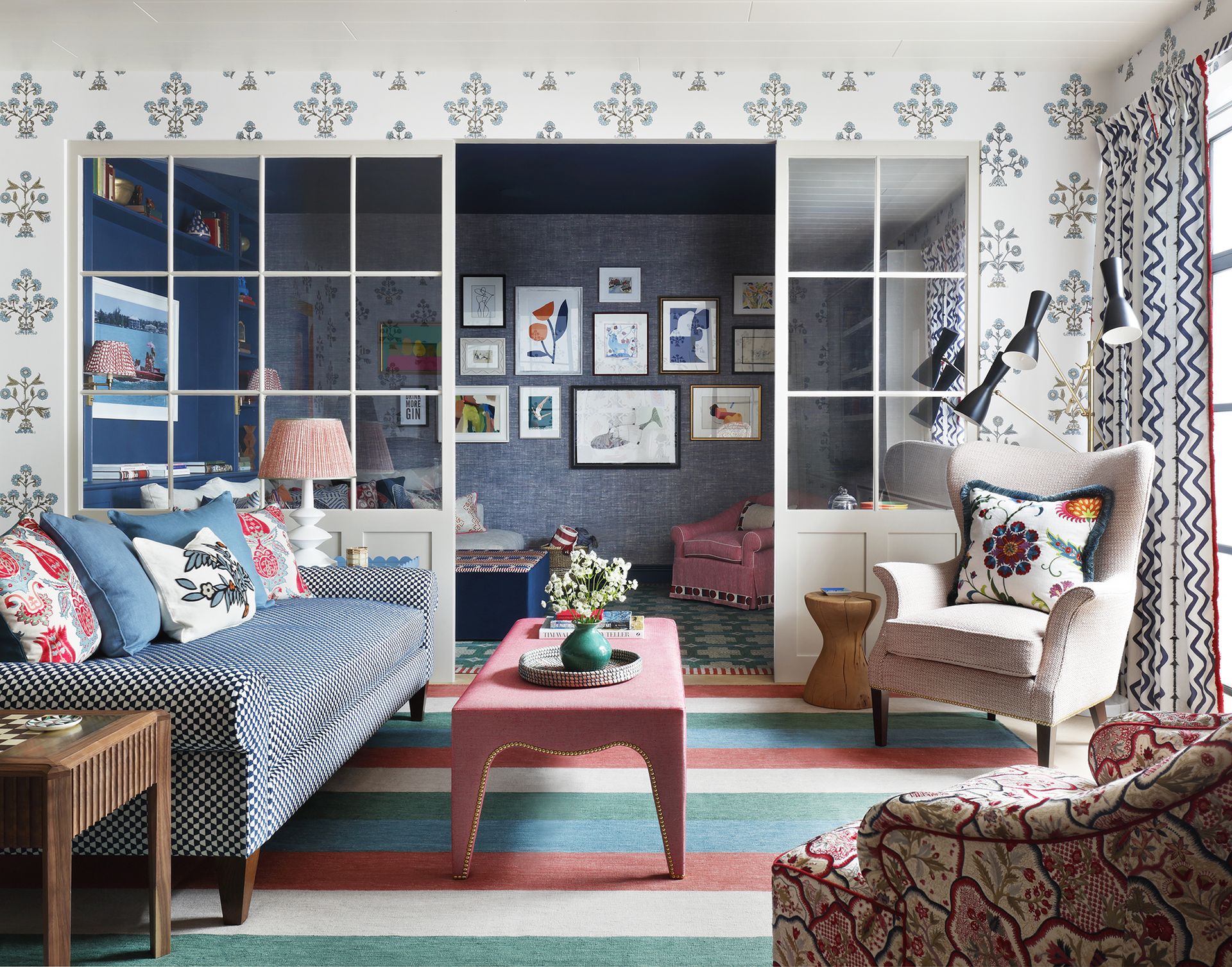 When trying to achieve an expensive look in your living room, you can be tempted to steer away from color. While there is a benefit to opting for beige living room ideas, it is a myth that luxurious spaces can't be brimming with color and personality. 
'For me, it is all about playing around with pattern, texture and color. I like to anchor upholstery in plain colors and then use contrast piping and a mix of plain and patterned cushions to add a bit of interest. Ideally lively patterns are separated by more muted plain tones. A gallery wall can be a fun way to provide a focal point for the space – vary the size of artwork and the type of frame for a homely, eclectic look. A gallery wall shouldn't make your room feel like a gallery. And finally, it is easy when focusing on the aesthetic to forget about practicality. Always bear in mind how a space is going to be used – for example, do you need a side table next to your favourite armchair for that beverage at the end of the day?' says Sarah Peake, founder of Studio Peake (opens in new tab).
9. Ensure you don't compromise comfort for aesthetic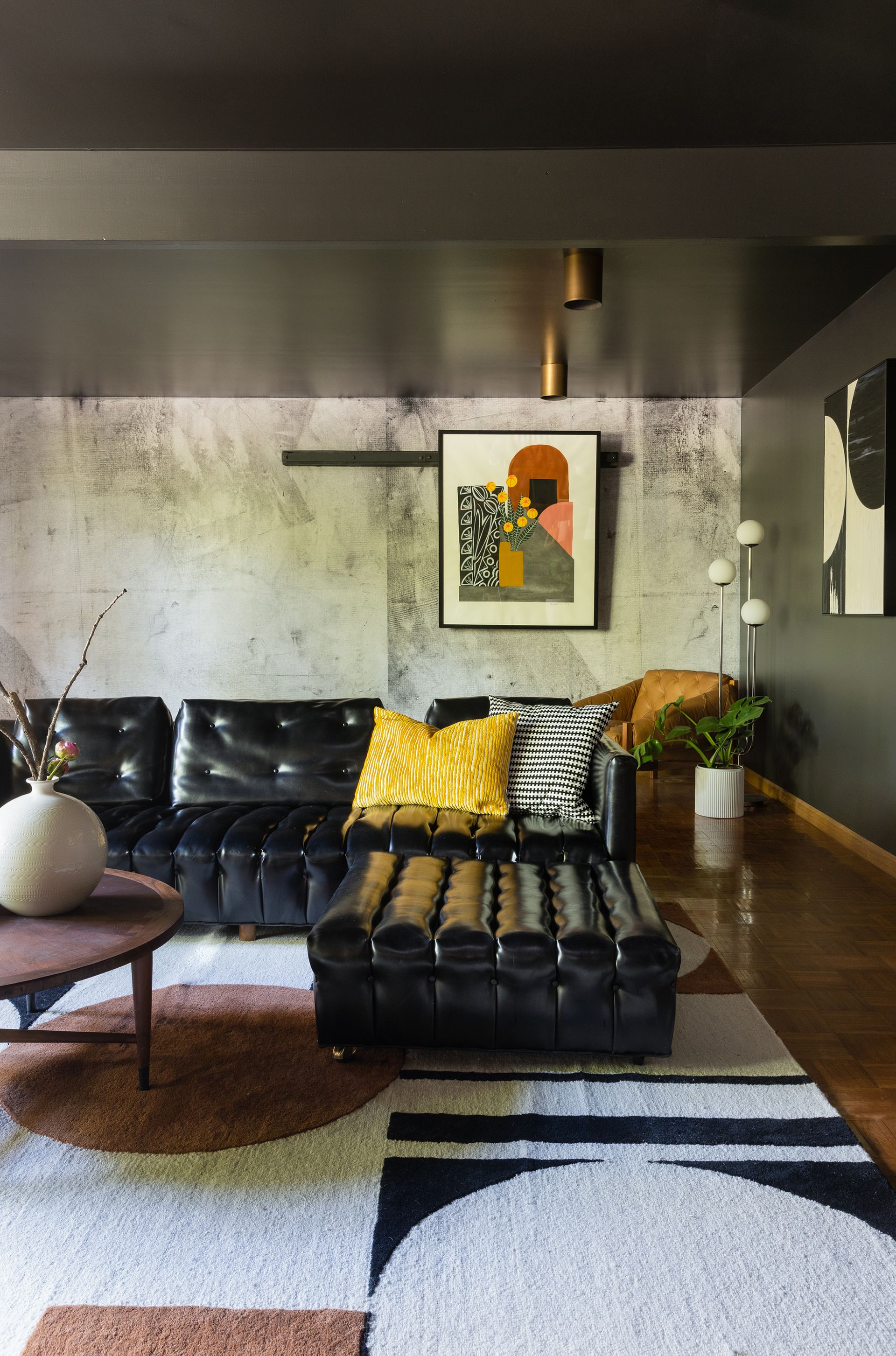 When designing a living room, it is important to not loose sight of the role of the space. Even if your living room looks expensive, it should still feel like somewhere that you can relax and enjoy.
'The living room is where we can finally unwind from a long day. I like to think of living rooms as being spaces we mainly use on nights, right before heading to sleep, and on weekends as we take a moment to relax before starting up the next work week. And for that reason, living rooms should feel plush, the furniture should allow the homeowner to want to linger in place for a while, truly somewhere where you feel your most comfortable and safe,' says interior designer David Quarles of David Quarles IV. (opens in new tab)
'As far as design, I'd like to say the days of a more formal aesthetic for a living room are a thing of the past. In this space, we can also be more expressive in the colors we choose and the type of furniture we select. I'm loving the trend we're seeing now of mixing different eras of design to create living rooms, making them truly feel like a space where we can breathe and regroup. Filling our living rooms with decor and other pieces that we love allows this space to reflect our personality – whether through artwork, sculptures, and plants even – truly creating a sense of happy in a place where we can let our guards down as we gather with friends and family.'
How can I make my living room look more expensive?
The best way to make your living room more expensive is to reduce the amount of clutter. Clear surfaces give you the perfect platform for creating elegant displays with luxury materials. Keep your selection to a minimum though, and know you can always change items out depending on the season or the look your want to achieve. By opting for smaller pieces such as marble bowls or trays, beautiful antique perfume bottles and golden candlesticks will help you to incorporate high-end materials into your scheme but will be a lot more affordable than investing in larger pieces such as a marble fireplace.
How big is a luxury living room?
There is no size guide to a luxury living room. Luxury comes in terms of feeling and atmosphere rather than square footage. Using all available space to the best effect is a great way to ensure your living room feels curated and organized. In a smaller space, you can also afford to splash out on more expensive floor coverings and furniture as your budget doesn't have to stretch as far.