We ask a lot of our kitchen cabinets, expecting them to host all manner of odd-shaped items, from utensils and cookware to electricals and pantry staples – it's hard work. And to be fair, they usually deliver without much fuss. However, there are some trickier spaces that require a little more attention to ensure they're not slacking on the job; how to organize long and narrow kitchen cabinets, for a start. 
Organizing kitchen cabinets effectively is all about prioritizing which items you use most and ensuring they're easy to access. That's all well and good, but it's not always easy when you're dealing with difficult dimensions. 
Luckily, long and narrow cabinets lend themselves to some rather useful kitchen storage ideas, which, if organized properly, can have a big impact on your kitchen's functionality for the better.
How to organize long and narrow kitchen cabinets
Whether you're organizing a small kitchen or not, most kitchen ideas include a long and narrow cabinet or two. With help from professional organizers, we've gathered practical advice on how you can get the most out of them, or should we say into them!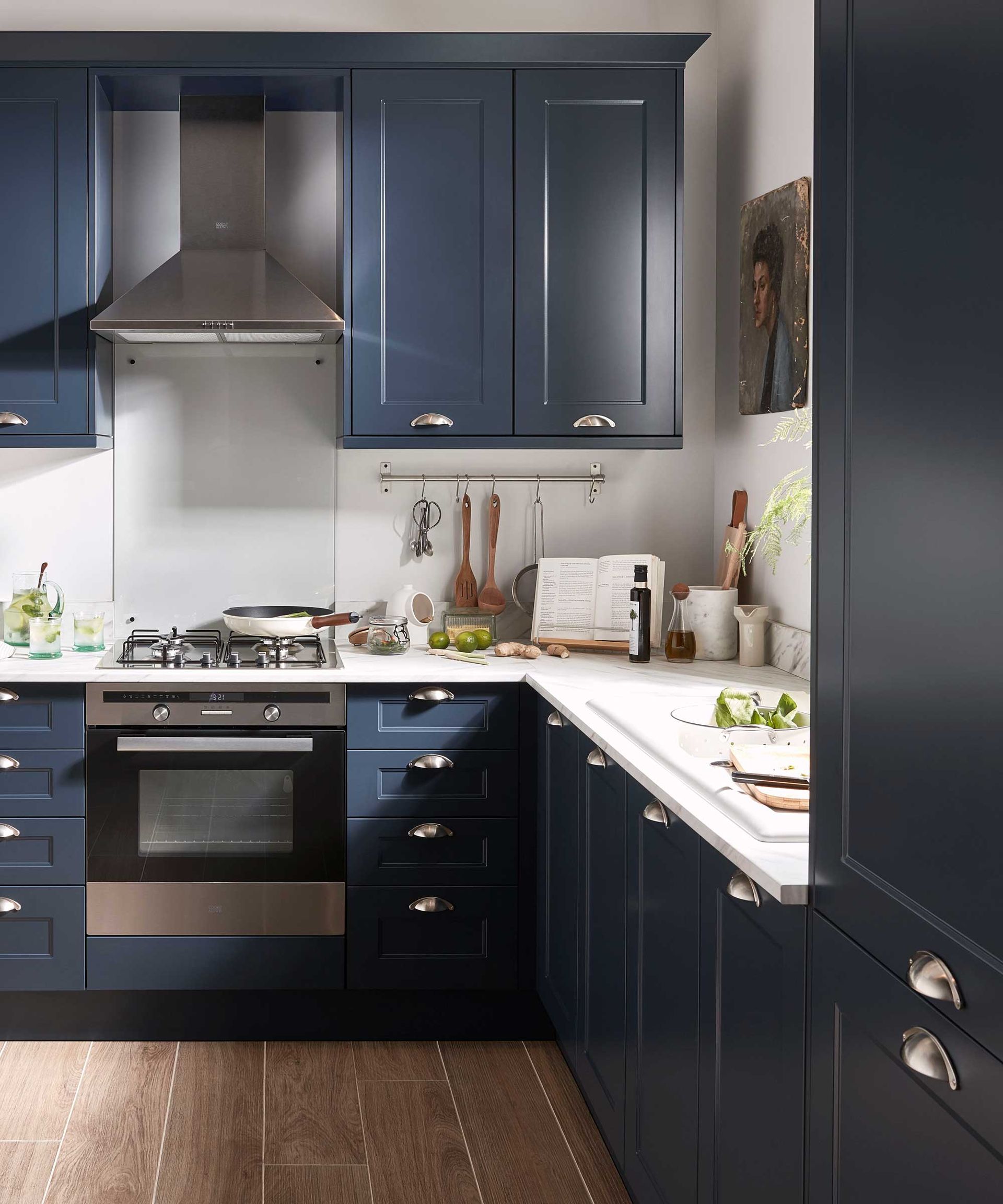 1. Start with a declutter
When organizing a kitchen of any size, but particularly one with tricky cabinet space, a good clear-out is the best place to start. One of the best decluttering tips we can offer is to pull everything out first. Work through each item one by one, getting rid of anything you no longer want or need, whether it's utensils, cookware, or pantry staples (be sure to recycle or donate what you can) until you're only left with what you need to put back. Take the opportunity to clean your kitchen cabinets, too. 
2. Take location into account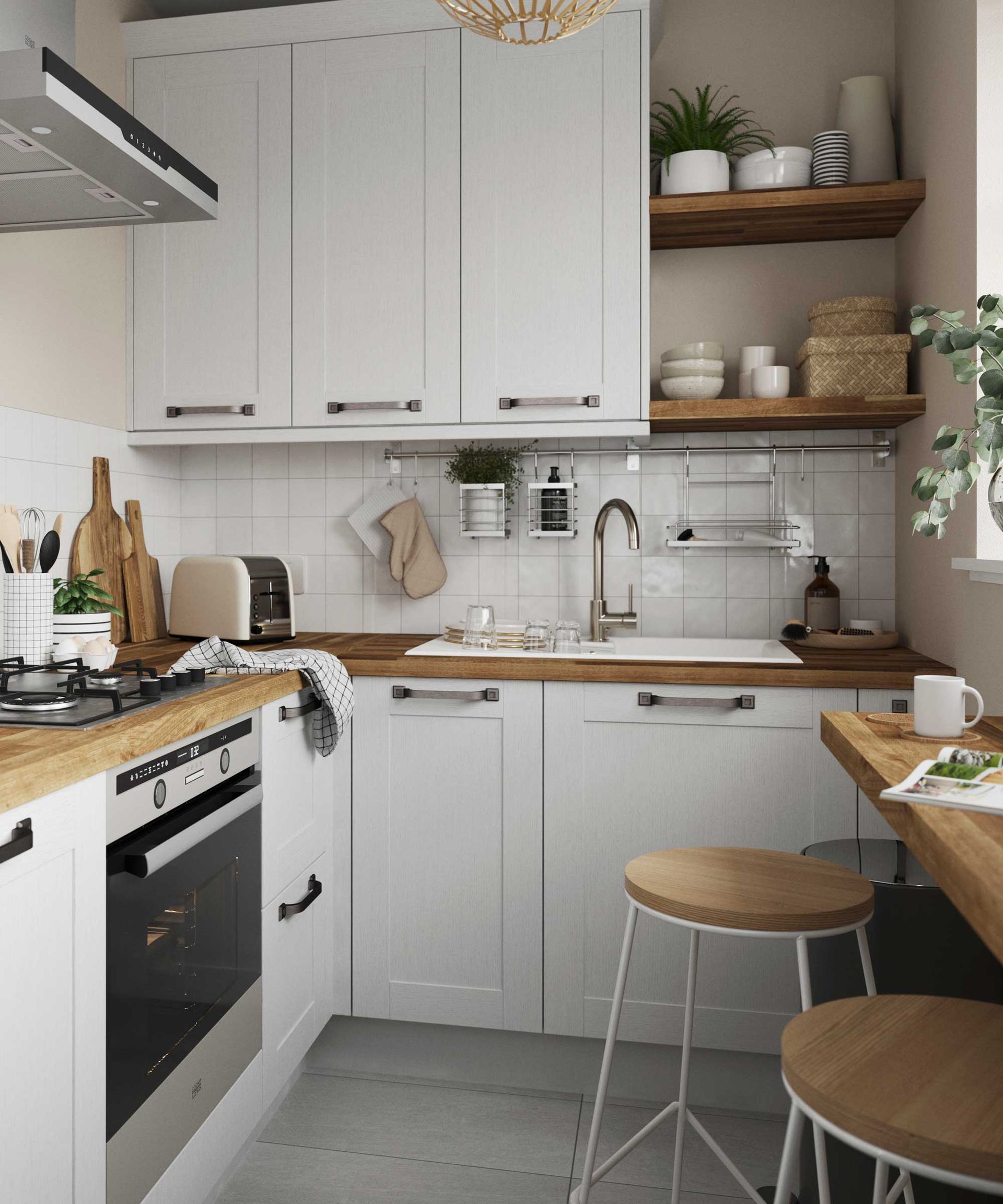 One thing that the most organized kitchens have in common is sensible kitchen layout ideas, so before you start refilling your cabinets, think about where they're located. Usually, long and narrow cabinets sit between a countertop and an appliance. If it's next to the stove, assign it to cooking essentials – herbs, spices, oils, utensils, etc. Next to the dishwasher, dishwasher tablets, cleaning products, tea towels, and so on.
It's common sense, but defining zones like this really does make all the difference to your cooking experience. Once you know what's going where, you'll be able to work out the best kitchen cupboard storage ideas, too.
3. Integrate pull-out storage solutions
Instead of sticking with standard interior storage, maximize on the space you do have by fine-tuning the fittings and tailoring the insides of your long and narrow cabinets. Installing kitchen organizers such as pull out shelves, drawers or racks will make a huge difference in terms of usability, allowing you to reach items right at the back with ease.
If you're not going bespoke, be sure to measure the height and width of the shelf before committing to a mechanism – you ideally want a snug fit, so you're not left with dead space at the back.
4. Use tiered organizers
They may be able to house a lot of 'stuff', but long and narrow cabinet shelves can mean that smaller items get left to linger unseen at the back and, if it's food, potentially go out of date. Get around the problem by using tiered organizers to elevate tins, packets, and spice jars so they're clearly visible and easy to reach without knocking things over. This three-tiered stepper at Amazon expands to fit shelves and has a non-slip surface to prevent anything from falling. 
If you're storing duplicate food items, be sure to position them according to how soon they're due to go off. This is the way it's done in supermarkets to ensure customers buy the stock going out of date first. Professional organizer Brenda Scott refers to this as the 'FIFO' method:
'Think first in first out – when you purchase an item it goes to the back of the grouping so the item with the nearest expiration date always remains at the front,' she says.
Brenda Scott is passionate about home organizing, decluttering, and creating a safe home. At Tidy My Space, she helps people to keep their homes tidy when life gets busy. Brenda shares useful tips and gives practical help with sorting and editing her clients' spaces, leading them to feel less stressed and bringing the luxury of time to be spent with family, friends, or on themselves.
5. Group items into clear bins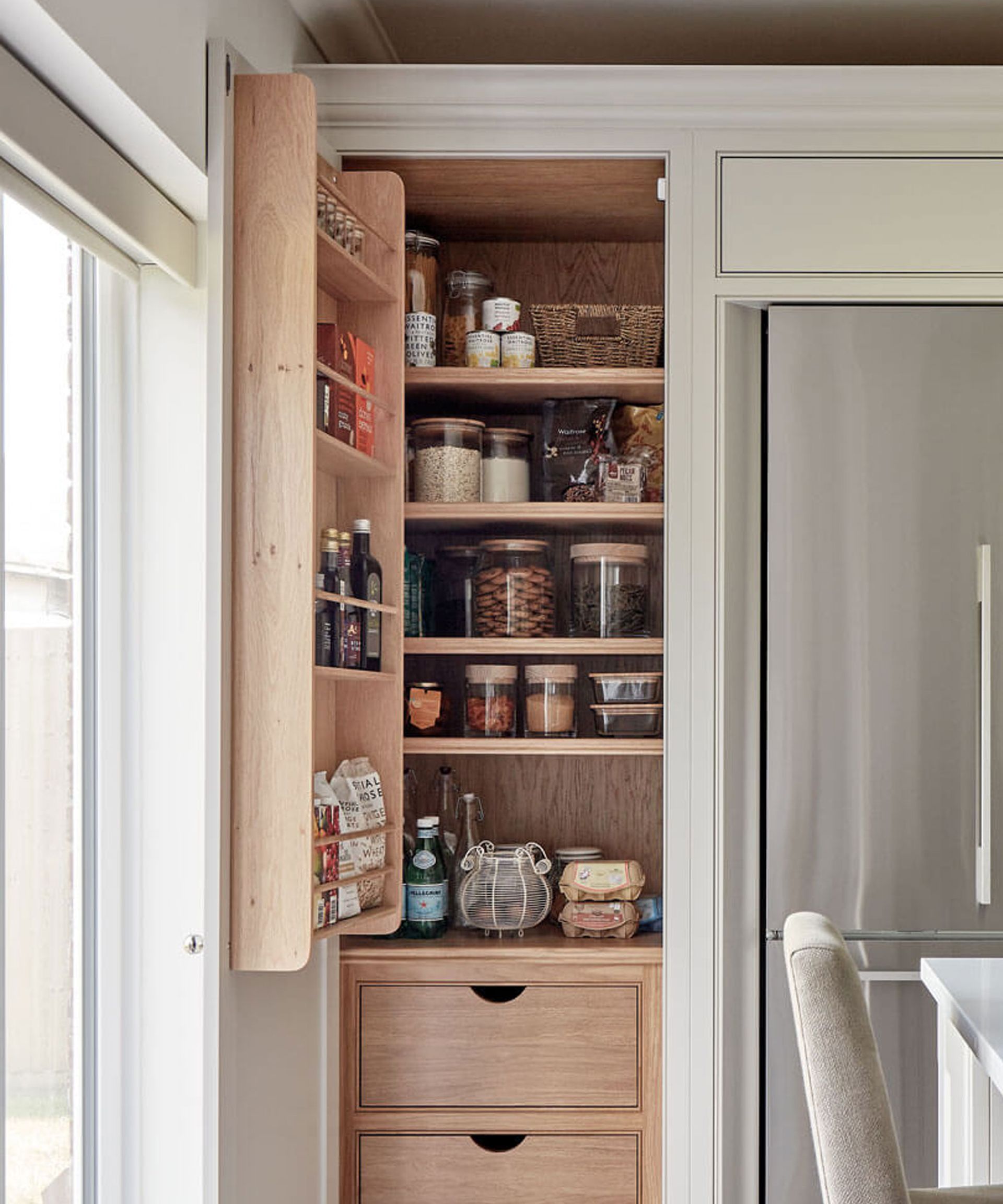 Just like when organizing kitchen drawers, best practice when organizing kitchen cabinets is to group like-items according to their use or purpose and corral them into transparent, labeled containers. It keeps things neat and makes it so much easier to find what you need. Depending on how deep your cabinet is, you'll likely find you can fit two or three bins on one shelf. Keep your most frequently used items at the front and lesser-used items at the back, to save you having to pull them out all the time. 
'If your cabinets are higher up, we recommend using long, transparent bins that can be pulled out and set on a counter, almost like a removable drawer,' adds Ann Lightfoot, co-founder of Done & Done Home. 
If your cabinet doesn't have shelves, consider using long and narrow stackable containers, like these transparent pantry organizers at Wayfair to make use of the vertical space.
6. Decant food into space-saving containers
Buying food in proportion to the cabinets space you have will keep things less cluttered but if bulk buying is your preference, try decanting dried goods into containers that stack neatly side by side (or back to back, in this case) then store excess elsewhere. 
'We always recommend purchasing containers from the same brand and in the same style. Not just because they look good, but because they fit together so well. It's easy to fill the space so there's less chance of knocking things over. When decanting always write the expiration date on the bottom of the jar', says Ann Lightfoot.
7. Think of them as 'drawers in disguise'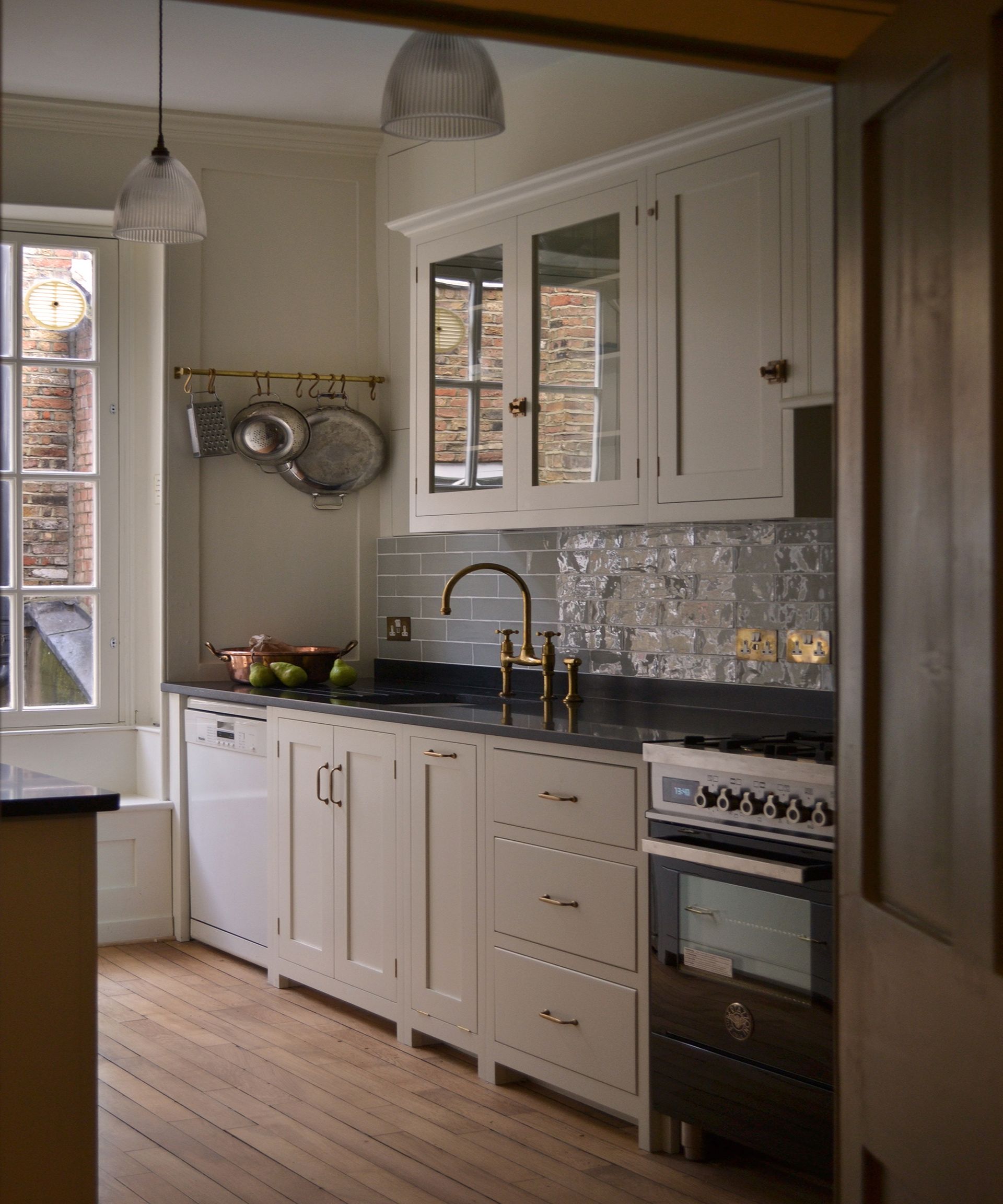 With a little pull-out customization and a few helpful organizers, long and narrow cabinets can be just as effective at storing items you'd usually designate to drawers – spice jars and cutlery, for example.
'Line the bottom of the cabinet with drawer liners, then use heavy-bottomed trays, jars or canisters with a weighted base to prevent things from falling over as you open and close,' says Millie Hurst, section editor at Homes & Gardens. 
If you've got height on your side, you may also want to consider storing longer utensils such as spatulas and slotted spoons, particularly if the cabinet is close to the stove.
Millie Hurst is Section Editor at Homes & Gardens, overseeing the Solved section, which provides readers with practical advice for their homes. Millie has written about and tried out countless cleaning and organizing  hacks in the six years since she became a journalist, and has worked in both London and New York. 
8. Store items vertically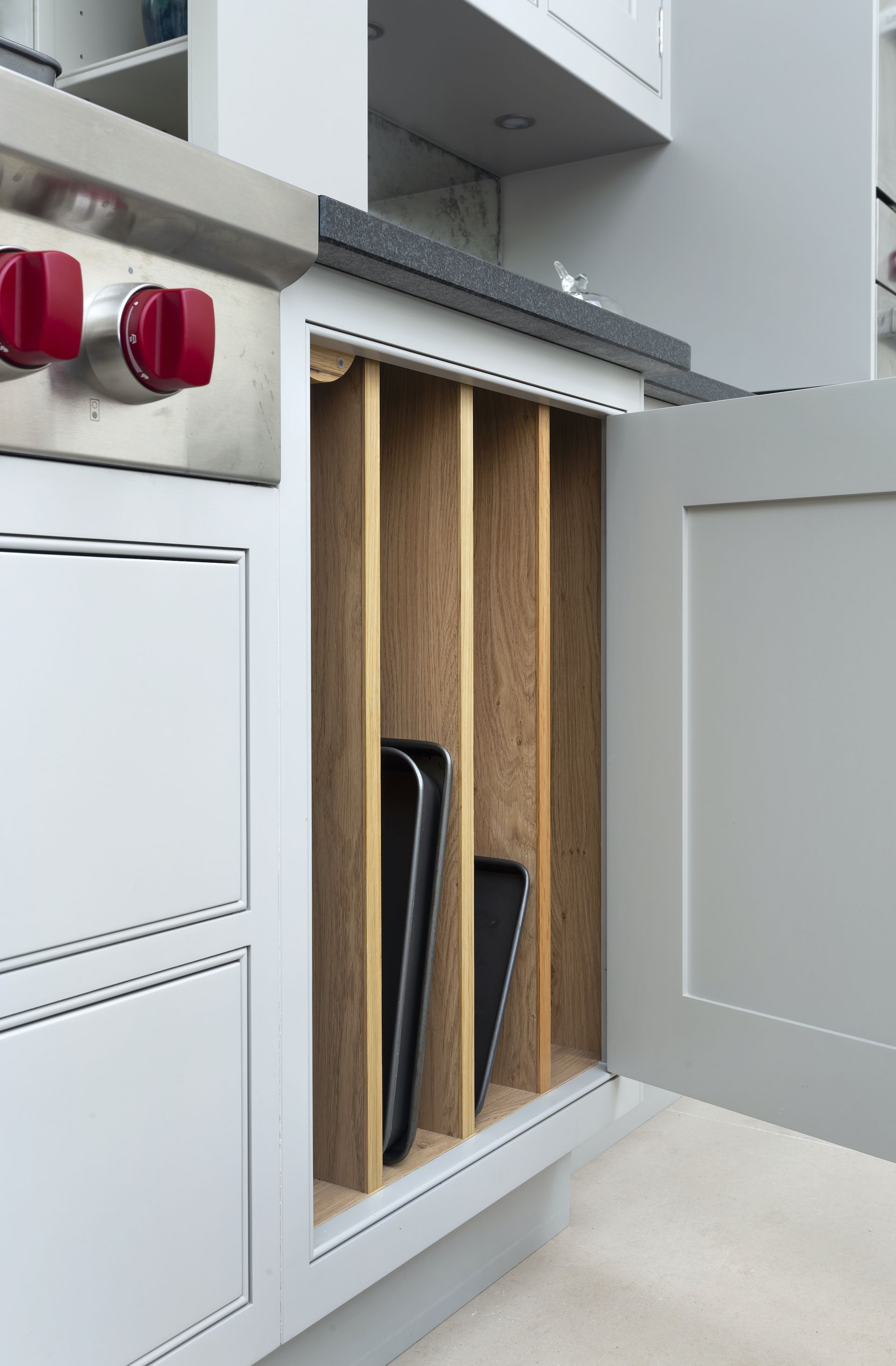 Baking trays, chopping boards, plates, and even pan lids are much more accessible stored upright rather than stacked, lending themselves well to long and narrow cabinets, assuming they're tall enough. Depending on just how narrow your cabinet is, bespoke inserts might be your best bet, but if you can fit it in, a simple draining rack or plate rack, at Amazon, works just as well. 
9. Convert it into a trash can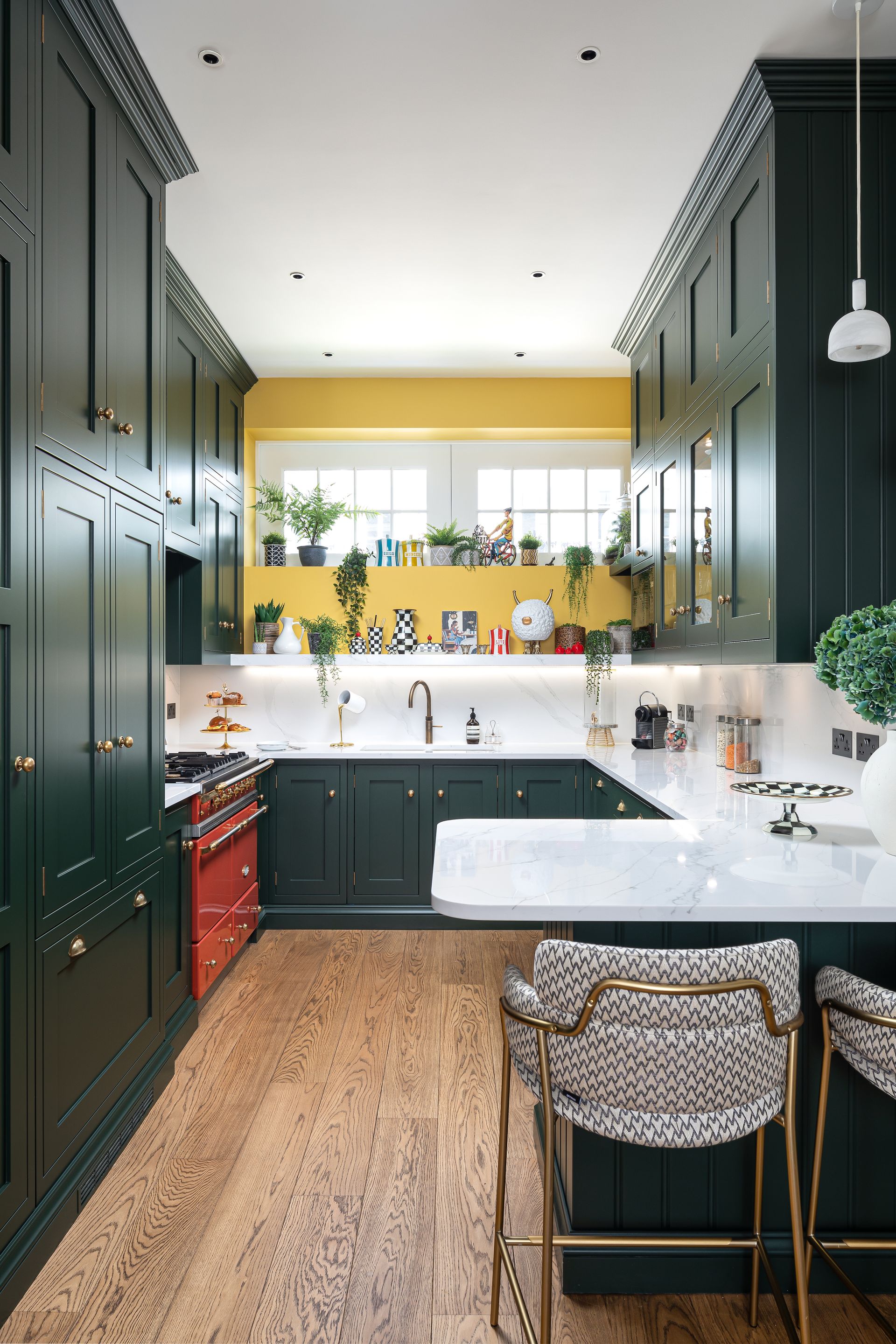 Hiding an unsightly trash can behind a cabinet makes for a much more stylish kitchen, and if you position it well, a more functional one, too. A long and narrow space fits the bill perfectly for a pull-out design. We'd recommend getting the experts in rather than taking a DIY approach on this one – a smooth open and close is essential if you want to keep smells contained.
FAQs
What do you store in deep, narrow kitchen cabinets?
Ideally, you'd reserve deep and narrow kitchen cabinets for those items that are best stored vertically. Baking trays, chopping boards, plates, even pan lids and long utensils are easier to access when placed upright and take up a lot less room. Use a rack or heavy-bottomed canister to keep them in place. 
With a little customization, deep and narrow kitchen cabinets can be used to store food. Decant dried goods into matching canisters to save on space, and use shelf steppers or risers – or install pull-out storage – so you can see clearly right to the back. 
If you're storing smaller kitchen equipment, group them by category (baking, chopping, entertaining, cleaning, etc) and corral them in transparent containers. That way nothing gets lost and you can put your hands on what you need quickly and easily. 
---
They may not be quite as straightforward to organize initially, we admit, but if done properly, long and narrow cabinets can prove to be an extremely useful addition to your kitchen storage and how well it functions as a result. Invest the time at the start and you'll soon notice a difference – perhaps even in your cooking, too (although we can't promise that).