How do you style a dining table when not in use? After all, dining tables take up the bulk of space in a dining room or kitchen, meaning that when they sit empty they can make the entire room feel a little lackluster. 
Of course, we all dress a dining table for special occasions, so why not style it when it's not in use? 
The trick, designers say, is to do so so that your table remains functional, without it being cluttered. From seasonal dressing to sculptural focal points, here is how interior designers style their tables when they're not in use, with tips to replicate the results at home. 
How to style a dining table when not in use 
The first rule to styling a table you are not using that minute but otherwise use a lot is to make sure the space remains practical – which means not swamping the table with home decor that is hard to move and has no home when you come to lay out serve ware for a dinner party, or an evening meal. 
Besides that, it is about curating a beautiful surface with personal items and seasonal pickings, designers say. 
1. Style according to the season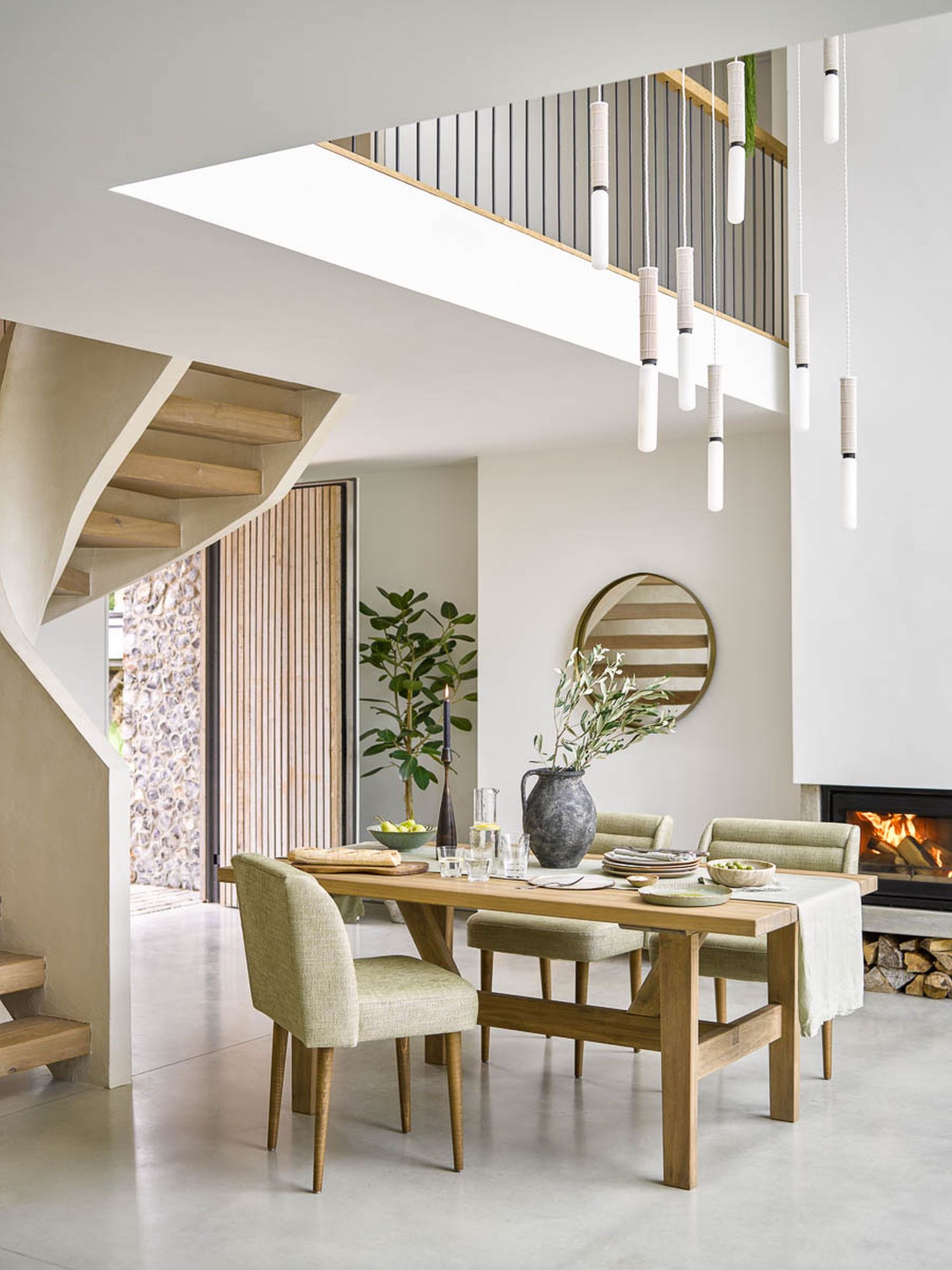 The best tablescaping usually draws from the current season to inspire beautiful place settings and table centerpieces, so use the same approach to styling a table you aren't using, suggests Andrea May, interior designer at the eponymous design studio.
'Styling an off-duty dining table is an opportunity to have some fun,' she begins. 'I like to use a large tray – mine is an ornate silver serving tray of my grandmother's, but use whatever speaks to you. This is the base piece and it will live there year round. 
'You can use this tray to corral seasonal decor and treasured collections. In the fall, I have a collection of vintage majolica pitchers and tuck in some flowers from the garden, branches, or even curated blooms from the grocery store. Around Halloween, I pull out a collection of vintage Rosenthal "paper bag" vases, fill them with greenery or dried flowers, and nestle some miniature pumpkins around them. 
'Whatever the season, the idea is to keep it simple and fun, as well as easy to disassemble/reassemble if it can't stay in place when the table is needed back in service – you can even use the tray as your centerpiece when hosting.'
Andrea May transitioned from writer to interior designer seamlessly and opened the doors to her firm in 2004. Her creative vision and style pair beautifully with an innate ability to tell stories through the artful lens of vintage, modern and classic elements.
2. Fill the space with seasonal pickings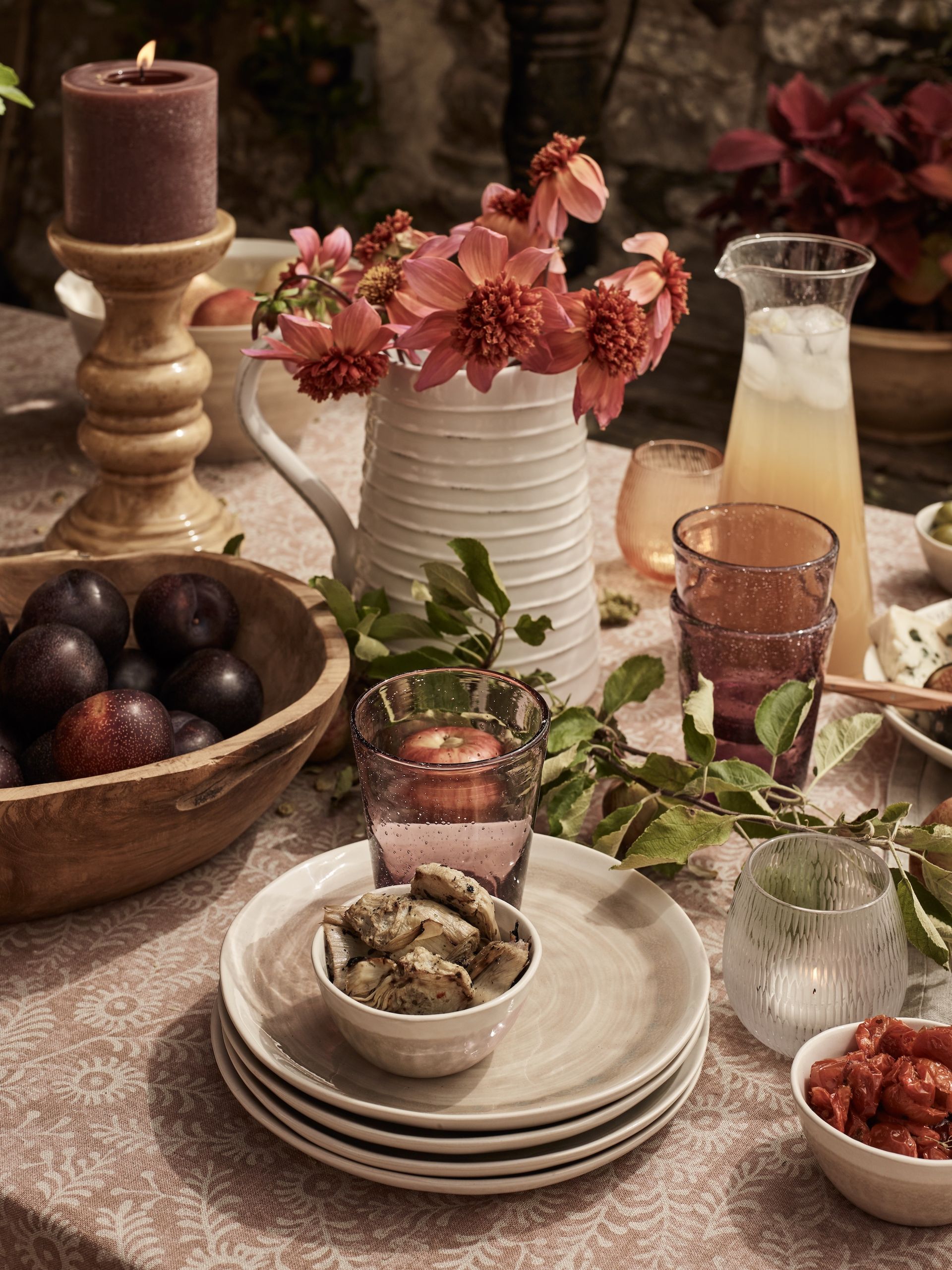 Sticking with the seasonal theme, Jacquline Goncalves, principal designer and founder of Mokṣa Studio recommends using seasonal pickings such as fruit or flowers to help add life to the space through your dining table decor. 
'Styling a dining table you're not using with any of the following will add both color and vibrance. Adding flowers or unusual seasonal branches is an easy and elegant way to spruce up a table. Be sure to use a vase that suits the style of room's decor. 
'Alternatively, a bowl or platter filled with seasonal or vivid fruit like oranges or apples or pears – really any fruit that can withstand room temperature, is both beautiful and functional for reaching for a snack.'
Before starting Mokṣa Studio, Jacqueline Gonçalves built her foundation designing luxury residential interiors for Hollywood names and luxury boutique hotels internationally.  Jacqueline honed the 'home for hospitality' aesthetic developing properties at Soho House + Co, including Soho Warehouse DTLA, SH Little Beach House Malibu, SH West Hollywood, Soho Farmhouse.
3. Style out your serve ware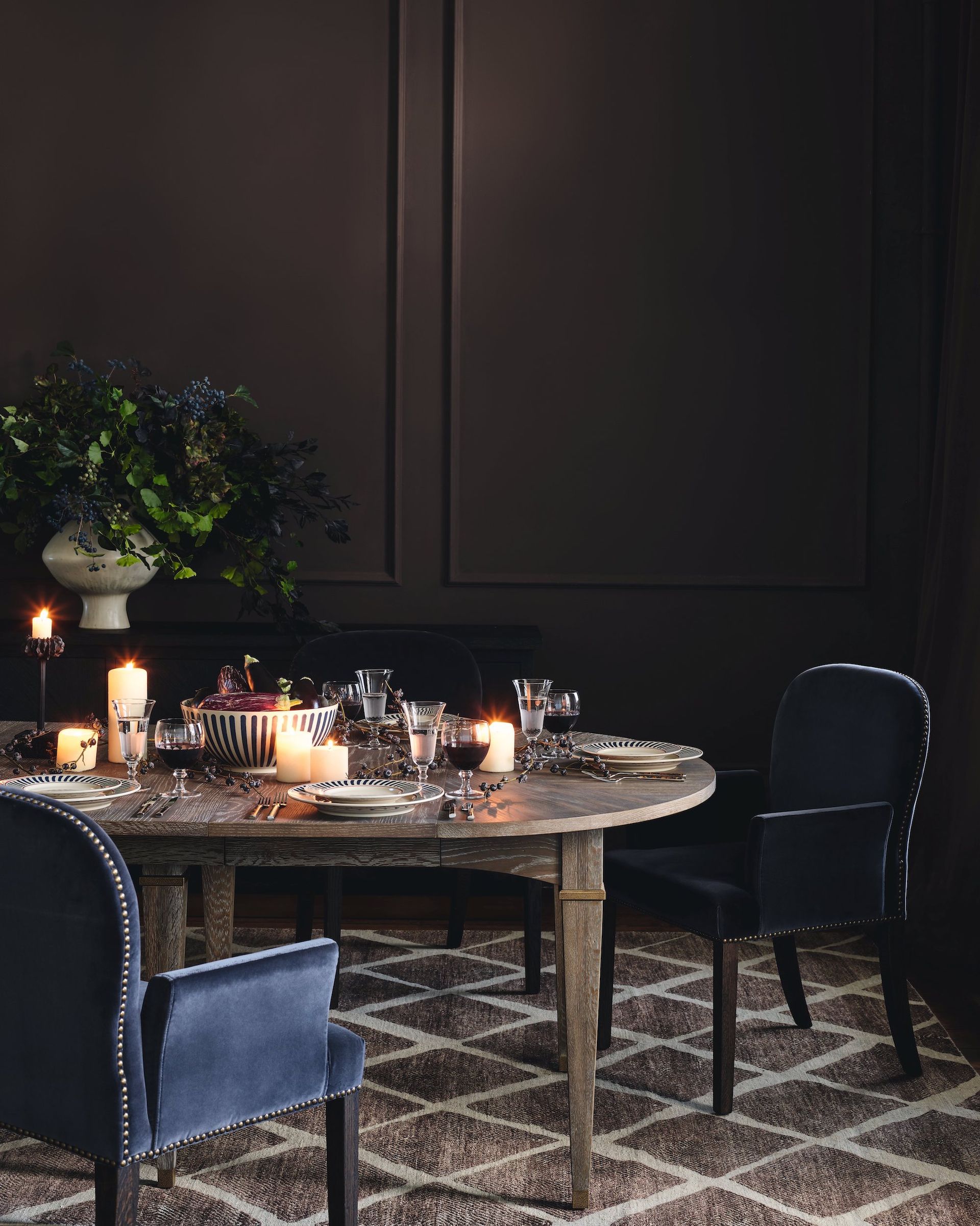 If you have beautiful dinnerware sets, why not make them into decor, Kate Rumson, designer at Villeroy & Boch proposes. 
'When you're not using your favorite serving pieces, you can store them in plain sight as décor. For example, my favorite centerpiece is Villeroy & Boch's La Boule. When not in use it's a spherical artful centerpiece as you've never seen, and when in use, it's a seven-piece serving set – I love the versatility.'
4. Display freshly baked goods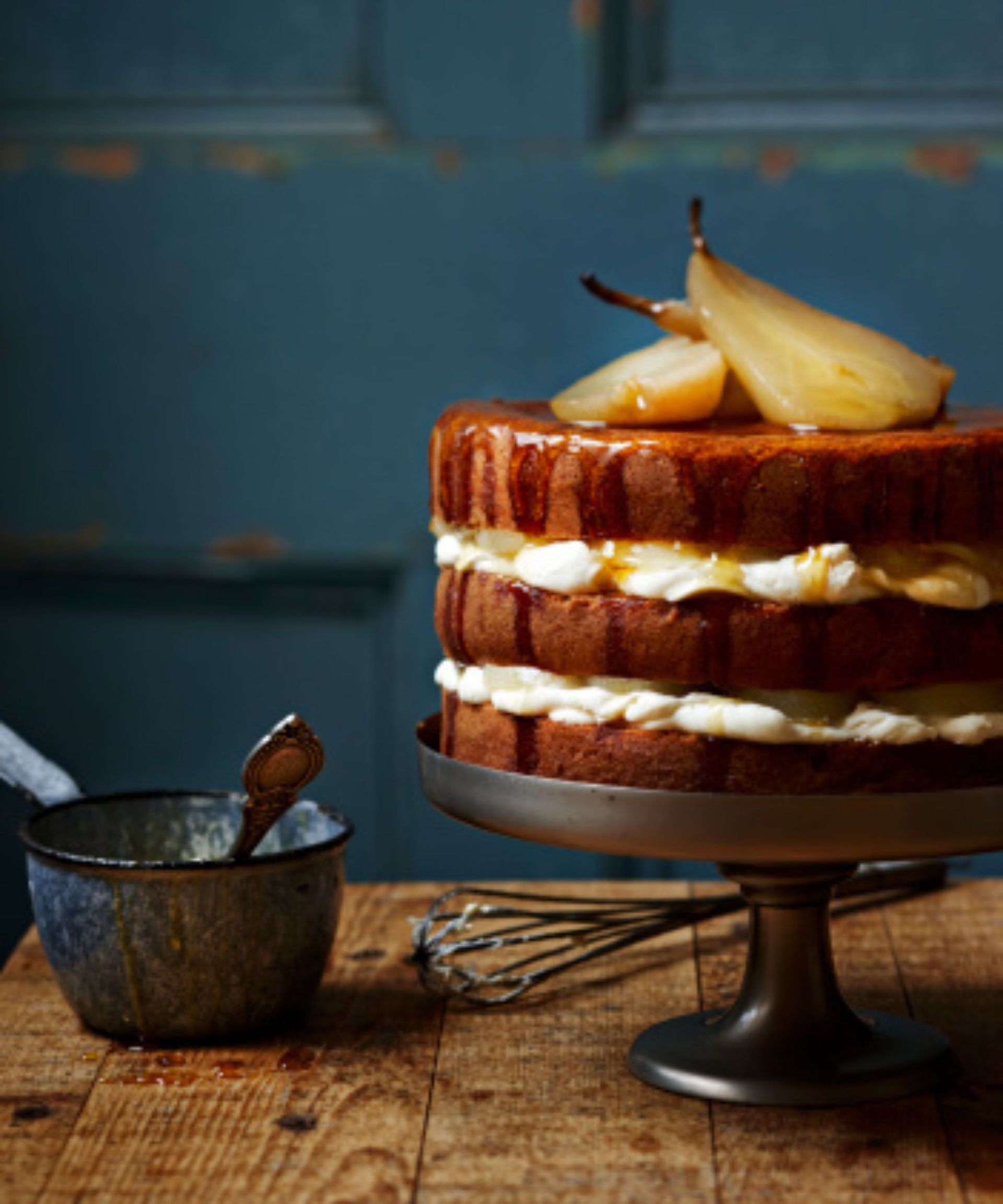 If your dining table is in a thoroughfare, such as an open plan kitchen-diner or living room, then it can be a great place to lay out any freshly baked goods you have made to snack on as you pass or entice guests, says Jenny Kozena, interior designer and co-founder of IntroOnly:
'if you are always making things, a glass lid serving tray or cake stand filled with your freshly made or purchased goods are great options to put on an unused table and invite people to use the space.'
Our favorite pieces are below.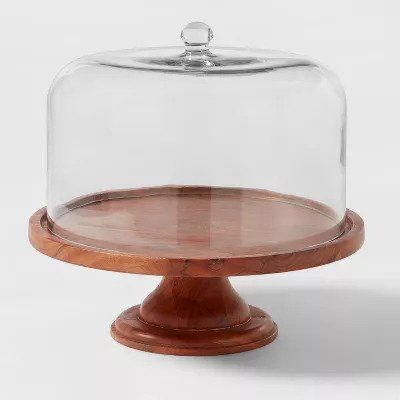 Acacia Glass Topped Cake Stand
Any baked good looks professional when placed on a wood stand and covered with a glass dome that reflects glazed and iced surfaces beautifully. 
Jenny is an Interior Designer originally from the UK and currently residing in California. With extensive experience in both commercial and residential design, she has honed her skills in creating stunning and functional spaces. 
5. Create interest with coffee table books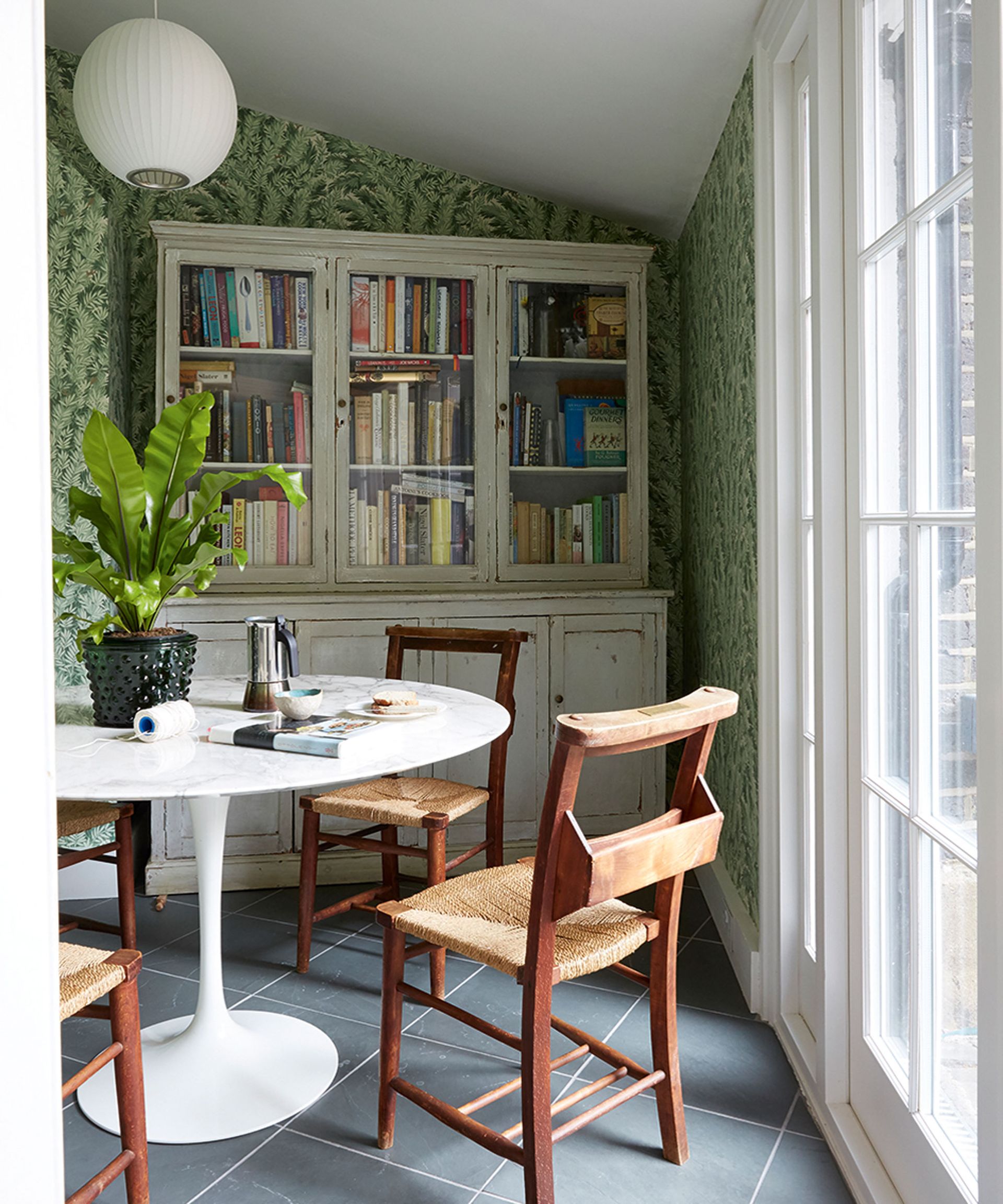 Although typically a coffee table styling idea, as the name suggests, coffee table books find the perfect home on your dining table too, Elizabeth Grace, interior designer and founder of Dream Home Making says. 
'Invite coffee table books to take center stage on your dining table, creating an enticing tableau of knowledge and artistry. Stack a selection of books with captivating covers, celebrating subjects that inspire you – be it art, travel, or culinary delights. This arrangement doesn't just serve as a visual delight but also invites your guests to explore the treasures of your interests.' 
We suggest picking up some of the best interior design books, naturally.  
6. Spark interest with sculptural pieces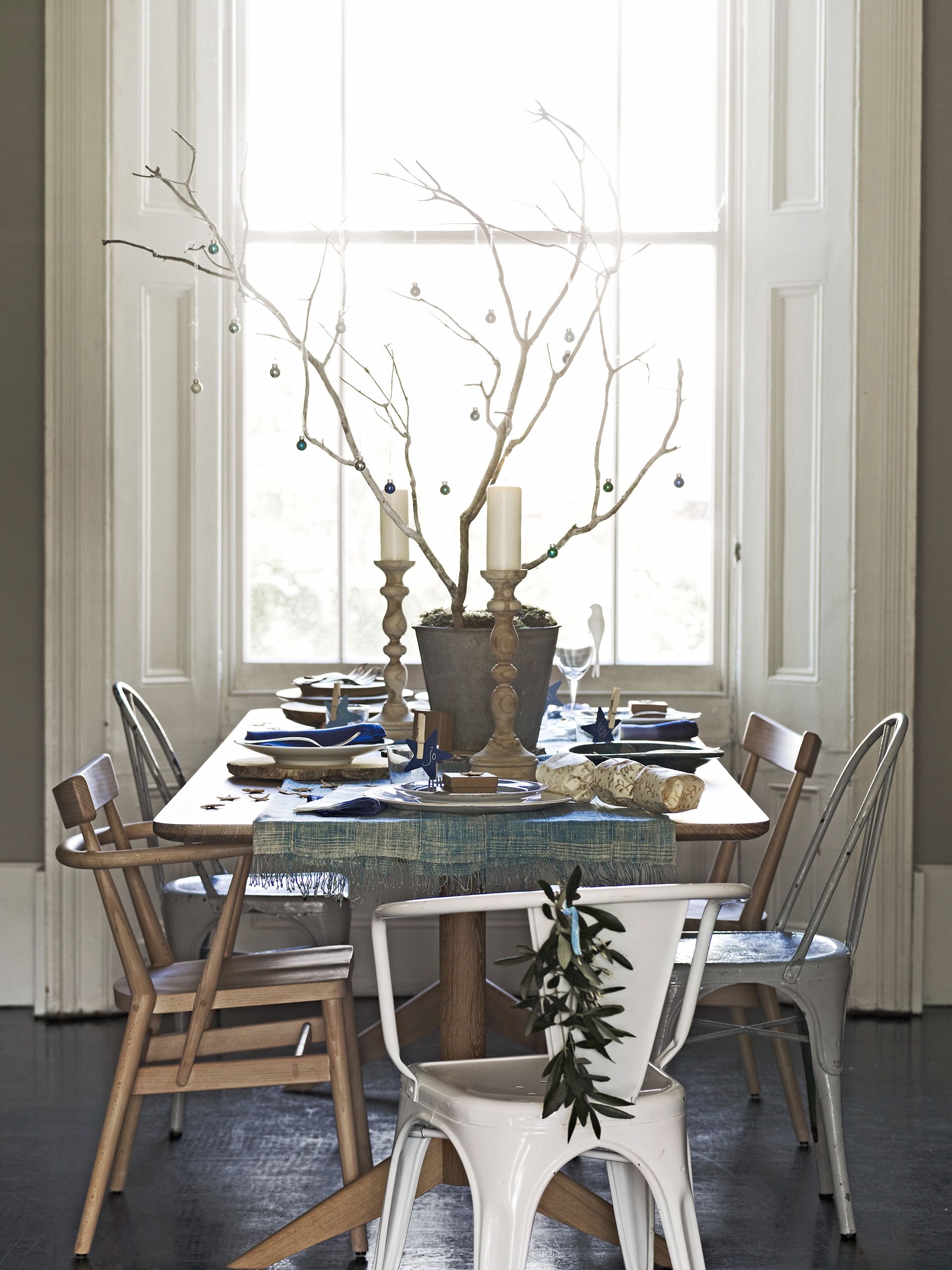 If you are looking to make more of a statement, then consider using strong sculptural pieces in your dining table styling, Caroline Kopp, interior designer at the eponymous design studio advocates.
'When a dining table is not in use, I like to use a grouping of sculptural objects to give it life. So this could mean a few colored glass low vases or bowls, a pair of candlesticks, and an interesting pitcher or urn in complementing colors and materials. 
'Then when you do set the table, you can add some flowers and candles and/or remove items as necessary to make space
'For a modern or minimalist look on your dining table, a long low trough or metal box filled with succulents or moss plants looks great. Another nice treatment for an unused dining table is a very tall glass vase filled with branches or tall, dramatic greenery. This gives your table nice grandeur and interest.'
Caroline Kopp is the principal and founder of this Westport-based interior firm. A desire to find beauty in the world has guided the designer's life from a young age, leading her to major in Art History at UC Berkeley and then on to New York to study interior design at Parsons School of Design.
FAQs
How can I make my dining table attractive?
One of the best ways to make a dining table more attractive is to add some decor and avoid letting it sit empty. Adding candles for a cozy ambiance, foliage (either real or fake) for color, and a table runner or cloth for texture adds some dimension to an otherwise flat and sometimes boring space. Of course, it also helps to pick a table with beautiful features in and of itself, a wooden table with interesting grain, for instance, or a table with sculpted legs.  
What is the most popular table centerpiece?
Flowers are by far the most popular centerpiece for a table. Rules for a table centerpiece include making it stand out with interestingly arranged branches and florals, contrasted with height, color, and texture. Alternatively, swap out the flowers for a sculptural piece, or drape the flowers along the centerline to create a tablescape sure to stick in guests' minds.  
---
When left with a dining table you are not currently using, adding in decor, especially seasonal decor, is a great way to make a dining room feel cozy and more intimate. Adding in personal touches such as books, scented candles for when you are not eating, and personal mementos can invite friends and family in, and make your dining space a great place to gather, even when you're not enjoying a meal.