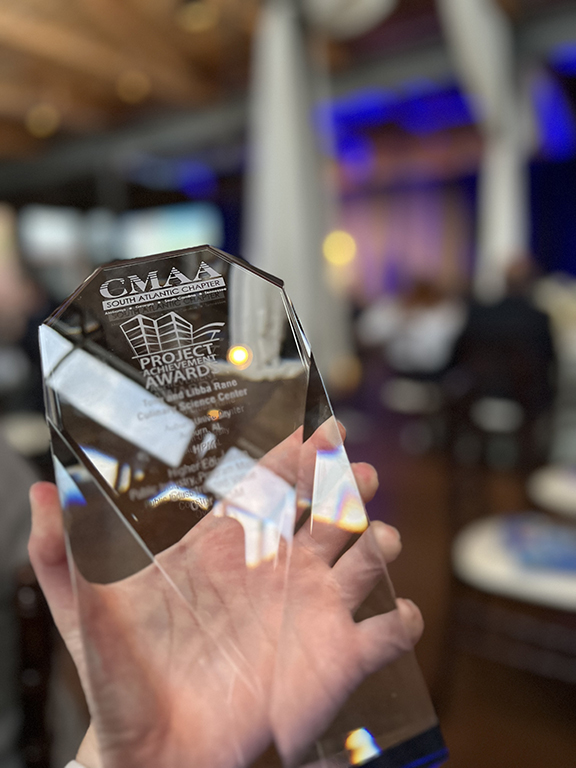 CONTRIBUTED BY JAMIE BABECKA / THE WILBUR GROUP
AUBURN —
Birmingham-based program management firm HPM has been named a 2023 Project Achievement Award winner by the South Atlantic Chapter of Construction Management Association of America (CMAA). The firm was recognized for its work as the program manager for the construction of Auburn University's Tony and Libba Rane Culinary Science Center in Auburn, Alabama.
CMAA's Project Achievement Awards program highlights the top projects completed by the country's leading professional construction and program managers, which represent the "best of the best" in construction regardless of size or complexity. Auburn's Culinary Science Center was one of more than 36 projects across the southeastern region to be recognized for its commitment to program management excellence, innovation and resilience in completing the project with minimal setbacks or disruptions.
"I am immensely proud of my team at HPM for their dedication to ensuring this state-of-the-art learning facility was delivered to Auburn without delay and in a cost-effective manner," said HPM President Ryan Austin. "This award is a true testament to our ability to think outside of the box within our industry and achieve the best results possible for our clients, no matter the circumstances. We thank Auburn for their invaluable partnership as well as CMAA for recognizing our team's hard work."
The Tony and Libba Rane Culinary Science Center is a 142,000-square-foot complex with the capacity to facilitate hands-on, immersive learning experiences for students pursuing careers in hospitality and culinary sciences. The facility includes Class-A training kitchens and restaurants, labs, a brewery, a retail food hall and a boutique hotel. Also located on the first floor of the building is 1856, a tasting-menu-only teaching restaurant. HPM began program management oversight on the construction of the project in 2019.
HPM provided preconstruction and construction services on the project, ensuring that safety, schedule, budget and quality were managed in a manner that exceeded the client's expectations. The firm oversaw logistics for various aspects of the project being managed by numerous vendors, which also included contract oversight and quality control and assurance. The firm worked closely with design teams during the planning stages to ensure the initial drawings aligned with the budget and timeline, while also managing communication with all partners and subcontractors to ensure that progress remained on schedule. HPM also scoped out and managed the bidding of a separate utility and enabling works package for the building contractor, helping bypass time-intensive utility relocations and keeping the overall project schedule on track.