American socialite, fashion designer, and television personality Kathy Hilton is no stranger to style, and the mother of Paris Hilton certainly knows a thing or two about curating a designer-worthy home, too. In particular, it is Kathy's kitchen cabinet color scheme that has caught the attention of color aficionados and experts everywhere. Designed by Nicole Gordon Studio, Kathy Hilton's kitchen is a class above the rest.
With a new year comes the opportunity to look to a bright future, and where better to start than by injecting your home with mood-enhancing color? Conjuring endless skies and infinite seas, blue is the color of the moment – this emotional color is set to top color trends in 2024. 
Fresh, airy and imbued with the restorative power of nature, blues have next year been tipped by interiors experts as the perfect backdrop to modern living. But what is it about blue kitchens that designers love so much?
Blue regularly tops the list of most popular kitchen color choices, and it's easy to see why. Blue is a safe choice that works in most kitchens, contemporary or traditional, no matter their size. It's calming and easy to live with too – a must-have in such a busy space that often acts as the heart of the home. Best of all, blue kitchen cabinets look great with everything, from wood and stone to marble and granite. 
Used for centuries, decorating with blue is enduringly popular, harmonizing with many hues for gloriously diverse results every time. This historic hue feels very much at home in a contemporary interior, offering a sophisticated backdrop for displaying favorite collected pieces, as well as metallic hardware, such as the ones used in Kathy Hilton's kitchen.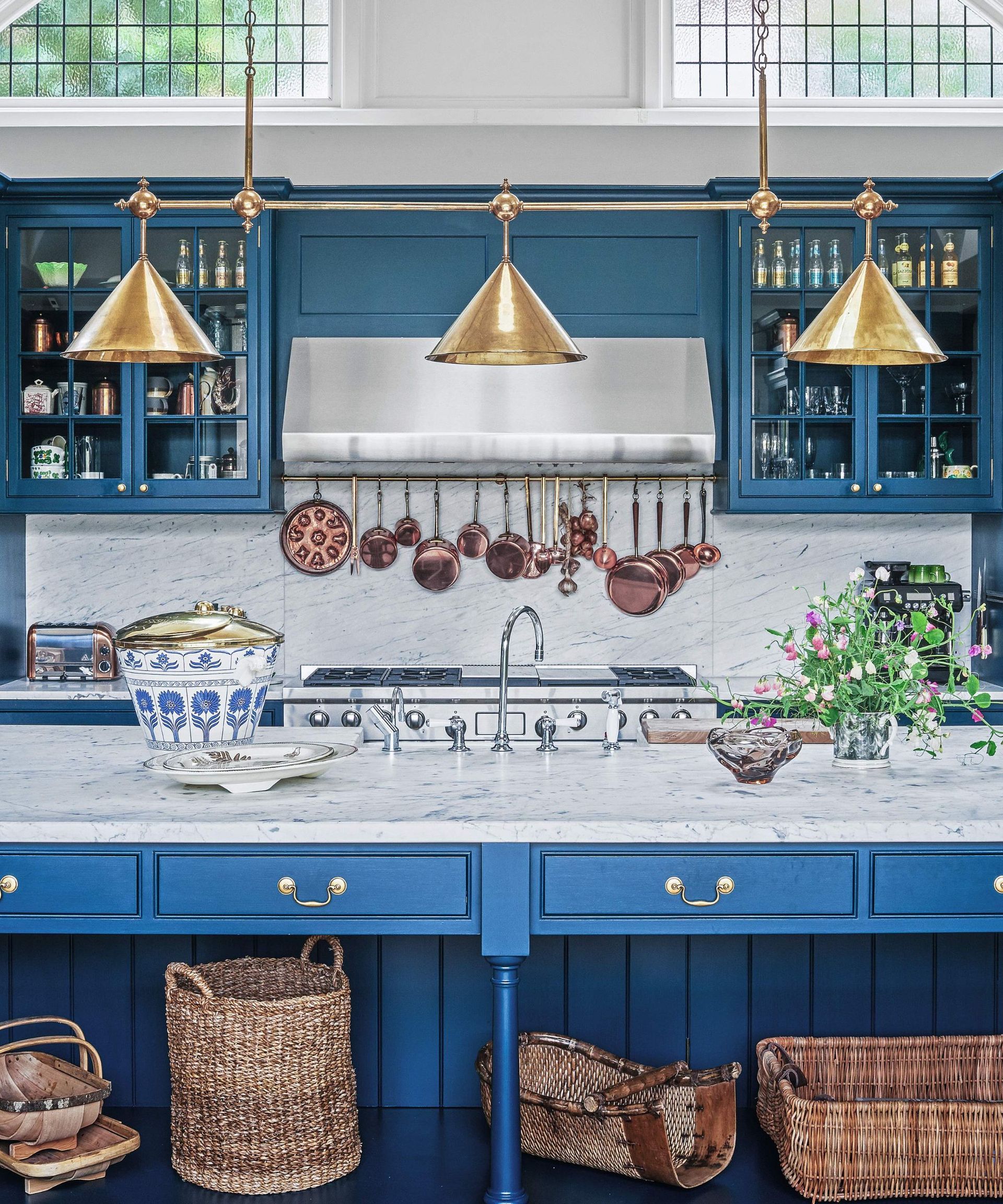 ---
Naturally soothing, but equally energizing and hopeful, the shade promises to bring the outside in to enhance well-being. Pair it with neutrals such as white and cream for classic calm, or with stronger tones of mustard, olive, sienna and navy for a unique, head-turning scheme. Whether you opt for a subtle hint or go all out, stay on trend this year with a beautiful blue-hued kitchen.
Shop the blue kitchen edit