Hardware in a kitchen will be quite possibly, the final decision you make and could make or break your overall design style, but the big question designers get asked is 'should I use handles or knobs on kitchen cabinets?' 
Never overlook, nor underestimate, this small, but vital, design element in your kitchen design, because the choice will ensure your kitchen has a joined-up design-savvy aesthetic.
By simply, updating and changing your hardware you can elevate your kitchen, modernizing the look and feel for a fraction of the cost of a major overhaul. 
Should I use handles or knobs on my kitchen cabinets?
Kitchen cabinet hardware trends come and go but traditional styles have long bypassed fashions and trends to become classics. Color, shape, and material all contribute to the final decision made and will create order and bring joy to the eye when you walk into your kitchen. 
'The catches and handles, although the last thing to put on, are just as important as everything else, if not more so,' says the creative director at deVOL, Helen Parker. 'They can lift a simple cabinet and give an air of quality to the whole room, so make sure they are really well designed and really well made.' 
Read on to discover nine inspired hardware ideas for your kitchen cabinetry that will answer the common question – should I use handles or knobs on kitchen cabinets?
1. It's always about the shapes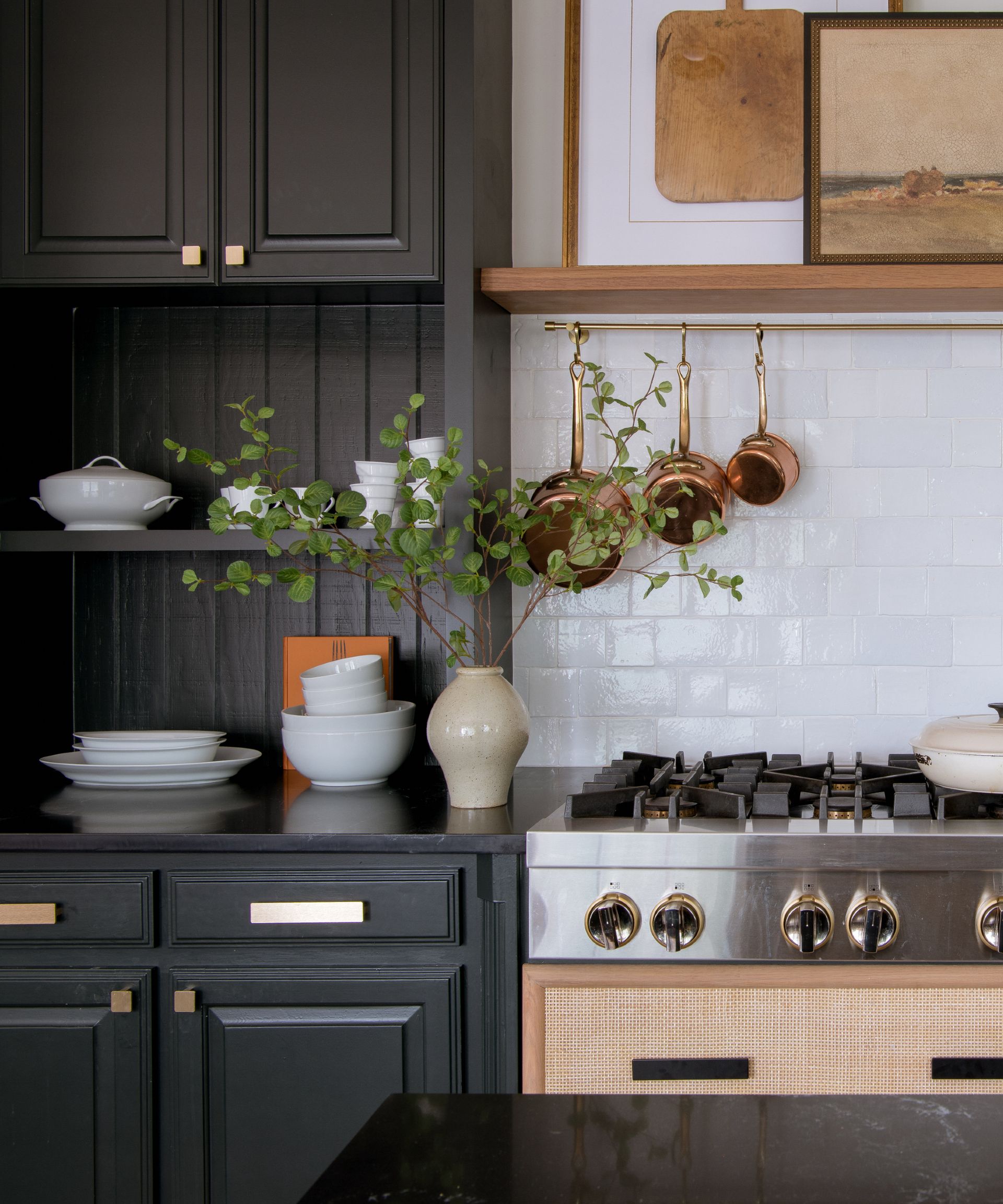 A seemingly effortless but bold decision to choose alternative brass square knobs alongside longer brass handles in this design is stylish and chic. 
The brass material on the hardware jump out from the rich, dark tone of the paint, creating a smart vibe. Ginger Curtis, president at Urbanology, explains: 'Mixing cabinet hardware knobs and pulls gives this kitchen more chart and visual interest. We loved the idea of doing pulls on the drawers and the knobs on the upper and lower cabinets to connect the visual story.'
2. Choose a touch of glamor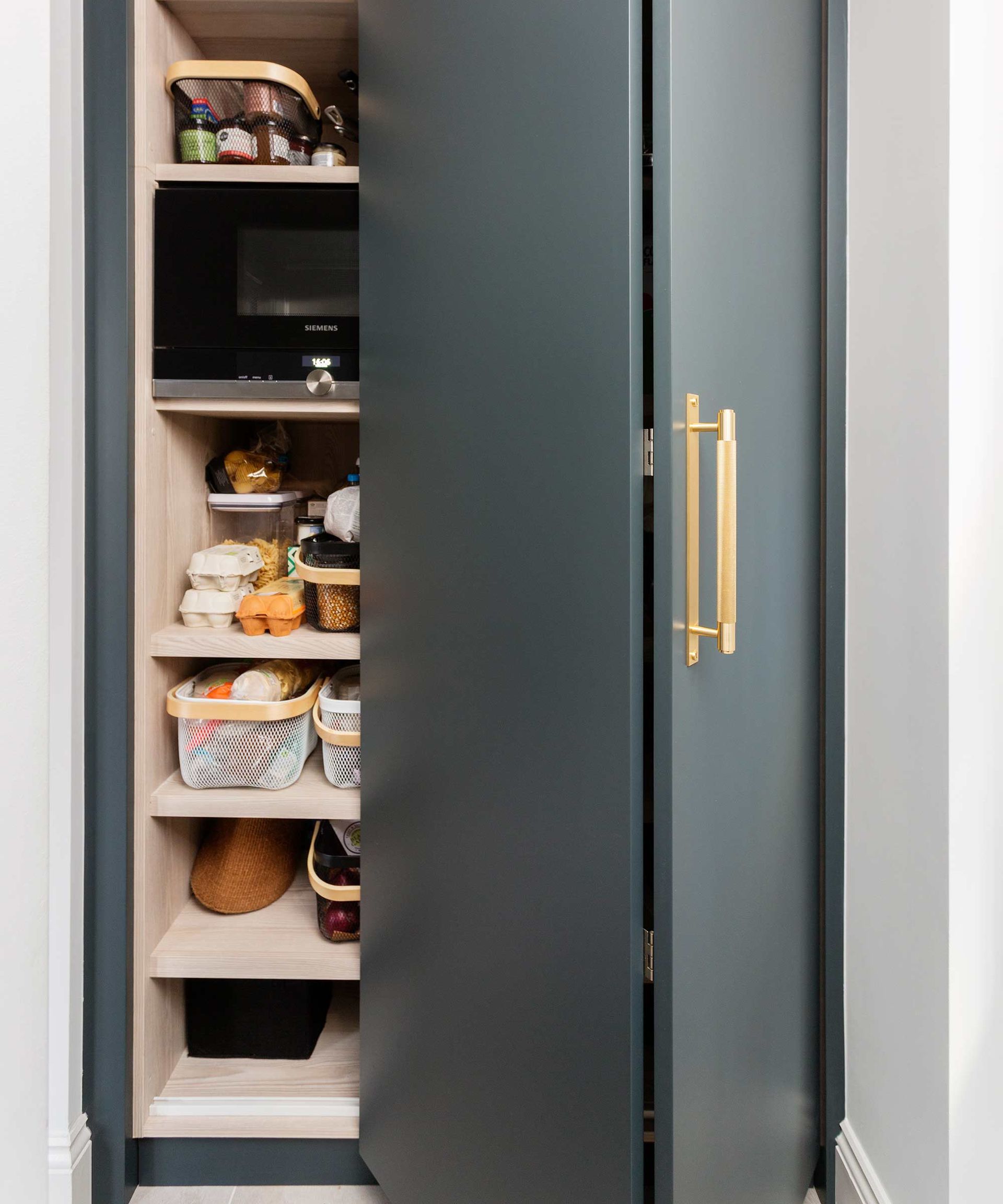 'Jewellery for the house', is how Chloe Alberry describes handles, she says: 'It is details such as handles which draw people's attention and eye when they walk into a room, they can completely transform a look. Door handles are not merely functional, but aesthetic, pleasing to touch and look at.'
Felix Milns at HUX London agrees, 'I often think of the handles and knobs of the kitchen as a beautiful piece of jewelry, that final detail to complete the space, and it's important to consider these carefully as they are often the detail that our eyes are drawn to. Different styles will certainly evoke a different ambiance and certain materials or shapes are more suited to a particular aesthetic.'
For this folding larder door, Felix has selected a long, glamorous handle, in a shiny bright golden material and luxurious glass detail to subtly inject glamorous drama into a domestic scene.
3. Introduce color in a modern kitchen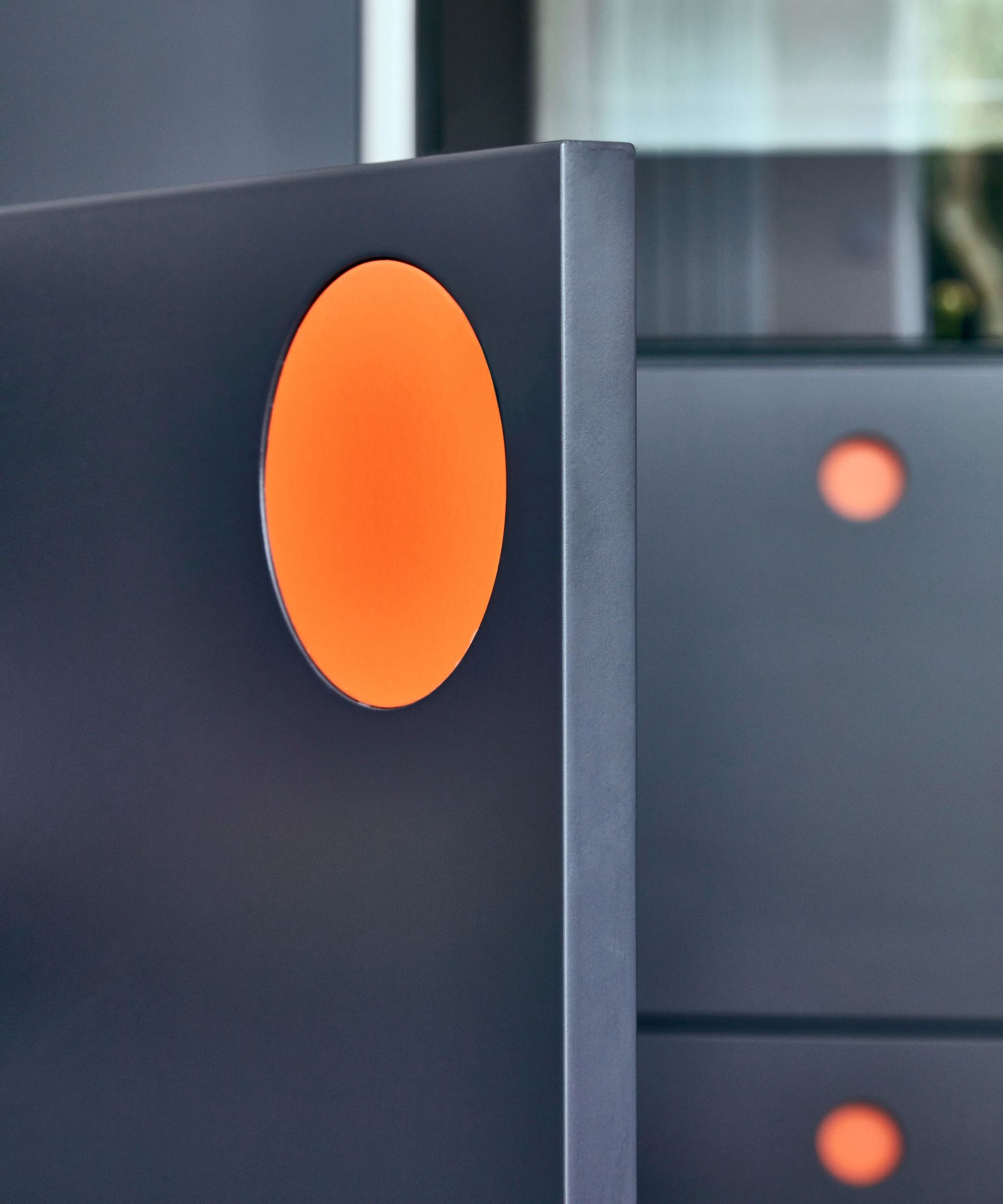 A recent kitchen trend and one we love is neat handle cut-outs that have been crafted into the cabinets, like this contemporary handle design from Naked Kitchens. 
A zesty and bright pop of citrus orange is introduced by way of the cut-out as a striking contrast to the elegant blue tone of the cabinets, drawing your eye to these handles immediately.
4. Elongate cabinets with long handles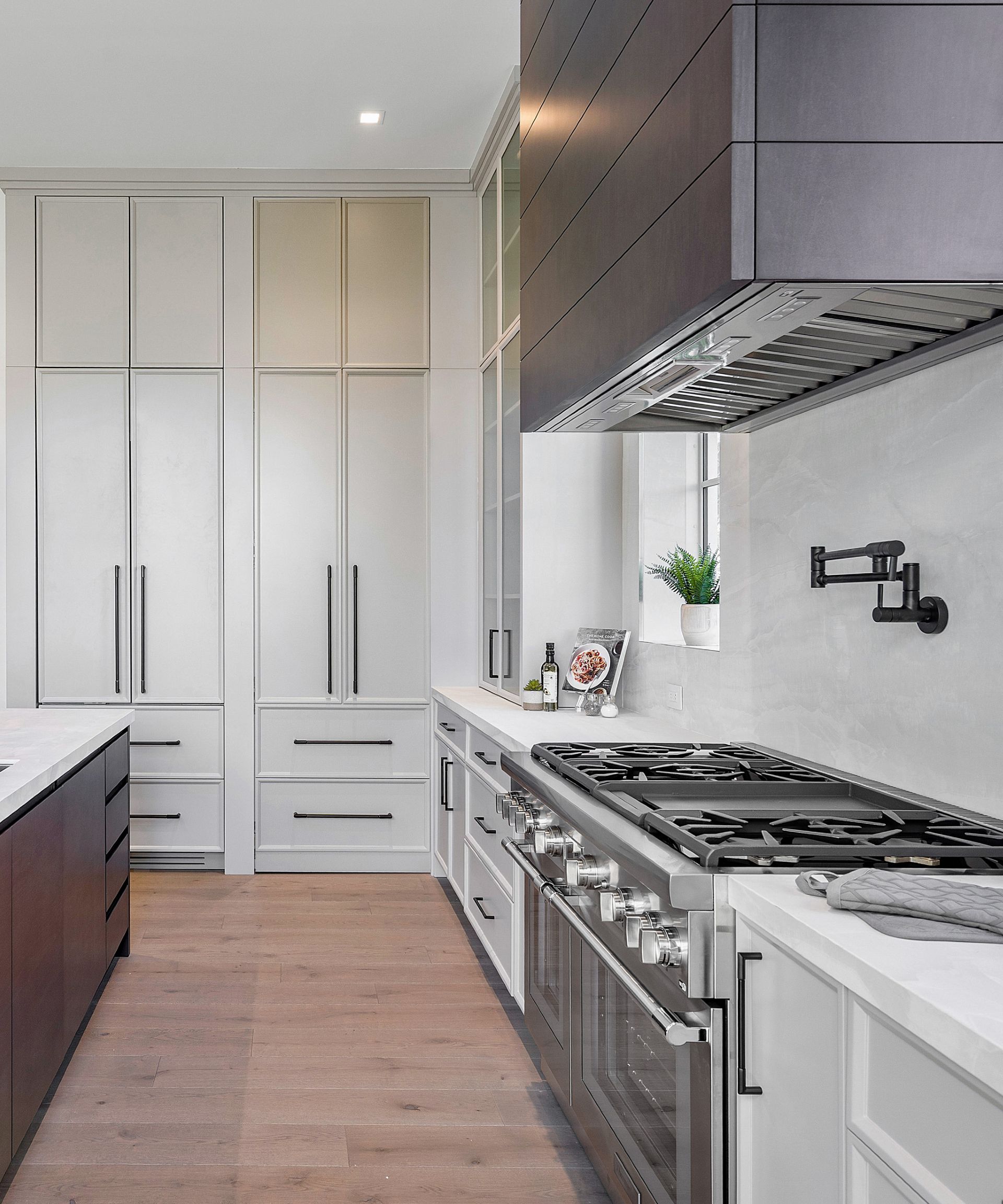 For a sleek and minimal look that is designed to focus the eye on alternative parts of the kitchen, for example, marble countertops, or other materials used and not distract from the functionality of that. This streamlined style can be created by having handles seamlessly carved into drawers and, if you like doors as well, to evoke a very contemporary and flowing look across the cabinetry.
This approach can be an especially good choice if you want to ensure the focus remains on the inherent beauty of the kitchen design. In this kitchen by Sketch Design Studio, slender chrome handles have been chosen to match the kitchen materials and tones. While a stretch of handle-less drawers and cupboards add to the minimal effect created.
5. Match handle and knob size to their use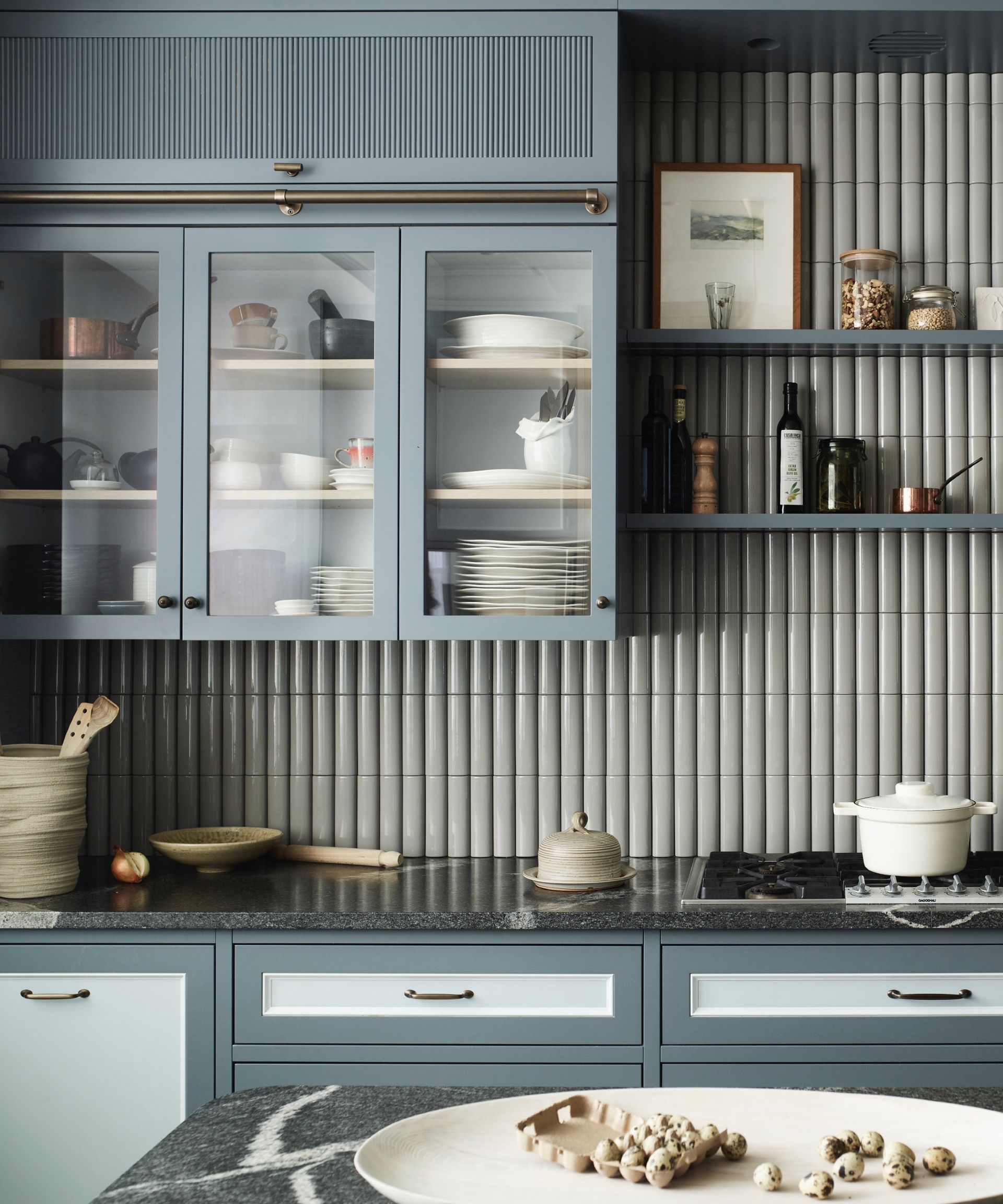 'When selecting handles or knobs for kitchen cabinets, it is important to consider various factors such as the size and weight of the cabinet,' says Irene Gunter, interior designer at Gunter & Co. 
'For larger and heavier items like fridges, wide drawers, dishwashers, and pantry cupboards, handles are more appropriate as they provide better support and are easier to grip. Conversely, for smaller and lighter items like small drawers or wall-hung cabinet doors, knobs work well.'
Irene has chosen multiple types of handles to provide both the functionality she needs and the aesthetic she is looking for.
6. Combine the two options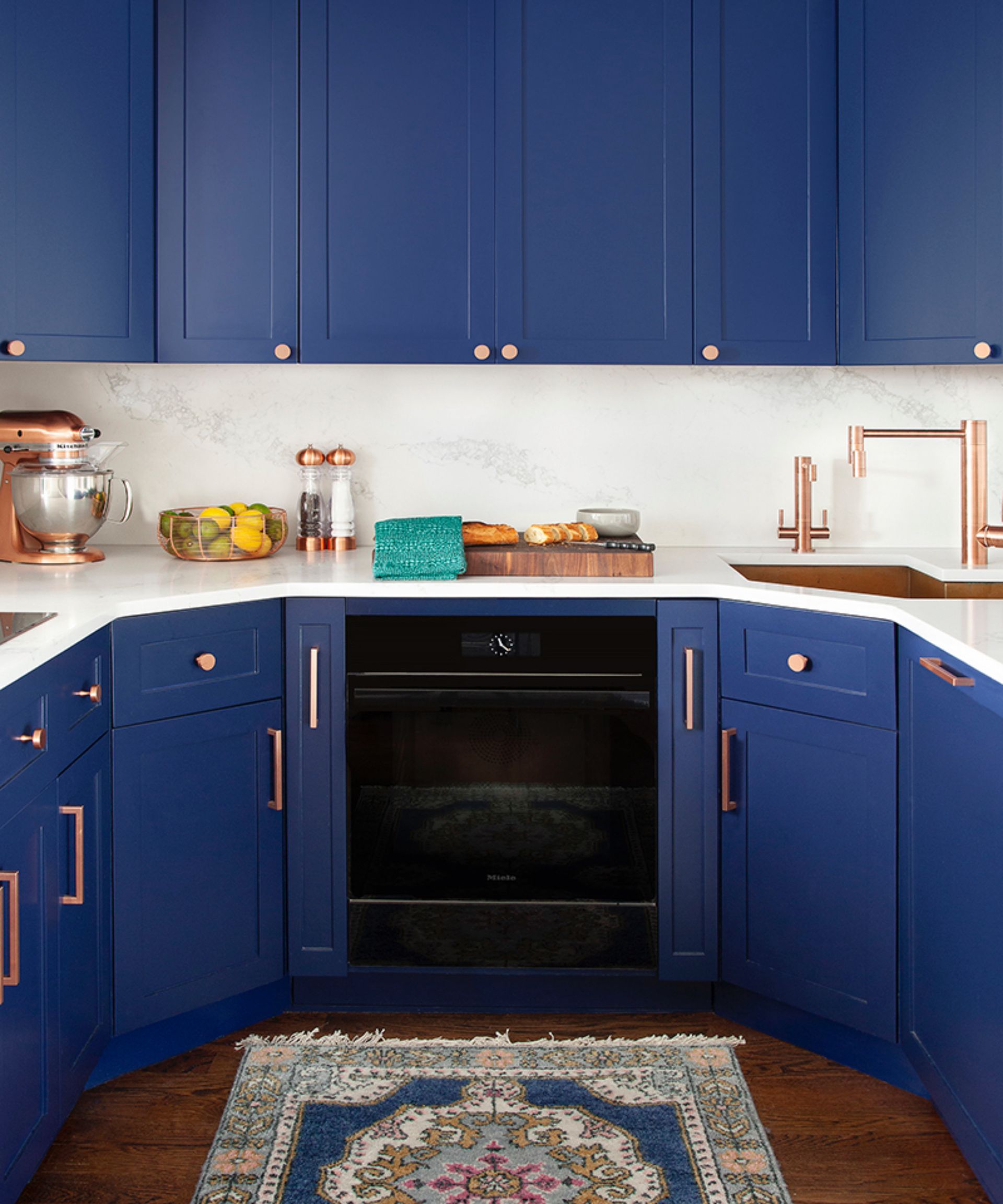 Of course, if you really can't choose, then consider using both, which is perfectly acceptable and often a most practical option. 
Paneled appliances need pull handles, according to the principal designer at Arditi Design, Rozit Arditi. Generally, though, Rozit will mix both pull handles and knobs in kitchen design but chooses to keep the finish and material consistent.
7. Bold as brass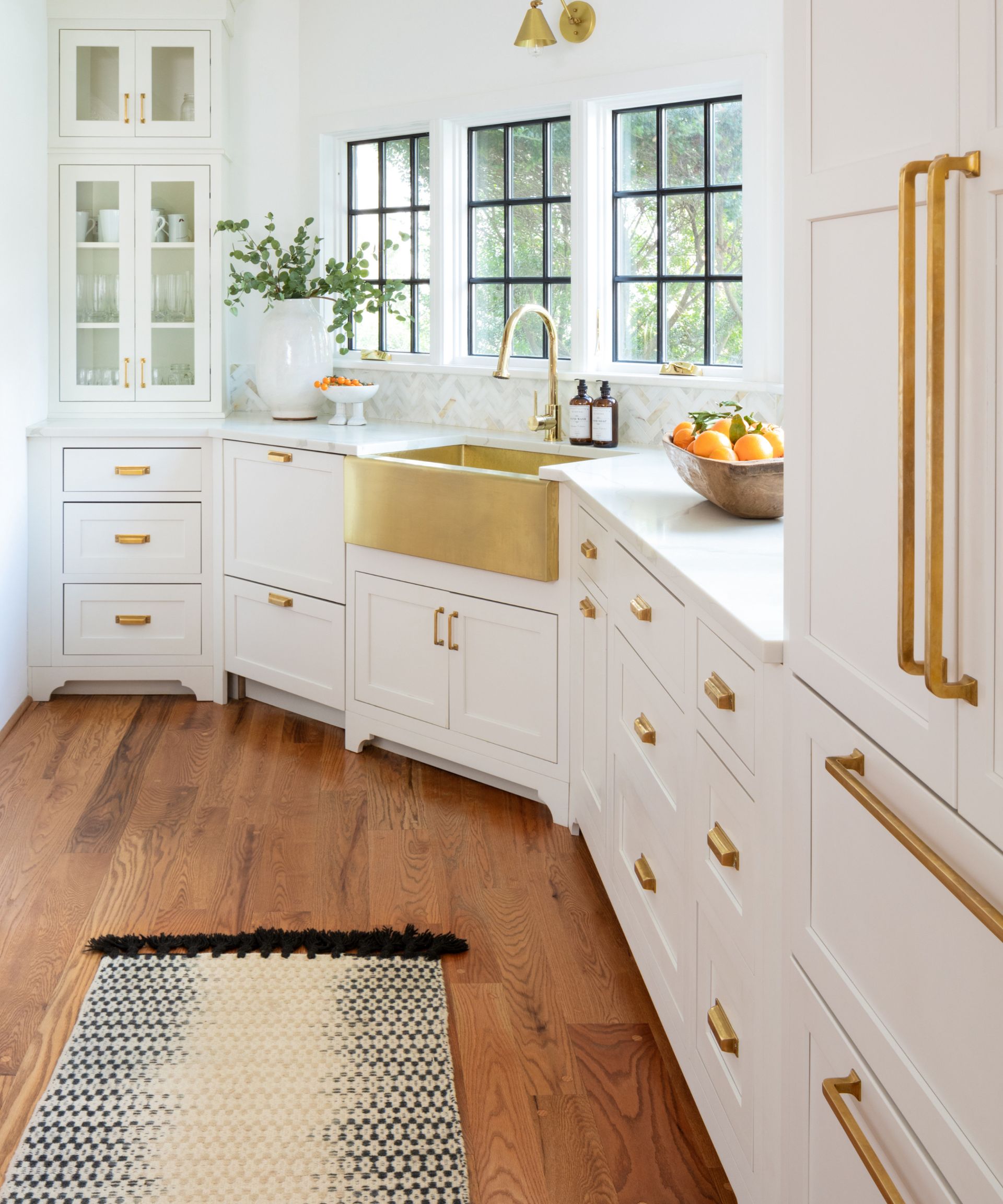 Brass is a traditional material that has surpassed fashion and become a classic. It has become particularly popular in the last few years but has the endurance of tradition to see it stand up to many decades of passing fads.
Erin Coren and Lina Galvao, co-founders and designers at Curated Nest, chose brass as the hero material for this kitchen design, the hardware complements both the sink and light fittings to deliver a charming, elegant, and confident kitchen style.
'In this all-white kitchen, we mixed up the hardware styles for interest. We used handles on the upper cabinets and appliances for ease of access, and lower cabinets feature bin pulls, providing a strong grip for those heavier drawers. A blend of hardware not only boosts the aesthetic appeal but also enhances the kitchen's functionality. It's a subtle way to add style and practicality to your kitchen.'
8. Keep it traditional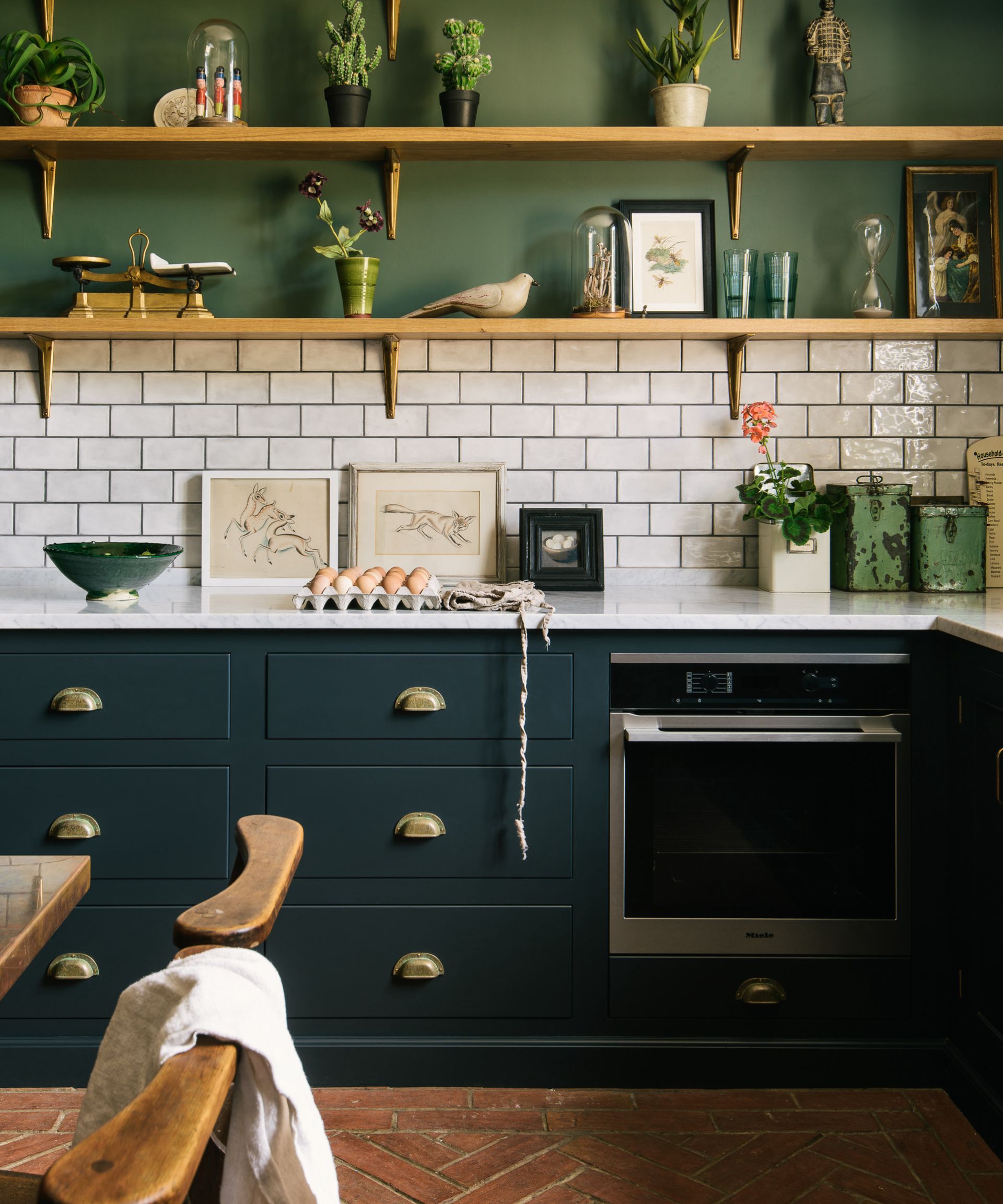 If you have a more traditional Shaker kitchen with paneled cabinetry, then cup handles and handles that have been 'aged' will work beautifully. A long traditional handle will also function well on shaker-style cupboards. Small knobs are often chosen for lighter cupboard doors and handles that have a wider surface are useful for drawers making them easier to pull open. 
Merlin Wright at Plain English advises that you trial samples alongside your palette so that you can really get a sense of how the overall space will look.
9. Mix modern metallic with classic styles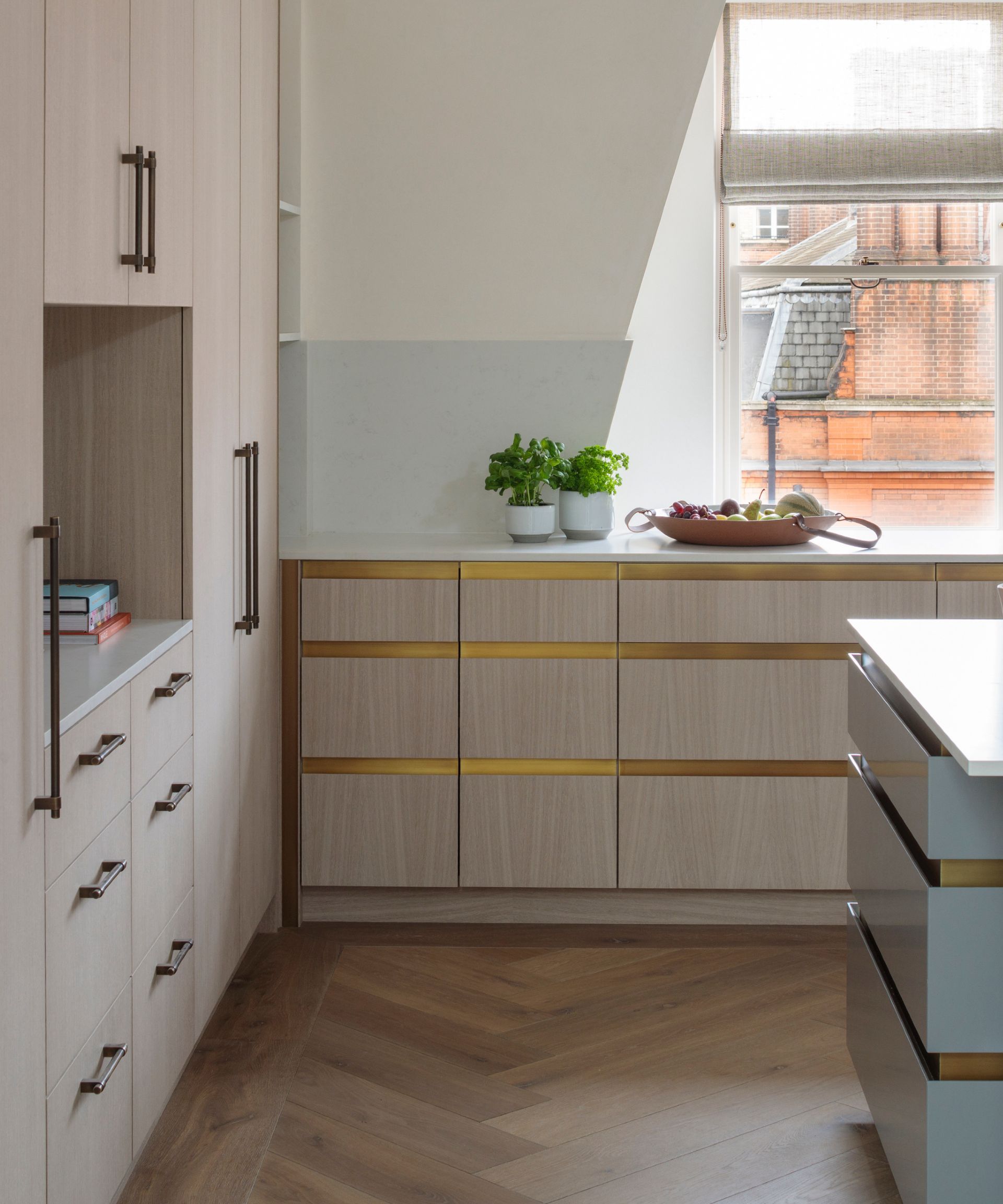 In a modern kitchen, mixed and matched materials will add impact to the design. Although there are design rules that claim cup handles should be used on drawers, integrated dishwashers, or pull-out bins, knobs are typically for cupboards or doors.
But, as Al Bruce, founder of Olive & Barr, says, 'rules are made to be broken'. Interior designer Kate Guinness agrees, 'I like mixing handles and knobs. Knobs for under-counter doors handles for drawers, larger handles for appliances.'
Kitchen hardware must be well-made, these items will be used, in some cases, many hundreds of times a day, so they have to be of high quality to withstand this wear and tear over many years.
In a modern kitchen, a mix of materials works extremely well as seen here, brass inserts in cutouts are used as handles in the drawers while long sleek, copper handles are used on the standing cabinetry. Interior designer at Kitesgrove, Katie Lion explains, 'A sleek, minimal knob or handle works better with a contemporary style kitchen. Cohesive finishes ensure that they blend into the overall design of the kitchen while still adding interest and a decorative element.'
FAQs
What are the hardware choices for kitchen cabinets?
The world of hardware is broad, but these fixtures in your kitchen will go through hard, regular use and thorough wear and tear, so the functionality for each handle, knob, cup, or pull must be considered first, this will be just as important as the overall aesthetic style you wish to achieve. 
Inbuilt appliances, deeper drawers that contain heavier items, pantries, and bin-pulls will work better with stronger, wider handles which will give you more purchases. Smaller, delicate knobs and handles are more often chosen for lighter use such as wall cabinets or cutlery drawers. 
Minimalist kitchens will benefit from handles that are seamlessly carved into a drawer, these can be decorated with hints of material such as brass, or bright blocks of vivid colors. 
Traditional kitchens offer often better suited to classical shapes, for example, cups, ring pulls, a butler's knob, or a rack and pinion catch, aged or not in brass, copper, or even bronze.
When choosing the material, shape and design, handles that are cohesive to the style of your kitchen are likely to work best, a classical drawer pull will work with a more traditional and rustic kitchen, while sleek, or handle-less drawers work well in a modern kitchen. However, as noted before rules are meant to be broken, so experiment with styles, pair them with colors and cabinets and see what works for you.