Your kitchen may be small, but that doesn't have to stop you from maximizing your space. We've found five top-rated kitchen organizers for small spaces that can turn your cramped kitchen into a clean and efficient cooking haven. These essential organizers are designed to help free-up space in your kitchen cabinets, on your countertops and in your silverware drawer. They're even all available at Amazon now, and many are on sale. 
Transform your kitchen into an inviting, clutter-free space with organizers that not only work well but look fantastic. All of these kitchen storage solutions boast a four-star rating or higher, backed by rave reviews. Plus, we've got options for every skill level — so even if you're not a DIY pro, there's something here for you. In fact, one of these gems simply needs you to peel off a sticker backing. Say goodbye to staring at your chaotic, cramped kitchen and start taking action. Explore these space-saving organizers for small kitchens below.
Short of cabinet space for your favorite pots and pans? This 4.3-star-rated hanging pot rack can hold up to 70 pounds — that's a lot of cast iron. It features two shelves and 10 sturdy metal hooks for pans, large cooking utensils, coffee cups and dish rags or whatever else you'd like to have handy. Installation hardware is included with your purchase.
"This is a great way to stop stooping to get your pots and pans out of your cabinet," an Amazon customer shares. "Makes everything readily accessible. While rearranging items on hooks the hardware failed. We used sturdier supports, which created much more stability, and we haven't had a problem since. It does hold quite a bit of weight as you can see. Very happy with it."
It's 32% off at Amazon right now. Get it for just $40 (regularly $59). 
Pros:
This hanging pot rack is great if you've run out of space in your kitchen cabinets. It can hold up to 70 pounds and it comes with 10 metal hooks perfect for hanging your favorite spatulas, frying pans, spoons and more.
Con: 
Customers share that you may have to buy extra hardware to secure the device.
---
Instead of using up all your valuable drawer and countertop space, keep your spices, oils and condiments right on the fridge with this four-pack of magnetic spice storage racks. The shelves are made with a rust-proof material and feature a strong magnet on the back, which can hold up to eight pounds. Plus, the racks include helpful little hooks for things like pot holders and dish towels. 
"This product holds a lot of weight," an Amazon customer says. "I dared to put a wine bottle on it and it worked (not that I would do this in practice). I ended up ordering two more sets since I like them so much."
This four-pack of racks is on sale at Amazon for 15% off. It's $20 right now, regularly $23. Choose from four colors.
Pros:
Each rack can hold up to eight pounds and reviewers say they won't budge. They even offer hooks to hold things you need close by, such as pot holders and dish towels.
---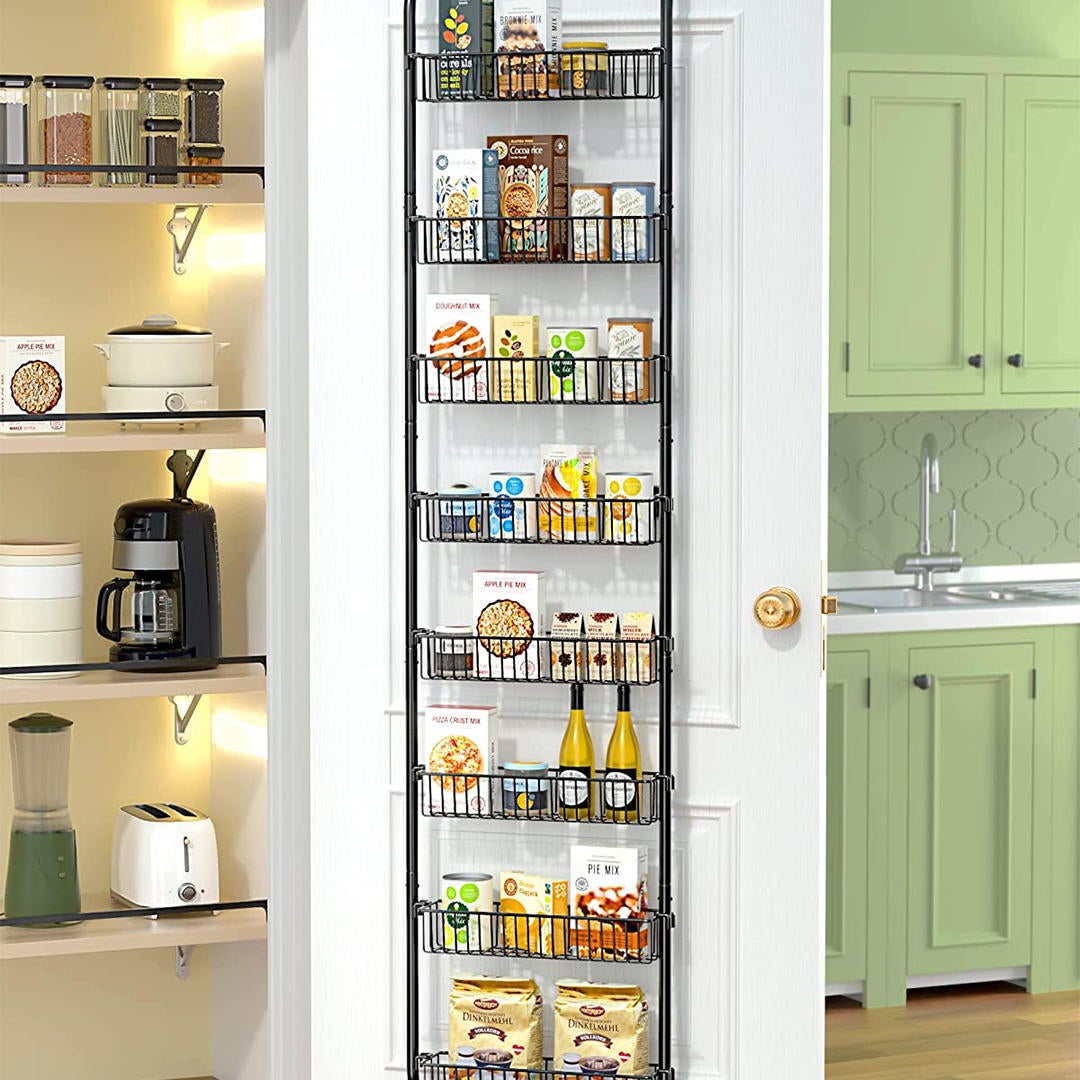 The quickest way to add storage to any room is with this over-the-door pantry organizer. This 4.5-star-rated organizer can sit comfortably over most doors, including closet doors. It features eight large baskets to hold anything from bags of flour to bags of cat food. It comes with four suction cups and four mini super glues to improve stability and avoid shaking. You can freely match and adjust the order of the baskets and place them according to your own needs.
"I'm so glad I finally caved and bought this one," an Amazon customer says. "My pantry is rather small so I had to find one with skinny shelves and these worked perfectly. I can not believe how much this can hold. It has freed up so much space in my kitchen!"
Pros:
This pantry organizer instantly adds eight shelves to a space that wouldn't typically have any. It comes with tools to help stabilize the device.
Cons:
Some customers have claimed the buckets are too narrow for certain items. It fits most doors, but not all.
---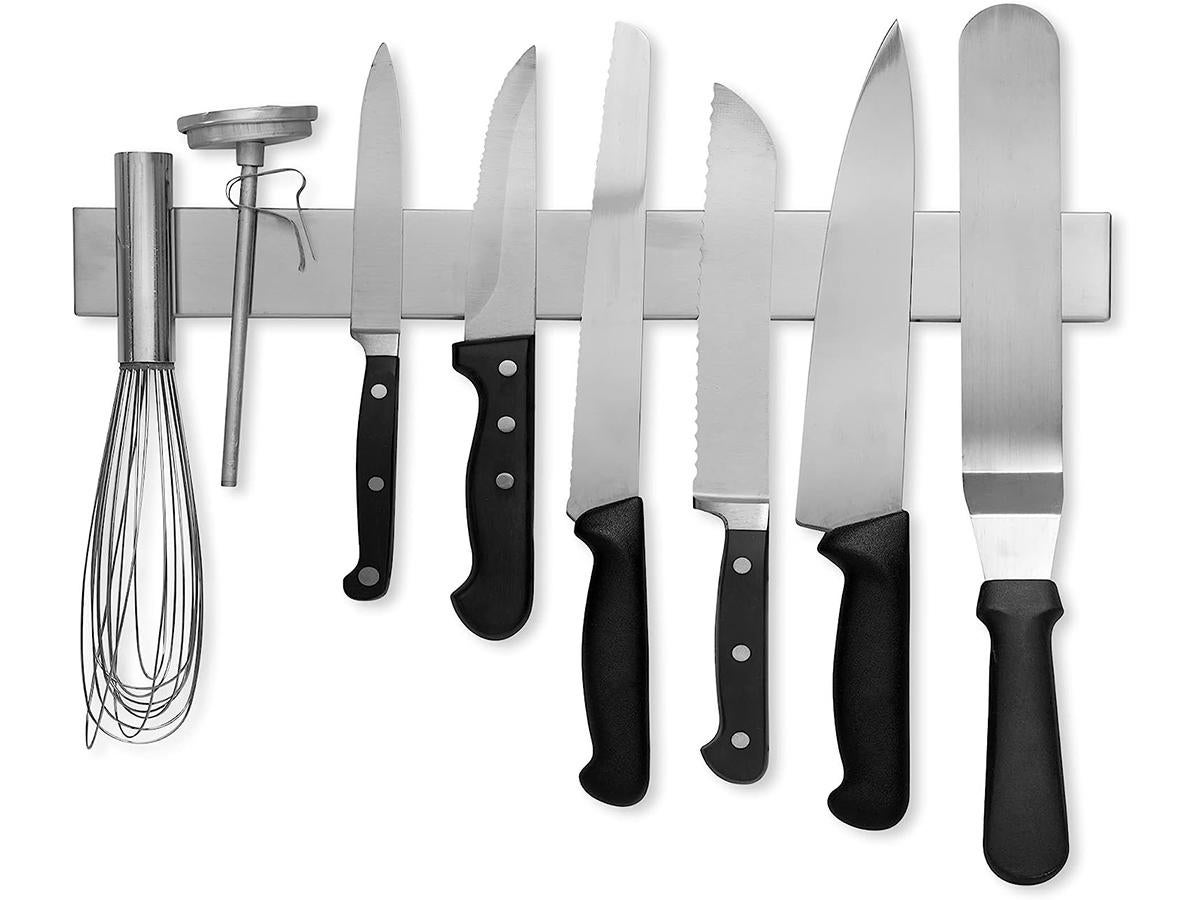 If you're short on counter and drawer space, keeping your bulky knives out of the way can free up some real estate. This 16-inch magnetic knife bar is made from strong magnets and covered in stainless steel.
"I was pleasantly surprised about the quality and strength of it," an Amazon customer says. "It works extremely well for me. The magnet is super strong and the bar stays in place. I installed mine into the wall of my kitchen. I could only hit one stud due to the width but it's holding up well so far."
It's on sale at Amazon for $19 (regularly $26). 
Pro:
It's an extremely strong magnet that can help keep knives, whisks, thermometers and more off the kitchen counter and out of drawers. 
Con:
Some customers have said the magnet is so strong it can be difficult to remove, should you want to adjust the placement. 
---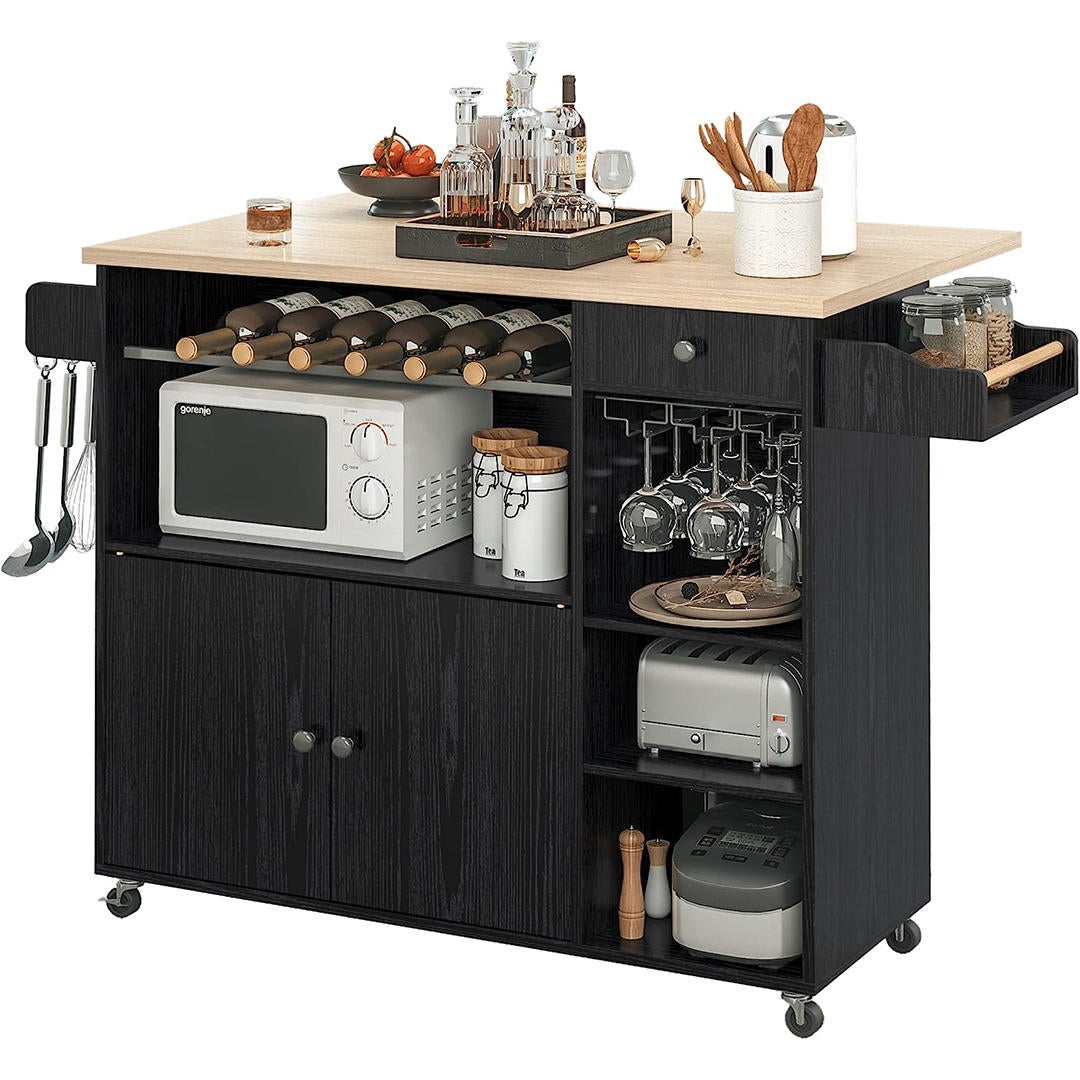 This 4.6-star-rated rolling island cart features a door cabinet, a large cubby, a drawer, three adjustable open shelves, a wine rack, hooks for coffee cups, an attached spice rack, towel bars and hooks on each side for essentials such as cooking utensils or cheese boards. 
If you have a small kitchen, this rolling island cart can be stored anywhere you have room and then rolled back to the kitchen to help with dinner prep or with serving meals. Plus, its rubber-made industrial wheels are lockable so your cart won't budge. 
"Great for a tight kitchen," an Amazon customer says. "Kind of a pain to put together as it comes in a billion pieces but worth the work. Looks nice and seems pretty sturdy. My air fryer even fits well in the storage compartment."
Pros:
This rolling island offers a ton of storage for kitchen gadgets, glassware and cooking utensils. It's portable, and reviewers praise its size. 
Con: 
Reviewers have noted that assembly can be a bit of a hassle. 
---
Related content from CBS Essentials