High kitchen cabinets are a vital storage drop-zone for most of us, but they can undeniably be an awkward spot to arrange, given that they aren't as easily accessible, or even that easy to see into. 
So what should you put in high kitchen cabinets when organizing a kitchen?
The key thing to remember when it comes to storing items in your highest kitchen cabinets, is that these spots should be reserved for things you use on a less frequent basis, or that you might struggle to pull out from a height. 'Ideally, the upper cabinets are for items used less than once a month,' Mary Jo Contello, owner and organizer at Organized by MJ, said.
What to put in high kitchen cabinets
The answers will vary depending on your home, but if you're looking for some inspiration on the best use of this space, we spoke to professional organizers and interior designers for their expert take on what sort of items should be placed in your high kitchen cabinets as opposed to your lower cabinets. They shared which kitchen essentials will fare best in this space – for practical cabinets that are super easy to navigate.
1. Fragile glasses and cups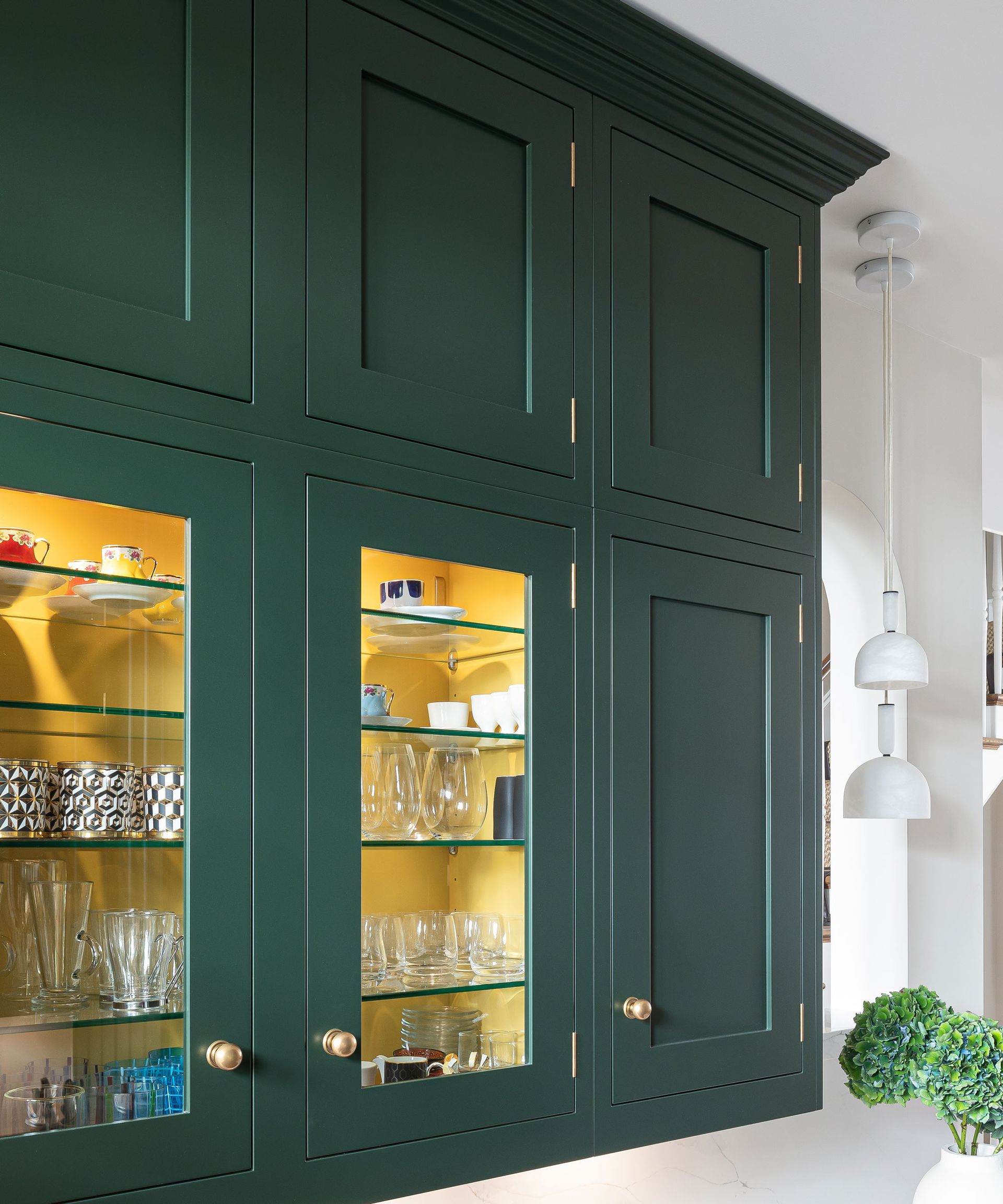 Generally, the higher up you place something in your kitchen, the less likely it is to be bashed about from daily use, or grabbed by little hands exploring. Because of this, high kitchen cabinets (whether yours are decorated following kitchen cabinet color trends, or you prefer wood kitchen cabinets) can be a great place to put more delicate items that you want to keep as protected as possible.
'Glasses/cups are better in upper cabinets,' Mary Jo Contello said. 'However, these are items that are typically used daily, so you want them in an upper cabinet you can easily reach.' 
According to interior designer Remya Warrior, you might also want to use your higher cabinets for other glassware. 'Extra glassware that you don't use even once a month, such as wine glasses or cocktail glasses, can also be great in upper cabinets.'
If placing glasses or cups in a high cabinet though, do what you can to ensure that you can still see the glass you're reaching for, in order to avoid clanging these items together as you reach for them. You might, for example, want to use organizers like under-shelf wine glass holders, that sit at the top of your kitchen cabinets, and allow your glasses to hang upside down, making them easily visible. 
Mary Jo Contello spent years in the corporate world, when downsizing and layoffs left her with a sudden need for a new direction in life. Passionate about organizing,  she started Organized by MJ with the goal of cleaning and organizing people's spaces in Houston, TX and the surrounding communities. MJ is also a member of the National Association of Productivity and Organizing (NAPO).
2. Seasonal items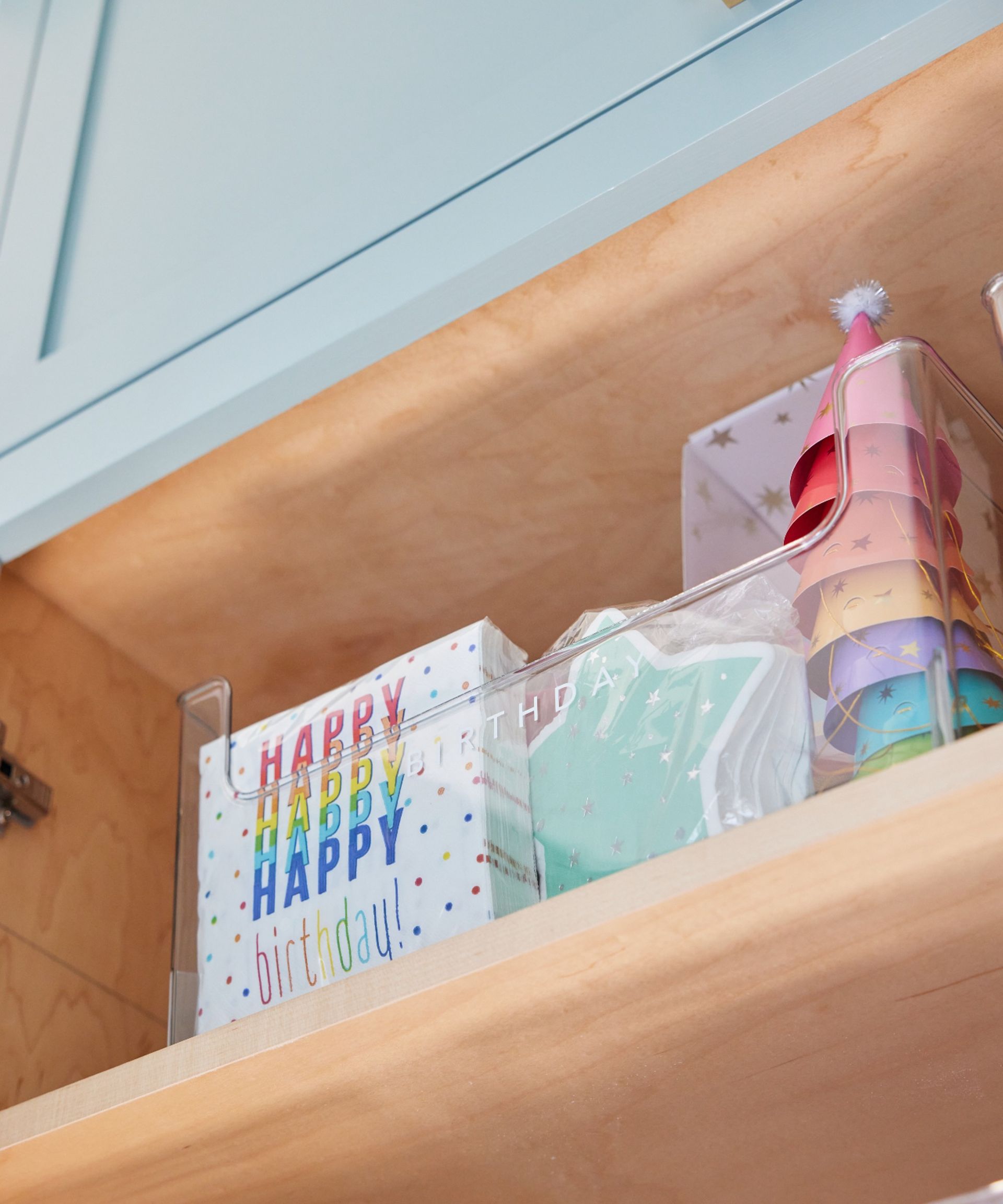 Similarly, a high kitchen cabinet can be a great place to store seasonal items that you don't need to reach for regularly, or that might be a little more special to you. Mary Jo suggested putting, 'any breakable holiday decor that fits in the space in high kitchen cabinets. Vases that are only used during the holidays are also perfect up top.'
And it needn't be only Christmas or Thanksgiving items that you stash in higher-up kitchen cabinets. Meredith Goforth, professional organizer and founder of House of Prim, said, 'I like to fill them with occasional items like birthday celebration supplies, seasonal entertainment items, and things like tablecloths, napkins and napkin rings, and more.' Consider the items you generally need on a yearly basis, rather than daily or even weekly for this storage tip.
Items like these are also easy to retrieve from a long way up, too. And to make it easier, Meredith suggests, 'using clear, labeled bins is a great way to both utilize vertical space and make these items easier to pull down seamlessly.' In fact, clear labeled bins are a great tool to help you organize all kitchen cabinets.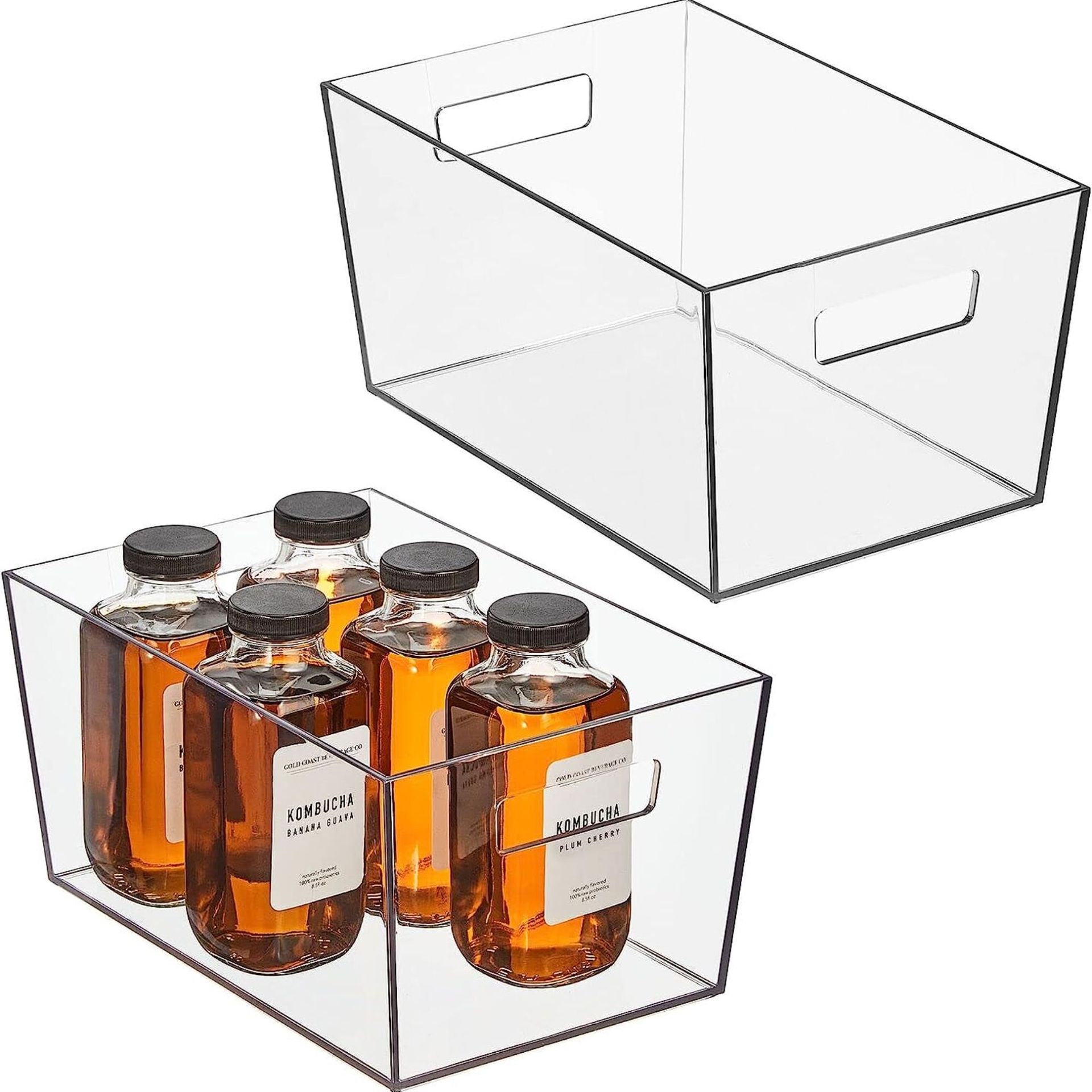 Wide Plastic Bins with Handles
These two wide plastic bins suit almost any space and help to group items together neatly.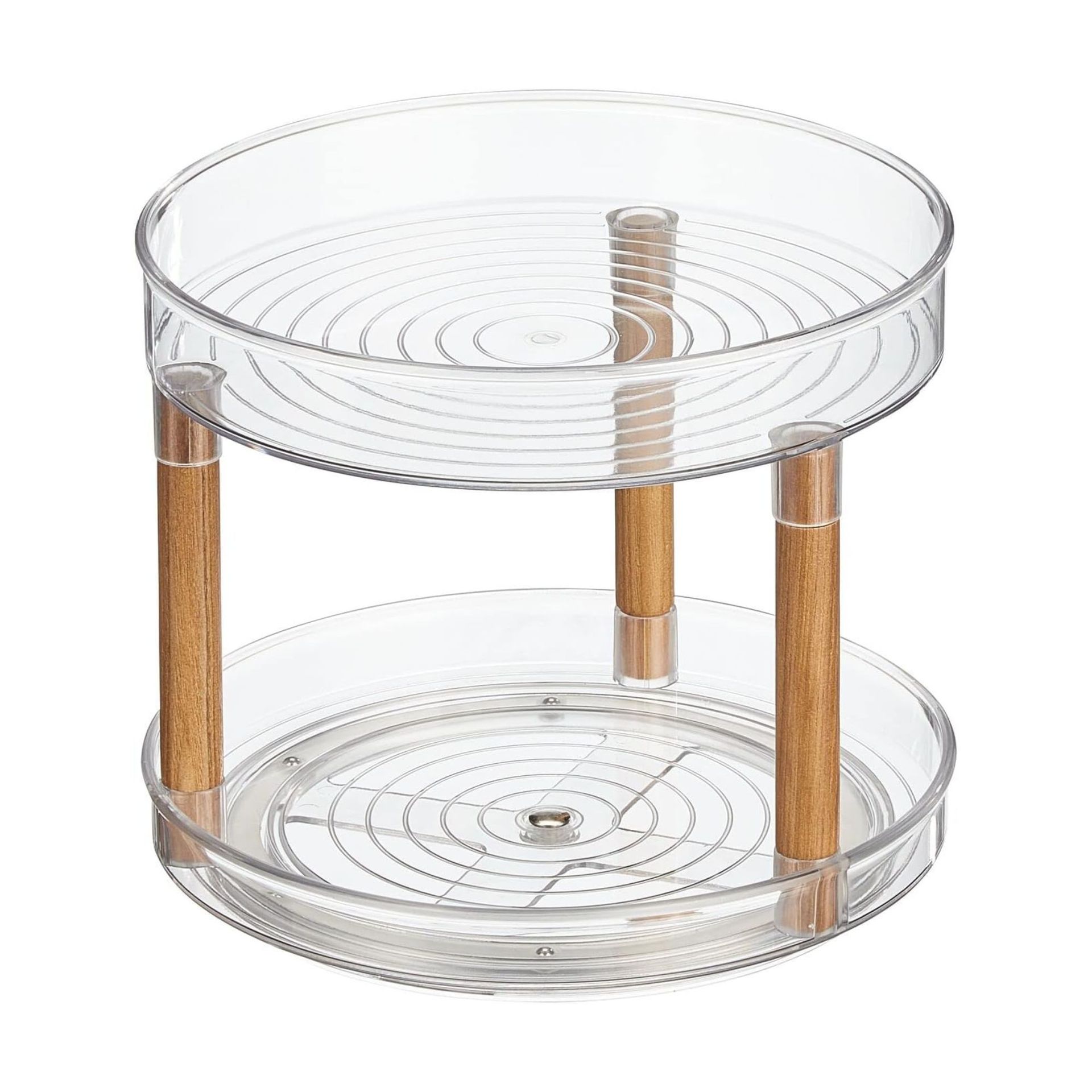 2-Tier Plastic Turntable Organizer
This turn-table organizer is ideal for just about anything you need to hand – from herbs and spices to makeup and skincare.
With an innate passion for organizing, schedules, and style, Meredith Goforth began her career as a Bookings Editor for magazines, before deciding that the only way to stay sane(ish) was to invest in the organization of her family and home, after welcoming three boys and moving six times in five years. Her company, House of Prim, sets up organization systems to restore order in the home in the most stylish way possible.
3. Large items you use when you have guests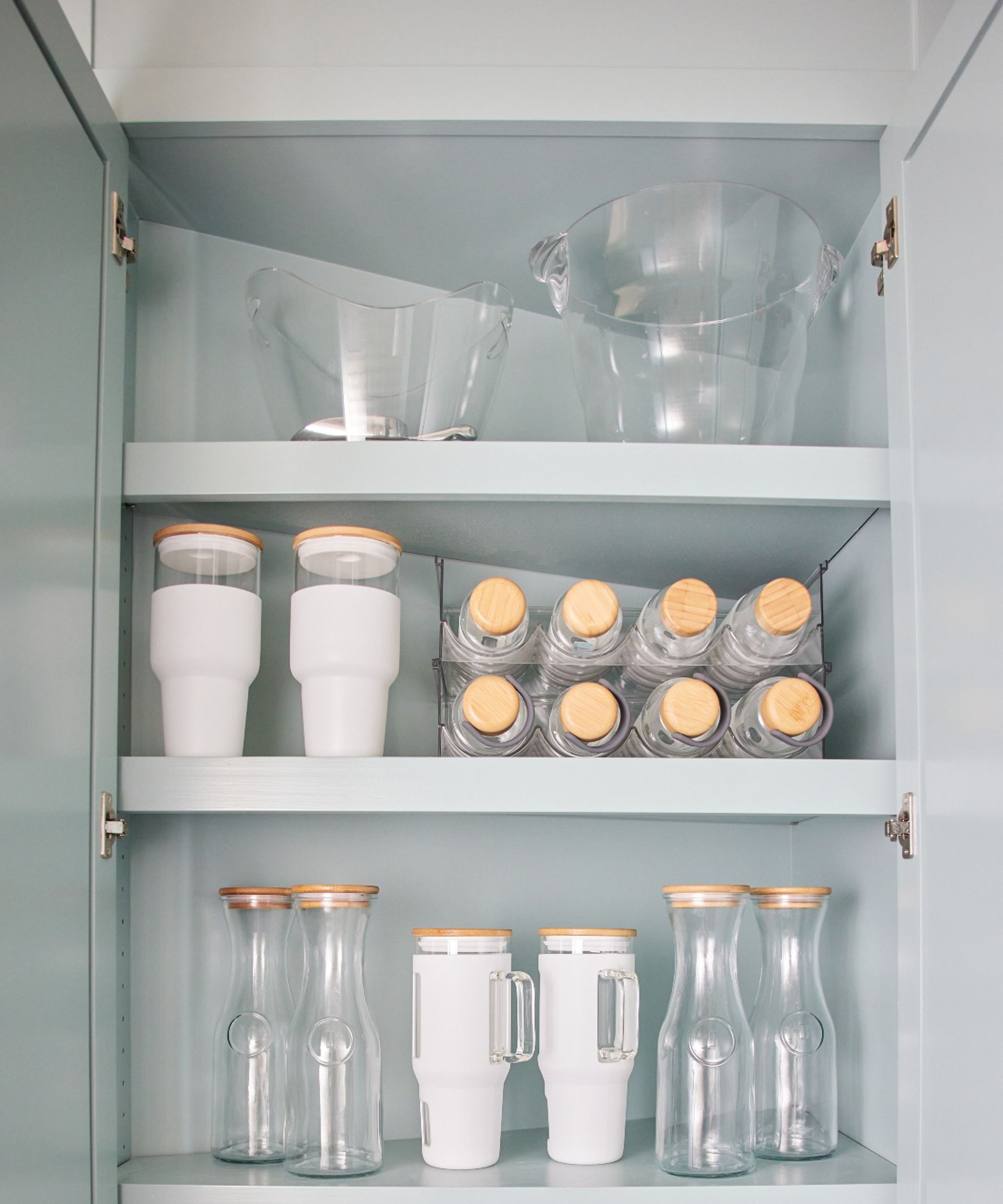 You likely have many items in your kitchen that you only bring out whenever you have guests, or when you host a party. If so, storing these items in your upper kitchen cabinets is usually a great option, given that they are used much less often compared to other kitchen essentials.
'The top shelf can be a great place to store serving dishes, drink pitchers, large bowls, and platters,' Meredith says. 'But I always warn against stacking these. 
'Entertainment dishes and platters can become very heavy when stacked, making the bottom of the pile inaccessible. The last thing you want to deal with when getting ready to entertain is having to take out every single serving dish you own in order to get to the one you are looking for,' she warned. 
As such, organization of the upper cabinets is key here. 'If you plan to store platters or dishware, I recommend storing unstacked, vertically aligned, or in small stacks by adding additional levels within your shelf.'
Similarly, if you only tend to bring out certain bottles of alcohol when you have company, it may also be sensible to store these in high kitchen cabinets. Portable wine racks are a great option if you're wondering how to store wine, or spirits, in cabinets.
4. Smaller appliances that you use less often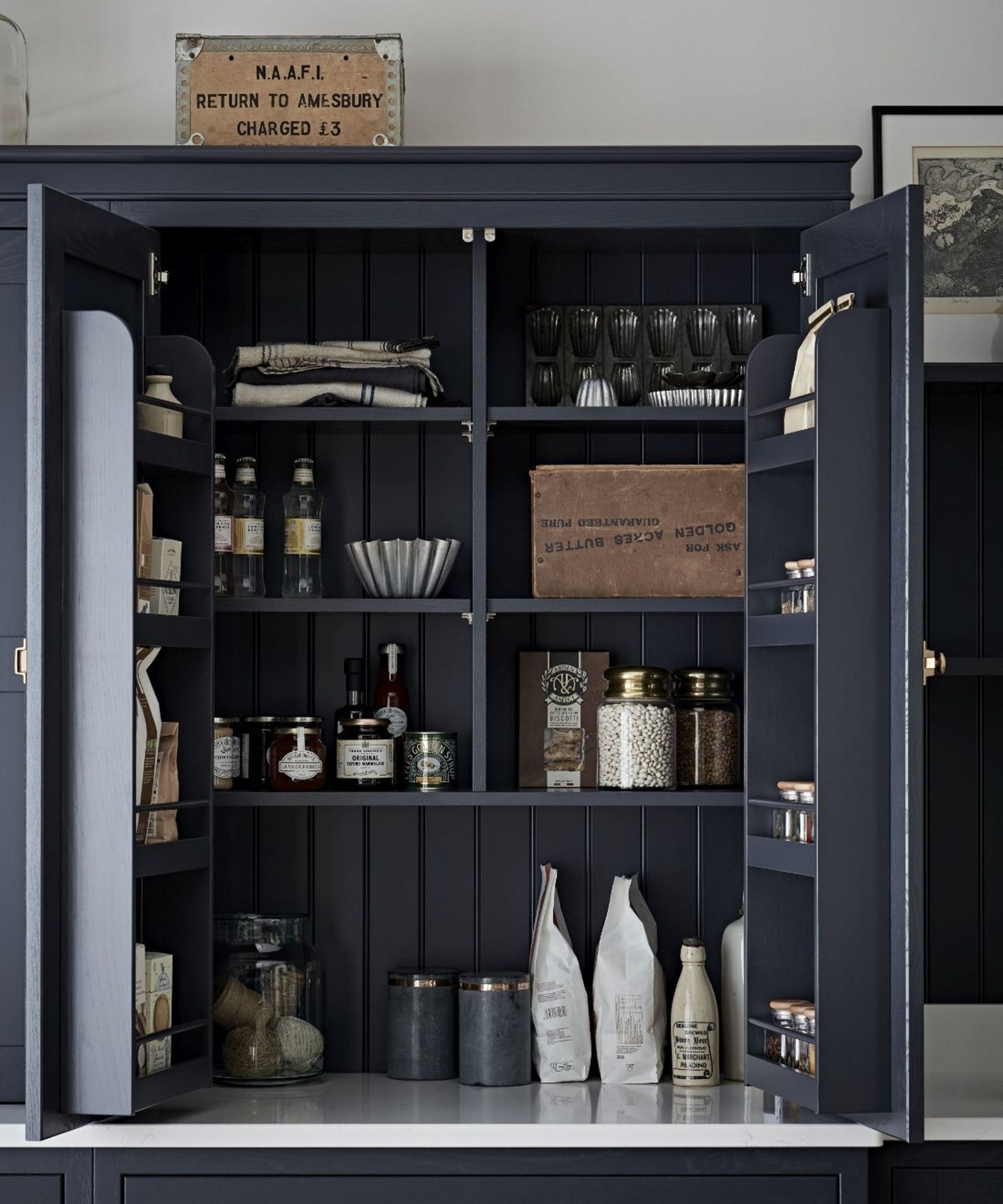 It can be a fantastic use of space to store lesser-used appliances in high kitchen cabinets – but it's important to consider how easy getting them down to use is going to be.
'When it comes to deciding what to store in high kitchen cabinets, there are two main factors to consider: frequency of use and weight. The sweet spot is infrequently used and light,' Meredith said. 
'Bulky items, like infrequently used appliances or a heavy stack of large silver platters may be tempting to stock away on the top shelf, but the combination of heavy and hard-to-reach isn't a great one.'
Mary Jo agreed, 'A good example of an item you might not use a lot is a Kitchenaid stand mixer, but it is heavy, so you shouldn't put it high up in the kitchen.'
As such, use your upper kitchen cabinets as a space to store lighter appliances only, that you don't use as often – such as sandwich presses, irons, small coffee makers, or your best blender. Items like these are likely to be much easier to haul out of a cupboard and usually don't need to be in a prime spot in your kitchen, given how often (or not) they are used.
5. Extra cookware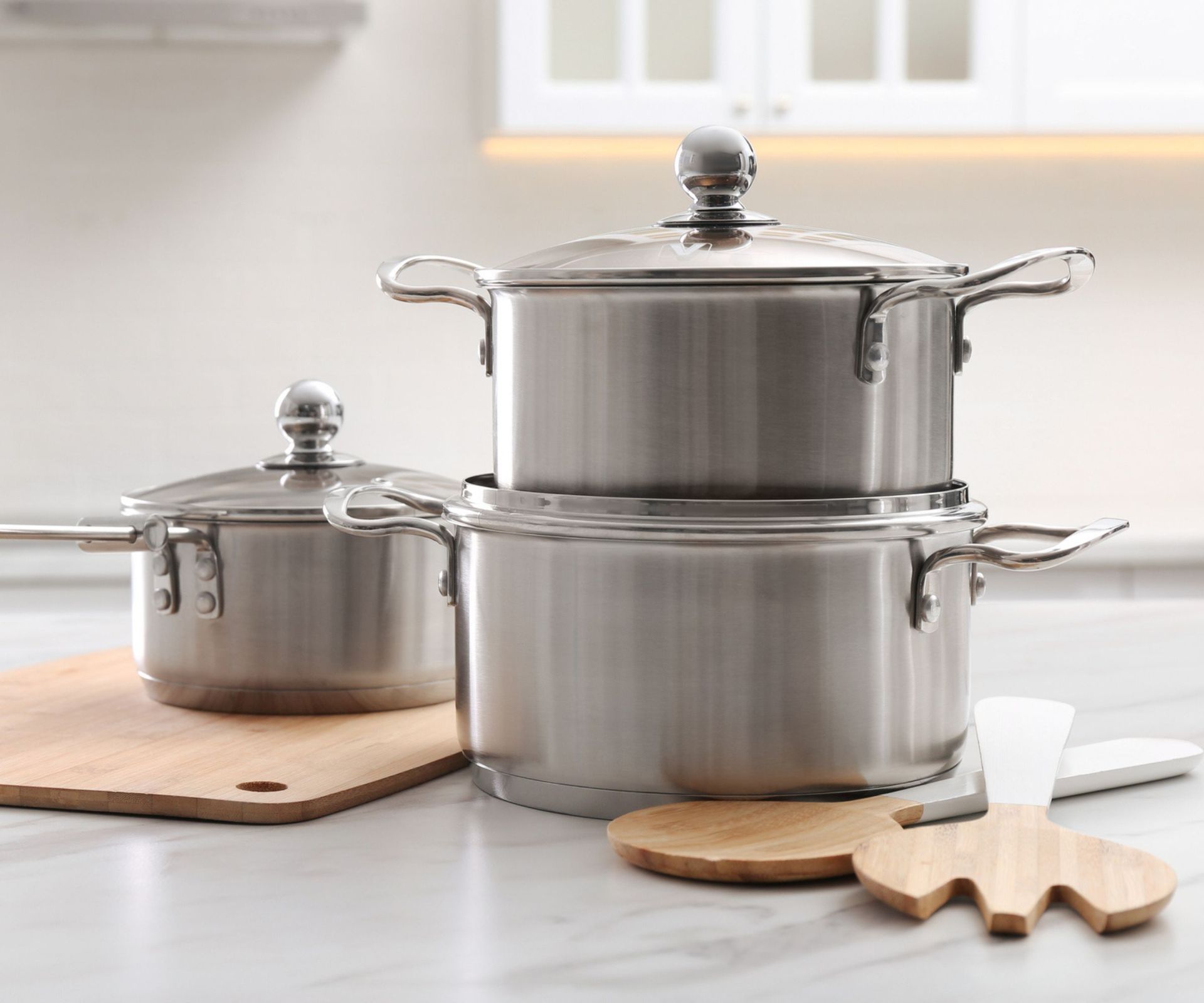 'Most of us have more cookware that we can use on a regular basis,' Remya explained. As such, any extra pieces of cookware you have 'can be stored above, in order to free space in the lower cabinets,' she said.
This might be tools like extra pans, baking trays or baking dishes. Your high cabinets are a great place to pop these overspill items, as they likely won't be too heavy to pull down if needed.
High kitchen cabinets can also be an ideal area to organize your cookbooks in, many of which aren't used on a daily basis. These are also incredibly easy to organize in an upper cabinet; simply stack them next to one another, leaned up against the side of the cabinet, with their spines showing – so that you can easily pull out the one you want. 
FAQs
What to put in the space between your high kitchen cabinets and the ceiling
If your high kitchen cabinets don't extend to the full height of the room, many of us will have a clear space between the top of said cabinets and the ceiling. So is it a good idea to use this spot as an extra storage space – and if so, what do the experts advise putting here?
'Personally, I prefer to avoid overhead clutter above the cabinets,' Meredith said. 'Considering the space is even more difficult to access, it isn't usually worth the risk of creating an overwhelming atmosphere in the kitchen.'
Of course, not everyone is able to neglect a bit of extra storage, so if you really feel that you need to make the most of this area, only put your very least used items here. However, it's important to consider whether it's really worth keeping these things, especially if you feel that you don't need them within easy reach.
Alternatively, if you don't like this spot looking empty, you could always look for ways to decorate above kitchen cabinets – add a piece of artwork, or a large ornament. But again, always be wary of overcrowding this small – and often dark – area.
How to organize high kitchen cabinets
High kitchen cabinets can be difficult to see into, which is why organizing them so that everything in them is within easy reach should be a top consideration.
'The main goal is to always keep all items visible to the eye and as easily accessible as possible despite more infrequent use,' Meredith said. And this will often involve 'efficiently utilizing vertical space,' she explained.
'For dishware, adding additional levels within your cabinet can be transformative. For trays or platters, consider aligning them vertically using a vertical rack instead of stacking.' Labels and clear storage bins, at Amazon, can also be ideal for making items more easily identifiable, and easier to pull out.
Remya also suggests adding more shelving to this space, if you can. 'If possible, install adjustable shelves in high cabinets to customize the space according to your storage needs,' she said. And, 'if your high cabinets are very deep, consider installing lighting inside the cabinets to improve visibility.'
---
Ask yourself three simple questions when storing items in high cabinets: How often do I use it? How heavy is it?  How easy is it to pull down?